Kreations Flowers, Gifts and Things
by Kerry Patterson
(Kingston, Jamaica W,I,)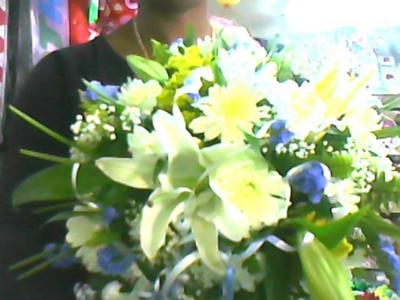 We do Bridal Bouquets & Decorations for your Destination Weddings
KREATIONS FLOWERS, GIFTS & THINGS is your full service Florist. We are located in Shop 10A, New Kingston Business Centre, 30 Dominica Drive, Kingston 5, Jamaica.


We do the best Floral Arrangements, Gift Baskets, Wreaths, Bridal Bouquets and Decorations for all occasions Birthdays, Graduations, Weddings, Funerals, Congratulations, Get Well, I'm Sorry, Cheer up, Valentine's Day, Mother's Day Father's Day Secretary's Day Just Because, Thinking of You and Christmas.
We deliver Island wide and Overseas, We Accept all major credit cards including NCB Keycard, Visa, Master card, American Express. Pay by money transfer.
Order online from any where in the world for your friends and Family in Jamaica
www.kreationsflowers.com
.
Our Opening Hours are 9am-7pm Mondays-Saturdays. Call us:- 876-906-6271 876-437-5598 cell (call/text), email:-
twitter/kreationsflower facebook/kreationsflowersgifts&things
We have customers worldwide as far as Afghanistan & The Netherlands.
Customer Reviews/Comments
Thank you soooo much for the care you put into the flowers for our wedding! I think my bouquet and the rest of the flowers were my favorite part of the wedding decor, and the pictures look gorgeous because of them. Much love!
Jondean Walwyn
I sincerely wish to thank each & everyone for the effort time & energy expelled that assisted me in giving Lavern a surprise birthday I am not with my family &
it is not by choice but demand The undertaking of all involved & coordination to pick up drop off what was needed is really heart felt I cannot thank u all enough but it is great to have friends like u.
Michael Brown
Kerry, I want you to know that your service is much appreciated by people like us in Africa and now in Afghanistan.
Thanks again.
Yours Sincerely,
Steffen Møller
Hi Kerry
I just wanted you to know that I really appreciate your service. We work with many florists in the Caribbean, but none are as fast, reliable & friendly as you. Thanks again for your help!
Best regards,
Edison Gomes
Groningen, The Netherlands
I am so glad you wrote me I could not remember the name of this company i used you last year to send my mother a mother's day gift i wanted you so much to send her birthday flowers in Dec Yes i need to place an order for Valentine day Please call me if you can at 954-***-**** 7am-4pm or 954 after 5 Thanks Wendy
KREATIONS FLOWERS, GIFTS & THINGS
SHOP 10 A, NEW KINGSTON SHOPPING CENTRE
30 DOMINICA DRIVE, KINGSTON 5
TEL: 876-906-6271 (SHOP) 876-437-5598 (CELL) 876-978-4268 (FAX)
EMAIL:kreationsflowers@yahoo.com
www.kreationsflowers.com
twitter/kreationsflower
facebook/kreationsflowersgifts&things
---
Promote YOUR Business Here
or
See other local services here