My first trip to Jamaica - 1988
by Anita
(Illinois)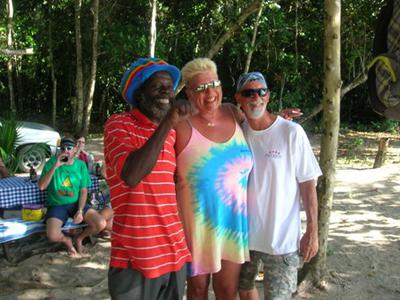 Our long time friend 'Christmas' in Bloody Bay
1988 was the year of my first trip to Jamaica. I vividly remember the ride to Negril and seeing a sea of blue tarps as almost a complement to the aqua blue sea along the road.

So many had lost their homes after that terrible hurricane Gilbert and were living under tarps.

It was a memorable first trip. The people were amazing; smiling, laughing, dancing and just thankful for life.

I fell in love with the island, its people, food, music and spirit.

I will be traveling again from Chicago to my beloved island in 60 days on my 51st trip.

I met my current and only husband there that trip. We will celebrate our 19th wedding anniversary there having married in Negril November 21, 1995!

We have so many wonderful memories there.

Wellesley's Note
Ahhh, how lovely!
Thanks a million for sharing your story Anita.

Wait! Did you say this is your 51st trip?
OMG! I'd love to meet you!

I also think the Jamaica Tourist Board needs to meet you as well.

Please reply using the comment link below and let me know. I (and I am sure many others) will be happy to get to respond to you.