Parkinson's Disease In Jamaica
by Gege
(California)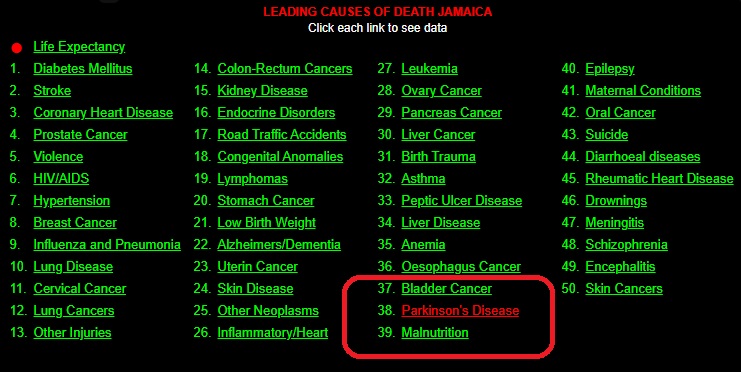 There is a clear trend! Despite been in the minority, persons and family of persons with dementia are seeking support.

This submission came in from Gege, another ardent subscriber to my site, asking about available medication for Parkinson's disease in Jamaica.


Hi Wellesley,

I was home a few months ago, and in having a conversation with my step mother who has the early on set of Parkinson. She told me that the medication she requires to control the trembling is not available anywhere; how can that be?

How many folks are out there without access to their medication?

Makes me wonder how wide spread is this issue with lack of necessary medication.

RESPONSE: by Wellesley
Hi Gege,
I am totally in agreement with you, it makes you wonder.
With less than 0.5% of death related to Parkinson's disease here though, it doesn't appear to be widespread in the country, but a BIG but... The support appears to be be weak, similar to other forms of dementia in Jamaica.
Remember the organization I mentioned in the article about
Alzheimers & Dimentia In Jamaica
?
Yes
Alzheimers Jamaica
!
They appear to be leading the effort, not just with Alzheimer's, but indeed, all dementia related illnesses, including Parkinsons disease, in Jamaica.
And I like their resourcefulness, not only providing relevant information to the victims, but also to the caregivers.
These include creating (and equipping) support groups, hosting seminar & cell meetings, as well as referrals to qualified medical personnel.
Here is their contact information:

Phone: 876-439-7255
email: info@althzmersjamaica.org, or
Website: althzmersjamaica.org

You may want to refer your step mom to them.
In the meantime, I hope this inquiry (which will be seen by influential persons) becomes the impetus for the mindset change needed at the policy level to address these issues in our country.
Thanks again for you feedback Gege.
As usual, I welcome
your feedback here
.
Keep in touch.
Regards,
Wellesley
P.S. Have something on your mind?
Share it with us here
.