Retirement Social Club Brings Christmas Cheer To The Children
by My-Island-Jamaica.com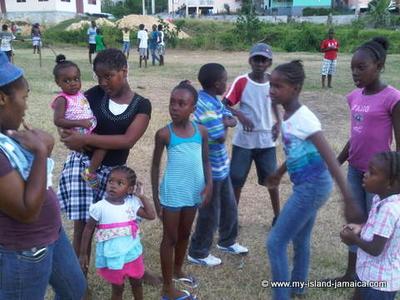 Children in Retirement, St. James, Jamaica
Children from the community of Retirement in St. James, Jamaica were treated at the community's ninth (9th) annual Children's Christmas treat on Thursday, December 20th, 2012.

This year, many of the events sponsors were unable to support in any tangible way, but the organizers were determined to make it happen, thanks to the support of a few of their dedicated sponsors and ardent community members.

The club therefore wishes to recognize the notable contributions of Harvey's Meats and Consumer's Meat Plus, both for their unwavering commitment to this cause. They also highlighted the support from their Member of Parliament, Ms. Sharon Ffolks-Abrahams, Barnett Limited and the Salvation Army, without them, and the dedication of the organizers, the entire idea would have been a mere dream.

The children were feted with food and gifts and were engaged in youth activities, including ring games, football, races and quizzes.

This yearly event is the signature project of the Retirement Sports & Social Club, a community organization that has been in existence since 2003. To contact the Retirement Sports and Social Club, please call the club president and chairman at 876-825-2237 or 876-373-4675.

Retirement is a small adjoining community to Granville in St. James, Jamaica.