Sophia's Exotic Creations
by Sophia Allen
(Montego Bay, St, James, Jamaica)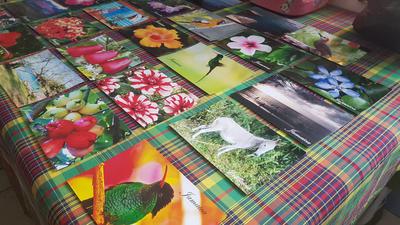 Sophia Exotic creations specialize in unique gifts, such as plates on stand, frames and custom made cards in - all in 3D.

I also capture the luxury of Jamaica and create greeting cards. I am also a philatelist (stamp collector) who was featured on Smile Jamaica TVJ showcasing the history of Jamaica and 400 countries through stamps. Last but not least, I decorate glass bottles, sea stones and sea shells.


What Inspired Sophia's Exotic Creations?
Sophia's Exotic creations was inspired by the circumstances that prevailed after the death of my mom. She died while I was only eight (8) years old and so I grew up almost like a Cinderella to other family members. I told myself that I need to do something for myself to be independent.
The stamp collection was further inspired by three beautiful flower stamps that I got from my grandmother in Chicago after the death of my mom. They were astoundingly beautiful and I started to expand the collection. Today, I have stamps from all over the world!
Who Are Some Of My Clients?
The majority of our current clients are schools (primary and high schools) and teachers, including reputable institutions like Cornwall College.
We also have several business clients, some that comes easily to mind are The St. James Municipal Corporation (Parish Council) and Margaritaville. We also have several individual customers.
Where Can Persons Find My Work?
Some of our best postcards can we seen at Fontana Pharmacy in Ocho Rios and Fairview in Montego Bay as well as the Gift Shop in Secrets Hotel also in Montego Bay.
Decorated plates can we seen on display in the Montego Bay Museum at Sam Sharpe Square in Montego Bay as well as at the Henderson's Book Store on St. James Street, also in Montego Bay, St. James, Jamaica.
How Can Potential Clients Contact Me?
Business and consumer clients can contact me at the following:
Email:
allen.sophia66@gmail.com
Phone or WhatsApp: 876-343-1642
Or WebPage: https://www.my-island-jamaica.com/sophias-exotic-creations.html
... and simply leave a comment in the
comment below
.