The Start of My Jamaica Addiction
by Tina K
(California,USA)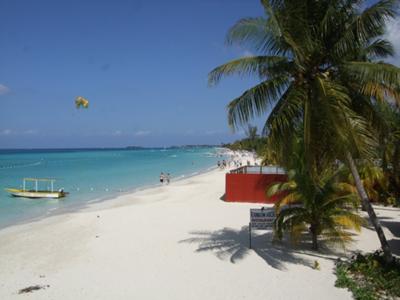 Negril Beach
I feel like I should start by standing up and introducing myself....

Hi, my name is Tina and I'm a Jamaicoholic. I admit that I am powerless over my need to visit Jamaica and that the only way for me to satisfy my need, is to visit over and over again.

I first went to Jamaica as an "add-on" to a meet up with my best friend in Miami, Fl at the end of January 2008.

At the time, my bestie and I were living in separate countries, so we met up a few times a year for a vacation and some girl time (aka, lots of shopping). This time was for a few days in Miami, a cruise to Mexico, and then a few relaxing days on the beach in Jamaica. Miami was nice, the cruise was relaxing....I fell in love with Jamaica!

Now of course we had heard a few things from people before we had left about Jamaica...a few hesitations from them, a few humms and haaass, a few cautions. I found this interesting, listened to their advice, and was in no way going to let it stop me from taking this trip. I am so glad that we didn't listen.

I knew from the moment I got off the plane in Montego Bay that I was in love. I had not experienced this feeling in any other country that I had visited. The sights and sounds of the island caught my interest and as we drove from the airport in Montego Bay to Negril, I almost got whiplash as I tried to take it all in.

I loved the smiles of the locals, the sounds of the markets, the smell of the foods, and the "welcome" from whom all we met.

We decided to stay at a local place right on the beach, no all inclusive for us, seeking out what we needed, when we needed it.

It worked out great and I would recommend it to anyone as there are so many great places to stay, great places to eat & drink and have fun; lthough I am sure some people prefer AI.

In my opinion, staying non-AI is one way to ensure that your tourist dollar is going to the locals in a more direct way.

As this trip was quite short, only 5 days, we spent most of our time lounging on the beach, talking to a few vendors & some locals, eating great food, and ensured that we sampled the nightlife in Negril.

However, we did not stray far from the beach. It was a low-key affair by usual standards, but it was still fun!

Now, my bestie and I have a rule about our travels; we only visit a country/place once and then it is on to a new destination.

However, I did manage to convince her to break this rule for Jamaica and we went again for 10 days over New Years 2009/2010.

I managed to convince her that 1) the first trip we took was way too short, 2) we didn't see very much of the island (sand gravity hit hard), and 3) Jamaica was just too beautiful to not go again.

Since this first little trip, I have returned to Jamaica 5 more times with no stopping in sight. I now spend every Christmas and New Years on 7 Mile Beach with other trips throughout the year.

I once heard that whatever you are doing at the stroke of midnight on New Years Eve, you will be doing more of throughout the year. Well, can't beat that...I try to get in as many trips to Jamaica as I can each year.

I currently have another countdown on the go and can't seem to go without one; I have to know when I'm going to return!...I guess I know that I have an addiction to which the only known cure is to book another trip to Negril.

My bestie no longer goes as often as I go, she still has a few other places on her bucket list, but she does occasionally meet me on the island for a little fun in the sun.


---
Submit YOUR Own Review
or
Read Other Reviews