Topaz Dream Palace Villa
by Cheri Black
(Mount Salem, Montego Bay, Jamaica)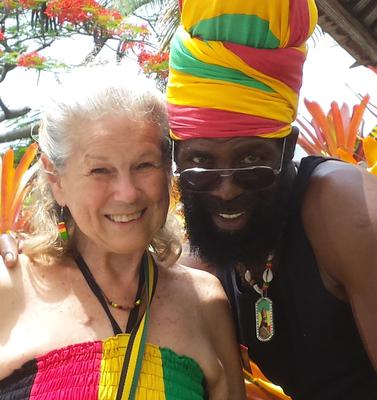 Jah B and Queen Cea, Your Hosts
Welcome to our Topaz Dream Palace in a very safe, middle-class neighborhood, with four bedrooms for guests, two on each floor, plus a private one-bedroom apartment.

Jah B and Queen Cea, your resident hosts live on the second floor and are available to provide chef service/lessons, health coaching, vacation planning, transport, tours, local culture/stories, dominos, and music.


PERFECT LOCATION
We are near the MoBay airport, bus stations, taxi stands, and 'Hip Strip' with beaches, dancing at Margaritaville, Pier 1 and Clock Tower, and shopping the straw market shops for local crafts, carvings and clothing.
Experience downtown and suburban casino, health food store, pharmacies, bookstores, and large supermarkets.
Our guest home is built on top of Mount Salem, so there's always a cool breeze and views from our roof deck and verandas, overlooking Montego Bay, the ocean, and mountains.
Reggae music is usually wafting through the air from the nearby corner of indoor markets, takeout food, ice cream, and other local neighborhood services.
Mackies, a well-known local sports bar, is a few blocks away. There are churches in the area. It's just a short drive from the airport, the "hip strip" for dancing, shopping, and beaches, the straw market for local crafts, carvings and clothing, the experience of downtown and suburban health food store, pharmacies, bookstores, and large supermarkets.
Be amazed at the mountain view, botanical garden and art gallery at Ahh Rasnatango Gardens and Gallery.
ACCOMODATION

Suites:
1st fl. Kalonji Suite: sleep 4: 1 queen (Jamaican Apple/magenta), private. bath; 2 double (Tree of Life/blue and yellow), adjacent bath; shared liv/din/kitchen
2nd fl. Talawa Suite: sleep 6: 1 queen (Hummingbird/green), private. bath; 1 queen (Blue Mahoe/burnt red), adjacent bath; shared liv/din/kitchen

Apartment: Our Private Island: sleep 4: one double bed room, bath, kitchen, living room with sofas and available queen air mattress veranda.

You can enjoy the living rooms, kitchens, dining areas and verandas.

The two suites, one on each floor have separate entrances but can be joined together for larger groups.

All are welcome to the roof deck and can schedule the Jacuzzi up on the deck for a small fee.

We enjoy interacting with our guests, and are also fine with giving you your own separate space . . . whatever you desire.

We are here to help you have the best vacation possible. We've had a number of guests who all gave us excellent reviews before we listed.


HEALTHY MEALS

Toney is an excellent chef for meals and juices prepared with fresh fruits, vegetables, herbs, fish and chicken from the nearby farmers' market.

If you wish, he'll guide you through the market, and provide cooking lessons. He's a great 'selector' of CD love songs, soul and reggae music.

Cheri, a certified health education coach, enjoys sharing her miracle recovery from cancer using natural healing methods.

We both love to introduce our guests to the beautiful beaches and countryside, cultural history, folktales, and the variety of attractions.


ABOUT MONTEGO BAY

Montego Bay is the second largest city in Jamaica and preferred destination for most tourists. It's an hour (+) from Negril (Rick's Café, Bourbon Beach, The Jungle, Barney's Hummingbird Garden), less to Falmouth (Glistening Water), two to Ocho Rios (Dunns River Falls, Blue Hole, Fern Gully), Dolphins Cove, Mystic Mountain – sky ride, zip line, bobsled rides), and three hours to the South Coast (Treasure Beach, Black River, YS Falls, Alligator Tours, Appleton Rum Factory Tour).

We'll pick you up and take you back to the airport for $10 per trip.


ABOUT QEEN CEA AND JAH B

Queen Cea met Jah B in 1994 when she came to Jamaica to find the guest house she had 'dreamed' she was to have in retirement. Instead, she met Jah B; they instantly fell in love and were married in 1996, raising two sons in Philadelphia. A while ago, the time was right for Jah B, with a contractor friend and family expertise, to build our guest home.

The name combines our November birthstones—topaz, plus both our dreams, plus it looks like a palace, doesn't it!


ACTIVITIES TO ENJOY

Be ready to be treated like the Queens and Kings you are!

MoBay Sumfest is mid-July (a week of all-night reggae artists); Emancipation Day Aug 1; Independence Day Aug 6; and much more.

The Maroon Festival high in the Mountains (celebrates the peace treaty that successful runaway enslaved Africans signed with British in 1739), Jan. 6; Rebel Salute (a two "night-long" reggae stage show around Jan 15 nearer Ocho Rios; the Jamaica Jazz and Blues Festival in January, TBA in Ocho Rios; Bob Marley celebrations (Feb. 1-6 mostly in Kingston).

Climb Dunns River Falls, go zip-lining and bobsledding, drive through Fern Gully and Bamboo Avenue, express ahhh as you visit with the botanical artists at Rasnatango Gardens and Gallery, feed hummingbirds close-up, experience cliff jumping at the famous Rick's Cafe, go rafting on the Martha Brae, and snorkeling with Captain Poly's glass bottom boat.

Add 10 years to your life by swimming in the rare sparkling Luminous Lagoon, tour the Green Grotto Cave, go horseback riding in the mountains and along the ocean, bike ride through the Blue Mountains, enjoy the 7-levels of YS Falls, tour the Appleton Rum Estate and factory, dine in the Houseboat Grill, Pier 1 and the Pelican Grill, dance at Margaritaville, Pier 1, Clock Tower, Jazzy Blue Beat and The Jungle(Negril).

Hang out at Sports Bars -- Mackie's, Rehab, Powers, the Brewery, go to services in the St. James Anglican church, built in 1775.

Enjoy local treats like breadfruit, Jamaica apples, June plums, 'sweet' sour sop fruit, mangoes, spice buns, cocoa balls, coconut drops, grape-nut ice cream, sweet potato pudding, and "blue drawers."

Feast on ackee and salt fish (the national dish; ackee from our backyard tree), jerk chicken, curried goat, festival (sweet fried pastry), yam, green banana, rice and peas (red beans), and callaloo (greens), and snack on patties (veggies, chicken or beef in fried pastry).

Savor mountain spring water, coconut water, lime, pineapple, soursop, cherry, and mango juices, Ting (carbonated grapefruit), sorrel, ginger beer, rum cream, Red Stripe beer, and the nutritious tea from moringa or soursop leaves (from our backyard tree).

We'll be glad to arrange transportation. Only if you've driven expertly in Jamaica, NY, Rome or Caracas, do we suggest you rent your own car!

ADDRESS
20 Crichton Drive,
Mount Salem,
Montego Bay,
Jamaica.

Phone: 876-779-3692;
WhatsApp 215-882-4351;
Email: cblack7020@gmail.com