Wag Water Valley Development Committee Awards Community Pioneers
by My-Island-Jamaica.com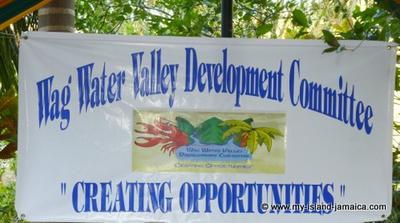 Wag Water Valley Development Committee Awards Gala 2012
Tapioca Village Retreat was buzzing with excitement, achievement and expectation on Sunday, November 4, 2012.

It was hosting the 1st Annual Wag Water Valley Development Committee Award Gala.

Twenty Seven (27) of the various communities stalwarts were awarded for their invaluable civic contributions.

The list included teachers, artisans, entrepreneurs, students and leaders in the ecumenical fraternity.

It's founding fathers, Mr. Oswald Ayre - prominent resident of Friendship Gap and retired senior police officer, and Mr. Errol Sinclair Snr., respected resident of Devon Pen and Operator of Tapioca Retreat, were given special mentions.

Presenters included Mrs Diana McIntyre-Pike from Countrystyle Caribbean Vacations & Tours and Villages as Businesses Programme - CCTN's Community Tourism Project, Mr. Wellesley Gayle, Founder & CEO of My-Island-Jamaica.com and Assistant Commissioner of Police in Jamaica, Mr. Elan Powell who was the guest speaker.

In her presentation, Ms McIntyre-Pike announced that the Wag Water Valley Development Committee will be included as one of the 36 pilot communities, selected for the Communities As Businesses program.

She mentioned that sustainable peace will only be realized if persons are train and develop to realize their full potential. She chided those young men who are living loosely and who are not taking up their rightful places in society.

She also suggested that communities don't focus on jobs, but more on entrepreneurship because of the obvious benefits - personal, economical and societal.

Mr. Wellesley Gayle congratulated the recipients and applauded the organization on their bold and innovative initiative. He encouraged them to become a beacon for the rest of St. Mary and Jamaica to follow.

ACP Elan Powell saluted the community initiative and encouraged them to be steadfast in the efforts to reduce crime and don't be cowards, even against the background that St. Mary has realized a 17% reduction in crime.

He listed some recommendation to reduce crime, which includes the setting up neighborhood watches.

Mr. Issa Jaggan, an award recipient and principal of the Castleton Primary and Junior High, thanked the committee on behalf of the awardees.

A recording of the function can be seen on this youtube video.


About Wag Water Valley Development Committee
The Wag Water Valley Development Committee was incorporated on June 15, 2012 with the vision of creating opportunities for the members of its
fifteen (15) communities in the south eastern area of St. Mary - commonly referred to as the Castleton Area.
These communities include Golden Valley, Castleton, Grandyhole, Gibb's Hill, Scott's Hall, Friendship Gap, Devon Pen, Broadgate and others.
A meeting was held to determine an appropriate name for the organization which spans all these communities and the
Wag Water Valley Development Committee
was born. All the communities targeted share one thing, The Wag Water Valley River.
Mr. Errol Sinclair and Mr. Oswald Ayre are it's founding fathers.
Contact
Address: Friendship Gap District, Castleton P.O, St. Mary
Tel: 876-402-3112
Email:
wwvdevcom@gmail.com
Facebook: WagWaterValleyDeveopmentCommittee