Wataland Jamaica Attraction
by Karena Gayle
(Jamaica)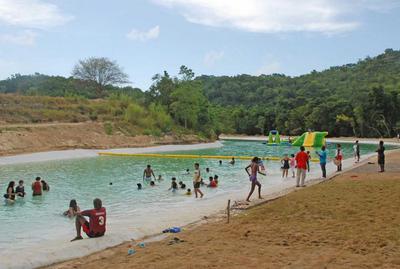 Wata Land St. Mary Jamaica
THE WATALAND ATTRACTION by Karena Gayle


**Wellesley's Note**
This is another unedited review by my daughter. She is certainly going places, wouldn't you say?
Well this time they went on a church trip to Wataland in St. Mary a couple weeks ago.
And the good thing about feedback from a child is that you get everything - as is :-)
Anyway, here is it:
In St.Mary Jamaica, far in the bushes, you will find an amazing attraction, WataLand!!!
It is an amazing attraction for families. There you will find: slides, paddle boat rides, tours and a children section.
The attraction is owned by people of Indian descent. It is also a good place for vacations. I have been there before and trust me it was a BLAST!!!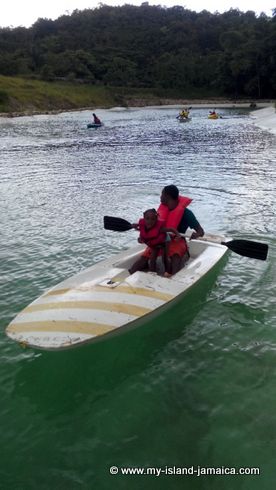 It was truly a fun experience. The staff members are fun and entertaining people.
The paddle-boat section is a very deep section so if you can't swim, DO NOT go there without the lifeguard watching you.
I am a ten year old who can barely swim and went down there with my eldest cousin he paddled and he could swim so it was ok.
My mom went there and she cannot swim so she went with a friend.
The slides seem very tall but once you go down them, you realize that the water is not very deep (its 3.5 feet).
I can assure you that you will be scared
but go on the small green and yellow slide first if you are. Unless you are 12 years old or older you cannot go to that section without adult supervision.
They also have a wipe out course that is very fun but if you cannot swim, you cannot go there. Fortunately, I can swim so I went down there :-)
It is fun but VERY DEEP!!! Be very careful if you go down there. The children's section is a very shallow, but fun section. I saw some grown people over there going down the children's slide. (-:
I would love to tell you about the food but I didn't eat there I went to a fast food restaurant.
Some people said it tasted good though, but some said it was horrible, since everyone doesn't like the same thing, I went to somewhere I love :-)
Well, I hope you enjoyed reading my article.
KARENA GAYLE
Thanks again for taking the time to write this review my sweetie pie.
By the way, below if you are looking to get in touch with Wataland, below is the necessary information.
You may also
CLICK HERE To Send WataLand An Instant Email
Address:
Wata Land Eco Fun Park
Water Park, Industry
St. Mary, Jamaica
Telephone 1: +1 876 568 5242
Telephone 2: +1 876 568 5247
Telephone 3: +1 876 472 1514
E-mail:info@jawataland.com
Wataland is approximately 15 minutes, east of
Ocho Rios