Wellesley Gayle Featured In the Jamaica Gleaner
by Wellesley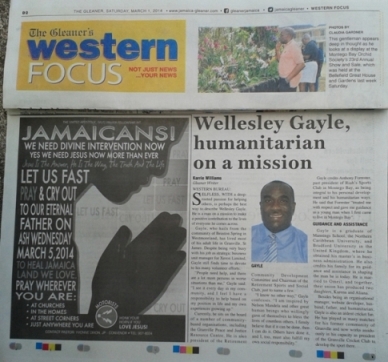 Wellesley in the Jamaica Gleaner
Yup! Just as the title above says, yours truly was featured in the prestigious Jamaica Gleaner (Western Focus edition) newspaper.

I am truly humbled:

One) To be mentioned featured in Jamaica's most prestigious newspaper &

Two) To be appreciated for my many community endeavors.

I didn't even realize I was so stretched - even though I do feel that way sometimes - like right now :-)

The following is the actual text of the article published on March 1, 2014 (in print and online).





<<<<<<<<<<<<<<>>>>>>>>>>>>>




Wellesley Gayle, Humanitarian on a Mission



Selfless, with a deep-rooted passion for helping others, is perhaps the best way to describe Wellesley Gayle.

He is a man on a mission to make a positive contribution to the live of everyone he comes across.

Gayle, who hails from the community of Beeston Spring in Westmoreland, lived most of his adult live in Granville, St. James. Despite being very busy with his job as Strategic Business Unit manager for Xerox Corporation (Jamaica), Gayle still finds time to devote to his many volunteer efforts.

"People need help, and there are a lot more persons in worse situations that me," Gayle said.

"I see it every day in my community, and I feel I have a responsibility to help based on my own experiences growing up."

Currently, he sits on the board of a number of community-based organizations, including the Granville Peace and Justice Resource Center.

He is also president of the Retirement Community Development Committee (CDC) and Chairman of the
Retirement Sports and Social Club, just to name a few.

"I know no other way," Gayle confesses, "I am inspired by Nelson Mandela and the other great human beings who willingly gave of themselves to bless the lives of countless other.

I firmly believe that if it can be done, then I can do it. Others have done it and I too, must also fulfill my social responsibility."

Gayle credits Anthony Forrester, past president of the Riah's Sports Club in Montego Bay, as being integral to his personal development and his humanitarian ways.

He said that Forrester "treated me with respect and gave me guidance as a young man when I first came to live in Montego Bay".

GUIDANCE AND ASSISTANCE

Gayle is a graduate of Mannings School, the Northern Caribbean University, and Bradford University in United Kingdom, where he obtained his Masters in Business Management.

He also credits his family for its guidance and assistance in sharing the man he is today. He is married to Omeil, and together, their union has produced two daughters, Karena and Aliana.

Besides being an organizational manager, website developer, husband, father, and a humanitarian, Gayle is also an ardent cricket fan.

He has played many cricket matches for his former community of Granville and now works assiduously in his capacity as president of the Granville Cricket Club to develop the sport there.



<<<<<<<<<<<<<<>>>>>>>>>>>>>



I wont say another word than to say 'To God Be The Glory'.
Your
comments are welcome here
.
You can still find a
live link
here on The Gleaner website.