Who Are Jamaica's Neighbours?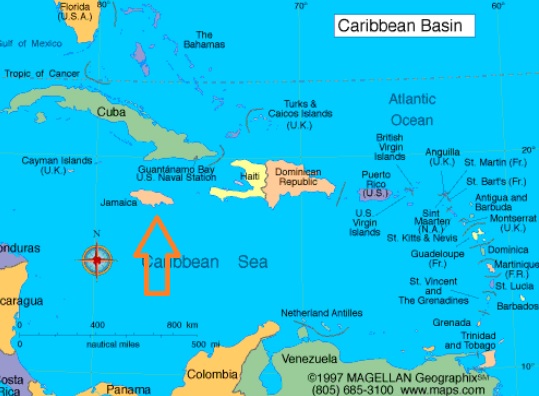 Answered by Aneisha Dobson, Associate Writer

Although separated by the Caribbean Sea, the islands of the Caribbean stay connected through history, music and culture.

While we are geared in giving you information on our island Jamaica, we cannot ignore the proximity and impact of our next door neighbours.

The following are perhaps our closest Caribbean neighbours:

Cuba,
Cayman Islands,
Haiti,
Dominican Republic,
the Bahamas
and Turks and Caicos.

Below is a bit on each of them, including must visit places.


Cuba
Approximately 237.7 miles away from Jamaica you will find the Spanish nation of Cuba.
Did you know that Cuba is 10 times larger than Jamaica?
Yes, it actually is!
Although there is a difference in their size, these two countries have a very good relationship.
In December 8, 1972, Jamaica was one of the four independent Caribbean nations that ended the segregation of Cuba from the world.
Ever since then the link between these two nations have remained strong.
In fact, just last year (December 8, 2017) Jamaica and Cuba celebrated their 45th anniversary of unity and solidarity.
Dripping with culture and blessed with natural beauty, Cuba is one of the most beautiful island in the Caribbean.
Here's some fascinating facts about Cuba:
 Cuba is home to the worlds' smallest humming bird, the Bee Hummingbird.
 Cuban cigars are one of the world's greatest cigars. It is made by tobacco cultivated in Cuba
 Cubans do not document their recipes. Traditional recipes are passed from one generation to another vocally. Many traditional dishes consist of black beans, shredded beef, rice, and plantains. Their food is a unique mixture of Spanish and Caribbean dishes that includes a lot of spices.
 From aerial view Cuba looks like a crocodile, thus Cubans refer to Cuba as El Cocodrilo.
If you're planning to give Cuba a visit, here are some places you may find interesting:
• Varadero
• Trinidad (UNESCO World Heritage Site)
• Parque Nacional Vinales (UNESCO World Heritage Site)
• Santa Clara
• Peninsula de Zapata
• Parque Historico Militar
• Plaza de la Revolucion (Jose Marti Memorial)
Other Facts:
Population: 11,487,822
Language: Spanish
Currency: Cuban Peso (CUP)
Cayman Islands
This British Overseas Territory is Jamaica's closest neighbour. Not only are they close in proximity but their also close in history.
In fact, the Cayman Islands were annexed to Jamaica in 1863. However, this tie was severed when Jamaica garnered independence in 1962.
Although measured to be approximately 234.6 miles away, the roots between the two nations remains firm as Cayman Islands has become the home for several Jamaicans.
Cayman is said to have over 120 nationalities within its borders. This may be attributed to the fact that The Cayman Islands is known as a safe haven for financial institutions.
Grand Cayman, Cayman Brac and Little Cayman are the three little islands that come together to form the Cayman Islands.
With an island so rich in cultural diversity and abundant in nature's beauty, The Cayman Islands has a lot to offer.
Having been recognized as an excellent place for watersport; lovers of diving, snorkeling, and swimming with sea creatures will fine the islands to be quite awesome.
With that said, here are some places you can visit in Cayman:
• Seven Mile Beach
• Stingray City
• Atlantis Submarines
• Bloody Bay Marine Reserve, Little Cayman
• Mastic Reserve and Trail
• Queen Elizabeth II Botanic Park
• Pedro St. James National Historic Site
• Cayman Crystal Caves
Other Facts:
Population: 62,123
Language: English
Currency: Cayman Dollar (KYD)
Haiti and Dominican Republic (Hispaniola)
Now, this Caribbean neighbour is very unique. Hispaniola gives you two countries in one island.
Weird, right?
But if you know your Caribbean history you will be aware that Hispaniola is politically divided into 2 independent countries: Haiti in the west and Dominican Republic in east.
Haiti
This french nation has been rocked by hurricanes, earthquakes, political issues and financial turmoil.
Throughout the years Jamaica, along with other countries, have outstretched a helpful hand to assist Haiti in times of disaster.
However, despite the chaos surrounding the island, there is still something beautiful for you to admire.
Here are some interesting places to visit in Haiti:
• Cathedral Notre Dame de Cap Haitien
• Labadee
• Gelee Beach
• Saut-Mathurine
• Citadelle Laferrière
• Bassin Bleu
Other Facts:
Population: 11,075,468
Language: French
Currency: Gourde (HTG)
Dominican Republic
The other section of the island is reserved exclusively for the Dominican Republic.
Recently, the relationship between Jamaica and Dominican Republic has grown stronger since they have recently signed a Memorandum of Understanding that will allow ease of travelling between the two countries.
This Spanish nation has a unique culture combined with authentic natural attractions. No wonder the Dominican Republic is a preferred tourist destination.
In fact, areas such as Parque Nacional del Este ( Eastern National Park) and Santo Domingo has been crowned World Heritage Site by UNESCO. Isn't that something!
Here are some other areas you can visit if you take a trip to the Dominican Republic:
• Santo Domingo
• Eastern National Park
• Punta Cana
• Playa Dorada
• La Romana
• Samaná Peninsula & Samaná Bay
• Lake Enriquillo
Other Facts:
Population: 10,850,006
Language: Spanish
Currency: Dominican Peso (DOP)
Turks and Caicos Islands
Just 434.4 miles away from Jamaica lies a group of islands known as the Turks and Caicos Islands.
The Turks and Caicos Islands is a British Overseas Territory that consists of a chain of 40 islands and small cays, however only 5 large islands and one or two of the small islands are inhabited.
If you are a nature lover, then you will admire the plant and animal life of these islands.
Here are some great places to visit in the Turks and Caicos Islands:
• The Hole
• The Turks & Caicos National Museum
• Provo Golf Club
• Clear Kayaking & Eco Safari
• Bird Rock Point
Other Facts:
Population: 35, 816
Currency: US Dollar
Language: English
The Bahamas
Last but not least, approximately 478.2 miles away we have The Bahamas!
Did you know that the Bahamas consist of 700 islands and over 2000 rocks and cays?
What a full house! However, only 30 of these islands are inhabited.
Not long ago, the Bahamas was a haven for pirates to store their treasure. Fast-forward to modern day, the Bahamas is now a haven to those seeking tranquillity and relaxation.
Just imagine laying on a pink sand beach and sailing, snorkelling and boating in the blissful ocean waters. It's truly one of nature's marvels.
So if you want to visit the Bahamas, here's some cool places:
• Ardastra Gardens, Zoo and Conservation Center
• Blue Lagoon Island
• Aquaventure Water Park at Atlantis Paradise Island
• Nassau Beaches
• Clifton Heritage National Park
• Pirates of Nassau Museum
• Tru Bahamian Food Tours
• Lukka Kairi
• Primeval Forest National Park
Other Facts:
Population: 398,169
Currency: Bahamian Dollars (BSD)
Language: English
When you really stop and think, the Caribbean is truly blessed.
Beauty, excitement, fun and adventure can be found on every island!
So the next time you visit Jamaica, consider going island hopping to our neighbours!
Until next time…. walk good!
Sources Cited:
https://getawaytips.azcentral.com/islands-close-proximity-jamaica-4957.html
http://www.gomapper.com/travel/list-of-countries-near/jamaica-0.html
http://www.jamaicaobserver.com/the-agenda/cuba-and-ja-45-years-of-fruitful-relations_119512?profile=1096
http://nationfacts.net/cuba-facts/
http://www.worldometers.info/
http://www.nationsonline.org/oneworld/map/central_america_map2.htm
http://www.planetware.com/tourist-attractions/cuba-cub.htm
https://www.tripsavvy.com/language-spoken-in-my-caribbean-destination-1487927
http://www.cubacurrency.com/Caribbean-Countries-Currency.html
http://www.explorecayman.com/category-article/about-cayman
https://www.cayman.com.ky/cayman-banking/
http://www.planetware.com/tourist-attractions/cayman-islands-cay.htm
https://www.britannica.com/place/Hispaniola
https://www.thecrazytourist.com/15-best-things-haiti/
http://jis.gov.jm/jamaica-dominican-republic-sign-multi-destination-agreement/
http://www.planetware.com/tourist-attractions/dominican-republic-dom.htm
http://turksandcaicostourism.com/turks-and-caicos-attractions-exclusive-activities/
https://www.bahamas.com/about-bahamas
http://www.planetware.com/tourist-attractions/bahamas-bah.htm
https://www.caymancompass.com/2009/07/03/constitution-anniversary-is-golden/&grqid=voOFLFAM&s=1&hl=en-JM