Yeah! Jamaica's Davina Bennett Awarded 2nd Runner Up At Miss Universe 2017
by Wellesley Gayle
Published November 28, 2017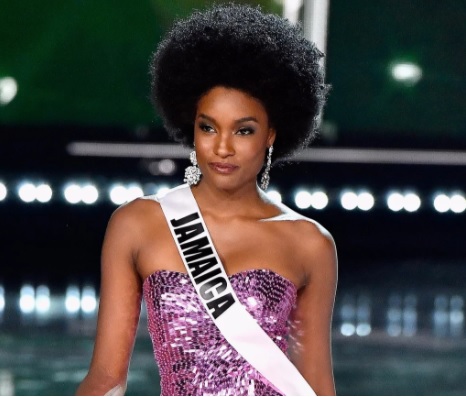 Photo: PopSugar.com
Jamaica, the land of beauty in so many respects, has secured yet another top 10 spot in the prestigious Miss Universe pageant!
This when Clarendon's own hometown girl, Davina Bennett, secured the exclusive 2nd runner up spot in the 2017 edition on Sunday night at THE AXIS in Las Vegas, USA.
While the elation spread quickly across Jamaica, according to the Jamaica Observer, it was pademonium and jubilation in Mitchell Town, her home town.
"There was a lot of pot cover beating. It was like when Bolt win the 100-metre race and break a record!"
The twenty one year old, who works with deaf students, had Jamaicans at home and abroad celebrating from the time she came on stage, through to her selection to the top 16, 10, then the top five - and ultimately the top three.
Her signature afro hairstyle has won was a beautiful sight to behold - and cememted her in the hearts and minds of many across the globe.
And this top 3 feat was even more special as she emerged from a list of 92 contestants, the largest in the history of the competition.
The winner of Miss Universe 2017 was Demi-Leigh Nel-Peters of South Africa.
The runner-up was Laura Gonzalez of Columbia.
The esteemed top 5 reads:


South Africa's Demi-Leigh Nel-Peters

Colombia's Laura Gonzalez

Jamaica's Davina Bennett

Thailand's Maria Poonlertlarp

Venezuela's Keysi Sayago

The other countries making the top 10 were:


USA

Philippines

Canada

Spain

Brazil

Jamaica's highest placement at the Miss Universe pageant came in 2010 when Yendi Phillips finished in 2nd place. Jamaica's previous top ten placements at Miss Universe included Sandra Foster (1989), Kimberly Mais (1991) Christine Straw (2004) and Nicole Haughton (1999) (
Gleaner
).
Davina had earlier won the local competition to become Jamaica's representative in this famed international event. For more on this and Davina's background, including the challenges she overcame, read
this gleaner article
.
Bway, mi proud a her! Mi feel good! I welcome
your comments here
.
Regards,
WG
Sources:


http://www.jamaicaobserver.com/latestnews/Jamaicas_Davina_Bennett_finishes_3rd_at_Miss_Universe_final?profile=1228

http://www.jamaicaobserver.com/front-page/like-davina-bennett-8217-s-family-neighbours-describe-joy-in-mitchell-town_118385?profile=1373

http://jamaica-gleaner.com/article/lead-stories/20171126/jamaicas-davina-bennett-second-runner-miss-universe-2017

popsugar.com/beauty/Miss-Jamaica-Davina-Bennett-Afro-Miss-Universe-2017-44301922