Authentic Jamaican Sugar Cane Juice Drink (Mr. Cane)
by Mr Cane
(Jamaica)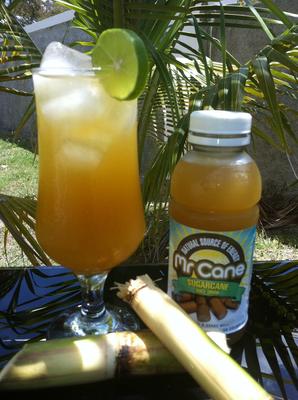 Mr Cane - Jamaican Sugar Cane Juice
Mr Cane is a new beverage on the shelves of select supermarkets in Jamaica. It is bottled Sugar cane juice available in 12oz bottles in regular and with a hint of ginger flavour.


The cane used is 100% Jamaican, grown by Jamaican farmers. Mr Cane is rich in iron and vitamin C.
Iron is needed to fuel the body with energy. It is a refreshing and thirst quenching drink.
Mr Cane tastes great on its own and can also be used as a base to make cocktails, mocktails and smoothies. The most famous cocktail being the mojito.
You can find Mr Cane Sugarcane Juice at:-
Portmore:
Empire Supermarket Cross Roads and Pines Plaza, Portmore
Ocho Rios:
General Food Supermarket Liguanea Plaza and Ocean Village Plaza, Ocho Rios.
Kingston:
Things Jamaican Norman Manley International Airport Kingston, Devon House Kingston and JBDC Camp Road, Kingston.
Montego Bay:
Sangster International Airport Montego Bay
St. Thomas:
Savemore Supermarket, Winward Road Kingston and Classic Supermarket.
For more information go to:
Facebook page: www.facebook.com/mrcanejuice or phone: (876) 893 1296 or Email: mrcanejuice@gmail.com.
Recipe Suggestion
Mr Cane Pineapple Smoothie
Ingredients
1 small bag of sliced pineapple pieces
1 cup of Mr Cane Sugarcane Juice - regular flavour
A few ice cubes
Approximately 5-6 125g plain yoghurt, preferably unsweetened
Method
1. Add ice, pineapple, yoghurt and Mr Cane Sugarcane Juice to blender and blend until smooth. Pour and enjoy!
Go to
Pictures Of Jamaican Food
from
Jamaican Sugar Cane Juice Drink