Awaken to Jamaica
by Valerie Knighten
(Wrightstown NJ USA)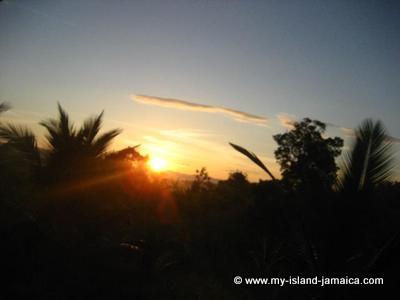 Sunrise In Jamaica
Contest Entry #024 - Awaken to Jamaica

Awaken to the sunlight. "Sun's up, get up!" Of course, I leisurely enjoy a couple cups of blue mountain coffee with sweetened condensed milk, made with love at Fergie's.

I certainly enjoy the Ackee and Salt Fish from Marie's.

I just listen to everything going on around me. I hear children heading on to school, I hear the streets full of bikes and the cars, beep-beep.
There is always music to be heard. I love it all, how could I not? I breath it in and let it out; rhythm ... free as the moment and so relaxed.

Now, I must go walk to set my feet in the sand and feel that sunshine and the water. I head out from where West End meets at the start of the 7 mile beach.

To arrive I've walked past the circle of Norman Manley Blvd, across the bridge over the river that meets the sea and through the craft market.

So many smiles and "good mornings" exchanged, I feel alive within a dream that I intend to keep real. "This is my message to you".


---
Submit YOUR own Picture here
or
See other lovely photo submissions here
.