Fascinating Factory Tours In Jamaica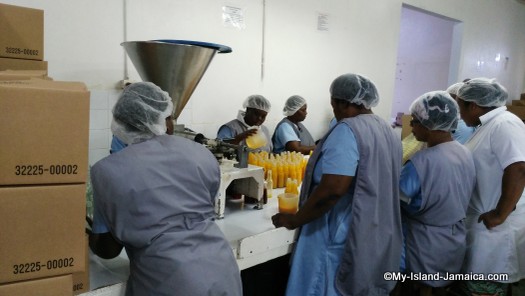 Fascinating Factory Tours in Jamaica
by Aneisha Dobson, Associate Writer

When most people envision a Jamaican vacation, the first thing they think of are (usually) laying on pristine white sand beaches, eating delectable local cuisines and enjoying an array of our beautiful attractions.

But, Jamaica has even more to offer!

Through the innovative and creative minds of various individuals, Jamaica has become the place of birth for many factories that produce a wide variety of products that are world re-known.

And, many of these factories offer tours to showcase the history, production plant and processes of their unique products.

These include blue mountain coffee, rum, bammy and even chocolate.

The following are some of the most popular (and best) ones today.


Appleton Estate Rum Tour
Classified as an indispensable commodity, Appleton Rum has been labelled the world's finest rum and an authentic Jamaican product. This fine product is produced at the Appleton Estate located in Nassau Valley, St. Elizabeth.
The Appleton Estate Rum Tour gives tourist the opportunity to tour the Appleton Distillery and witness first-hand the unique process that give Appleton Rum its distinctive flavour.
At the end of the tour, you can head to the gift shop and purchase the Appleton Estate Exclusive Jamaica Rum, which is only available at the factory.
Contact: 1-876-963-9215 /1-876-963-9216/1-876-963-9217 or email appletonrumtour@campari.com to make your reservations.
Mavis Bank Coffee Factory
Coffee is also another special drink that has put Jamaica on the map. The Blue Mountain Coffee has been considered to be one of the world's finest. Located in Kingston, Jamaica, Mavis Bank Coffee Factory is home to the well-known JABLUM Blue Mountain Coffee.
The tour gives visitors a look in the factory facilities and demonstrations the process that these beans goes through and see just why it's "the coffee experience beyond compare".
Guess what! After the tour you will be treated to a cup of JABLUM.
An insightful tour and coffee, what else could you ask for.
Contact:1-876-977-8528 or email @ customerservice@bluemountaincoffee.com to make reservations.
Bammy Factory
Coupled with escovitch fish, bammy is another staple cuisine to brand Jamaica. If you want to witness first-hand how they convert cassava roots into delectable bammy, then stop by the Bammy Factory, housed in the parish of Mandeville.
Pickapeppa Sauce Factory
Nested in the community of Shooter's Hill, Mandeville, you will find the Pickapeppa Sauce Factory, producers of the renowned Pickapeppa Sauce. With its uniquely combination of spices and seasonings, it captures the "taste of Jamaica" in every bottle.
The tour shows the process that goes into making these sauces. Tours are usually done by appointment.
Contact : 1-876-603-3439
Pioneer Chocolate Factory
If you have a sweet tooth, you would probably find the Pioneer Chocolate Factory to be a delightful tour. Here, you will get a chance to have a taste of some of Jamaica's finest chocolates and you'll also be able to witness the delicate process that goes into making these delectable chocolates.
Contact: 1-876-963-4216
High Mountain Coffee Factory
Here is another coffee factory. Located in Williamsfield, Mandeville, visitors can learn about the roasting process of their coffee beans. There is also a gift shop where you can purchase coffee beans roasted at the factory.
Contact:1-876-962-4211
Magic Toy Factory
Whether you have an admiration for hand craft items or your looking for a souvenir, the Magic Toy Factory should be your next stop. The factory is housed in an old, red house in Walderston and is surrounded by lush greenery on the outside.
Items such as: earrings, pins, jigsaw puzzles and plaques are made at this factory.
Contact: 1-876-997-6652
I personally believe that engaging in factory tours are not only educational, but also intriguing. It gives tourists another perspective of Jamaica and allows them to have a deeper appreciation for the local manufacturing industry.
Be sure to consider experiencing one of these fascinating factory tours in Jamaica on your next trip.
Links to sources:


http://www.appletonestate.com/en/visit-us/

https://www.expedia.com/

http://jamaicayp.com

http://travel.online-business-idea.com/Fascinating-Factory-Tours-in-Jamaica.html

https://www.tripadvisor.com/Attractions-g147309-Activities-c42-t141-Jamaica.html

http://www.visitjamaica.com/jablum-mavis-bank-coffee-factory-tours