Fun Spots to Visit in Montego Bay, Jamaica | Attractions in Montego Bay, Jamaica
by Sheree-Anita Shearer | Associate Writer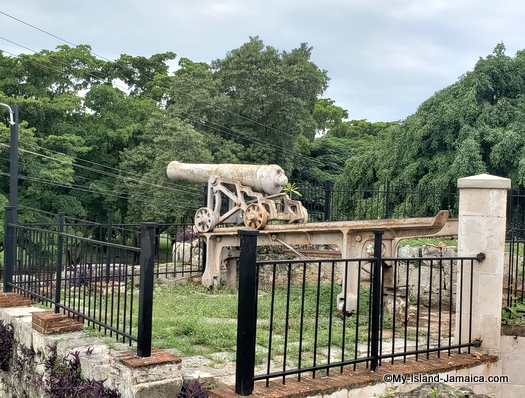 Photo: Relics at Fort Montego
Many persons come to Jamaica to enjoy our exceptional beaches, rivers and food and with so many to choose from, if I weren't already here I'd want to be in Jamaica too.
Montego Bay
, being the second city is one of the most populated areas in Jamaica because of both the work and school opportunities that it provides. It is also one of the tourist hotspots on the island. Because of these two factors, there are countless entertainment spots scattered across the city.
It is easy to come to Jamaica and just go to the beaches and rivers and choose from the many delicious dishes that are provided. And that is okay, you would still have had a wonderful and fulfilling trip. But if you are in the mood for a little adventure, I will let you in on a few more spots we enjoy here in Montego Bay, Jamaica.
JAM ZONE
If you enjoy bowling, then JAM Zone is where you can
"eat, bowl and chill"
for a while. The bowling alley not only has a location in Ironshore, St. James but also in Kingston. The fun, relaxed environment encourages its patrons to have fun with their friends or loved ones.
Treasure Hunt Casino
For a little bit of grown-up fun, you can visit Treasure Hunt Casino in Whitter Village, Ironshore, Montego Bay. Children are not allowed and you will need to show an acceptable form of identification before entering and playing the games. They offer games such as BlackJack, Slot Machines, Roulette, Baccarat. This spot is ideal as it is very close to many of the resorts and restaurants in the area.
Coral Cliff
Coral Cliff has something for everyone to enjoy. There is an arcade for kids and kids at heart and a casino for those who enjoy taking risks. If neither of these things intrigue you, then maybe you'll enjoy their restaurant and bar, Bubble and Spice. Many people choose to celebrate birthdays, anniversaries or just hang out on a Friday night here. They have nightly themed live band performances with a different theme on each night.
Go-Kart World
This is the latest addition to the long list of attractions in Montego Bay. The promise of Racing and Reggae is fulfilled as there is live music and entertainment while you race around the go-kart track with your family and friends.
Bunker's Hill Cultural Experiece
The Bunker's Hill Cultural Experience takes us through what life was like for our very first inhabitants, the Tainos. You'll also get to see rivers and caves before relaxing by the riverside to an authentic Jamaican meal surrounded by nature and our indigenous hummingbirds.
Palace Multiplex
This is where we go to see the latest box office hits and our favourite films. On weekends especially you can see the long lines with people who are clamouring to get inside and watch the latest movies. It is also a very popular date night spot. Their location on Fairview, Montego Bay is ideal as it is surrounded by restaurants where you can grab a bite to eat before or after your movie ends.
Rose Hall Great House
Photo: The Rose Hall Great House - Rose Hall, St. James
If you are anything like me, then your trip isn't complete without a little bit of history and mystery and that is exactly what the Rose Hall Great House offers its guests. It gives a tour of the beautiful plantation home overlooking the Caribbean Sea where the infamous Annie Palmer resided. Annie Palmer who seems to be famous for all the wrong reasons was a plantation owner most popularly known for killing her three husbands before she herself was killed by what is thought to be one of her slaves with whom she was romantically involved.
But don't let me explain it to you. The tour guides on the property will paint such a vivid picture you'll believe you were right there with Annie when it happened. To add to the intrigue, take the night tour instead.
After the tour, if you are not quite ready to leave, you can stop by the gift shop or the restaurant on the property to have some delicious food, a drink and something to remember your trip to the great house.
Fort Montego
Now Fort Montego today is very different from what it was intended and used for in the past. The site houses 12 pounder guns in addition to five smaller ones. What was built as a fort to protect the shores of Montego Bay from invaders in colonial times is now a lovely craft market and gives a breathtaking view of the Caribbean sea. You can also tour the area and see the now abandoned cannons from the 17th and 18th centuries.
Chukka Jungle Outpost
Built on the Montpelier Estate, the Chukka Jungle Outpost is the perfect mixture of history and adventure. Get a tour of the grounds and hear of the rich history of the plantation all while hiking up the waterfall, tubing down the Great River or ziplining across the lush, mysterious jungle.
Croydon in the Mountains
This is nature at its best! The Croydon Plantations, the birthplace of Samuel Sharpe own of Jamaica's seven National Heroes, is a working plantation conveniently located in the Catadupa Mountains. Enjoy uninterrupted views of the surrounding countryside while tasting exotic fruits grown right there on the property. Lunch is provided along with your very own cup of World Famous Blue Mountain Coffee.
Half Moon Equestrian Centre
For over thirty years the Half Moon resort has been home to the Half Moon Equestrian Centre. This is the home of injured, strayed and abandoned animals where with the help of the very capable staff they can heal and enjoy their new home. Guests are welcome to interact with the donkeys, rabbits dogs, cats and of course, horses in the beautiful Pony Park.
It is very calming to be among the animals so it is highly recommended if you need a few peaceful hours. Of course, as the name suggests, riders are also welcome to visit.
Harmony Beach Park
The Harmony Beach Park provides state of the art recreation for families and friends living in or visiting Montego Bay. With an activity centre, multipurpose court, jogging trail, promenade, snack shops, beach area and beautiful lawns, I am sure you can find your own unique way to enjoy the facilities of the park especially knowing you are safe to do so as there are many security guards and lifeguards on property.
It's a very good spot for photoshoots, birthdays, anniversaries, baby showers or just a regular day at the beach.
We even had our Ultimate Patty challenge on the beautiful lawns in the park!
YOU CAN WATCH IT HERE!
Cinnamon Hill Golf Course
This golf course, located in Rose Hall, St. James is a favourite amongst local and international golfers alike. The 18 hole golf course is home to some of the most experienced and friendly caddies in the world. As you can expect of Jamaica, the golf course gives you a beautiful view of the Caribbean Sea.
So you see, as tempting as it is to lay by the sea all day. There is definitely a lot more to be seen and enjoyed all Montego Bay. I invite you to take the hint and explore the possibilities.
I also recommend you read,
The Best & Most Popular Tourist Attractions in Jamaica
.
Regards,
SS
Editor's Note
Don't forget to share your thoughts and
comments here!