Grab and Go Food Stops | The Best of South Coast, Jamaica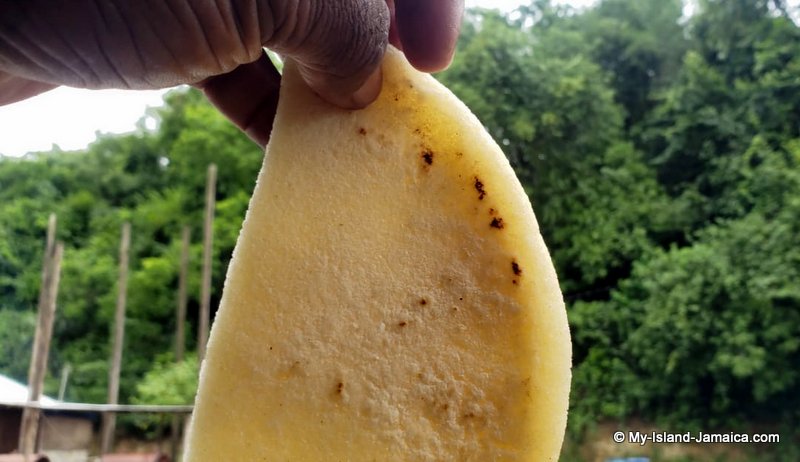 Photo: Fresh fried bammy at Border
by Kesha Stewart | Associate Writer


Jamaica's southern parishes are quite stunning even though the tourism product is not as developed as on the north side. One thing you're sure to find is FOOD. Jamaicans place a huge emphasis on that, so no matter where you are there is likely to be a place to eat nearby. Let's leave Kingston behind as we hit the road for our south coast drive-through.


Our first stop is Old Harbour Bay. This is off the straight and narrow if you are heading to the South end of Jamaica, but if you're a fish lover no sacrifice is too great. Plus, your total time off route is likely to be just 15 minutes. You can have fish freshly caught, prepared and served to go in different styles at competitive prices. Thirst quenching refreshments are available too. This detour is well worth the time.


You don't have to walk off the beaten path to eat or rest in Clarendon. There are persons selling freshly roasted cashew nuts right by the roadside by the time you arrive in the vicinity of Clarendon Park. It's a great snack, organic and comes in small bags priced from $100 Jamaican up.


If you want to pull off the road and unwind a bit here is a neat place. It's the Juici Patties Clarendon Park. No kidding now, this place is a must stop. There are the usual patty varieties, juices and water, ice-cream, a bar, variety porridges, soups and meals such as ackee and saltfish with boiled yams bananas and dumplings, fried chicken, sandwiches, vegetable loaves, vegan soups and I could go on and on. They have a drive-through feature. There is indoor dining with full air conditioning and outdoor areas too plus clean restrooms.


Still in Clarendon, but now we're at Scott's Pass. This is your fruits stop. Every fruit is in season and then some is available right by the side of the road. Mangoes, sweet sops, starapples, oranges, plantains, bananas etc. are artfully displayed, fresh and juicy. Prices vary depending on supply the type and amount of fruits needed.


Hopping into Manchester, think yams. Specifically roasted yam with ackee and saltfish. Starting at $1000 per meal you can have your fill of this Jamaican dish to go. Water and cold drinks are available too. I had a mix of roasted sweet potatoes and yam with ackee and saltfish.

You can have your meal with roasted saltfish as our forefathers did during slavery. You'll be needing plenty of water. Also, try not to be intimidated as there are a number of vendors and they can be a bit pushy. Be decisive and state who you want to do business with and it's usually respected.


Just as you begin the descent called Spur Tree Hill you enter what I call the "Curry Goat Zone". Here, there are small restaurants and cookshops near the roadside that prepare appetizing curry goat with your choice of local staple or rice/rice and peas. It's hot and spicy and absolutely good. Brevages are additional.

If you're into soups, then as you continue you'll come upon a few soup shacks by the roadside. They do vegan soups as well as soups for meat lovers. Ask for their corn soup it's a blast. Plus, they have roasted and boiled corns. Everything on the menu is reasonably priced and served to go. So 'ride and whistle' (grab and go).


By now you're in St. Elizabeth and I encourage you not to pass Holland Bamboo. That is where you can get your sweet, ice-cold jelly coconut…Ahhh! Refreshing. The price is usually JMD 150. Some vendors sell peanuts too from about JMD 300. Drive at a crawl here too because you don't want to pass the small eateries selling curry goat and roti (so good!). At Ruby's Bar and Jerk Centre, you can pull over and order spicy Jamaican jerk meats is also up the alley. It's priced per pound or quarter if it is poultry and served to go.


Well I have to mention shrimp, since Middle Quarters, St Elizabeth is Shrimp Country. If you're into this Jamaican favourite then willing vendors are by the roundabout or in the general vicinity. It's called peppered shrimp for a reason, they prepare it with Scotch Bonnet Peppers. Again here, vendors can be assertive. Prices begin at 100 JMD and move up depending on the size of the shrimp and the amount you will need. Its handily served in small clear bags with a brown paper bag for your scraps.


Border is the next great place to stop. Bammy and fried fish is available right at St. Elizabeth's coastal border with Westmoreland. This is a must. Bammies are basically cassava cakes. They are served hot with fried fish. You don't have to exit your vehicle to enjoy this pastime and prices are negotiable based on the type and size of fish and the amount of bammy you need. Typically, JMD1500 is good enough for a two-person meal. Drink, water or beer is at an additional cost. The fish is foil wrapped and your bammy is served in clear plastic bags. Break open and enjoy.


You're heading now to Culloden a small community outside of Whitehouse, Westmoreland. It's less than ten minutes from Border. Whitehouse is a fishing village so fish is always on the menu. Specifically, at Big Tree, a place named for obvious reasons, you will see a few small eateries serving meals to go or for dine-in. There you will delight your taste buds with meals such as steamed fish with water crackers (a personal favourite), fried and roasted fish, conch soup, curried conch, lobster and the list goes on. You're sure to find a suitable form of refreshment within. The prices are reasonable.


For a more refined dining experience, might I suggest Gungo's Jerk at Dunn Bar's River in Westmoreland. It's on the fringes of the town of Savanna-la-mar. The menu is seafood, poultry and meat in various styles. The atmosphere is pleasant too. At the bar, you can fresh yourself while your meal is either done to order or plated and served. Here you even get to choose your fish and tell the chef how you'd like to have it done. I loved that.


Other great stops include Streetlight Bar and Grill on Dalling Street just as your leaving Savanna–la-mar. The service is great, prices are reasonable and the atmosphere is casual. The menu includes roast fish, roti and roast conch. This is mainly operational after 6 pm. Most people dine in but there is take out too.


Next stop is called Bridgez Jerk Bar and Rest Stop in Big Bridge District, just before you get to Little London on the way to Negril. The food here features jerk options, and fish in styles such as curry, vegetables and sides such as fries. The prices are fairly good and exotic cocktails are also on offer.
So if you want a south coast shuffle and you're not the type to pack a lunch box or live off granola bars the recommended food stops on Jamaica's south coast are ideal for you. There are places for the adventurous and the cautious or whether you want to splurge or stay on a budget. So you can make the road your sky and still have great eats along the way.
I also recommend you read
Delicious & Delectable Food From Jamaica Caution! You WILL Salivate!
Regards,
KS
Editor's Note
Have a question? Ask Away!
Leave it right here
! With well
over 2000 questions already answered
, chances are we can assist :-)