How Can I Recover Money Owed To Me In Jamaica?
by ROBERT
(Kingston, Jamaica)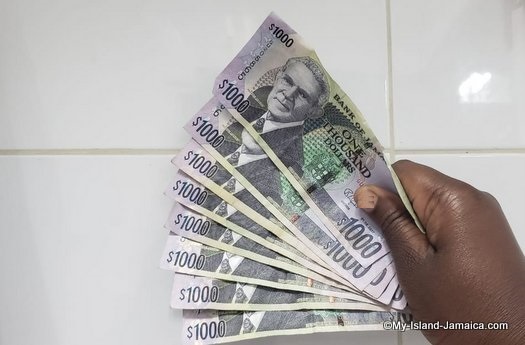 Photo: Specimen Jamaican $1000 bills
Good day, I operate a micro lending business, my business is registered with the companies office however I have a few cases where some of my customers are refusing to pay their loan and one case where one of them left the country and is ignoring our messages.

I worked really hard to save and start this business and I am very passionate about growing my business, however those persons are bringing my business down.

I would appreciate any suggestion or assistance with this problem. Thanks in advance.

RESPONSE: by Deon Clarke
Hi Robert,
Thanks so much for stopping by the website and for your question. First of all I must commend you for starting your own business!
However, this kind of business is risky business, definitely not for the faint of heart; to collect from persons who are unable to, or do not want to pay can be a daunting task indeed!
And you mentioned that your business is registered with the Companies Office Of Jamaica, that's great! However, it's important to note that it is just your business name that is actually registered.
And although there was no regulatory framework with regards to legally operating as a micro financial institution when you started your operations, that should not prevent you from legally collecting from your customers.
And that said, there are currently plans underway by the authorities to have all micro finance institutions operate with a license as of 2022, to be supervised by the Bank of Jamaica, as per the Micro Credit Act that was recently passed.
With that being said, I will provide your some recommendations that may assist with your recovery attempts. It is extremely important for you to have a process in place for recovering outstanding balance, so consider using the below options as a guide (in this order)...


Issue a Warning Letter. As soon as a customer defaults on their loan, you will need to issue a warning letter or late payment notice to them. This would basically advise them of their outstanding amount, the amount of days that they are late, and a deadline or the amount of time you are giving them to make the payment.


Issue a Demand Letter. Once a warning letter was issued to the customer and they still have not made any attempts to make payments, then this would be your next step. This letter would demand payment and provide a deadline for same. It would also clearly state that if payment is not made legal actions would be taken to recover the balance.


Make an Amnesty Offer. For those who are willing to pay or make arrangements, you could offer them an amnesty where if they make a one-time payment of a certain amount, you would write off the balance. Of course, you would have to make sure this covers the principal at least and maybe some of the interest. Everyone loves a good deal and this could be a win-win situation for both you and the customer.


Restructure the loan. Things do happen and this can sometimes cause good customers to be in a position where they might not be able to honor their obligations as planned. This might not be applicable to every customer but if you have good customers who are just having a difficult time, this might be an option. Restructure the loan for a more affordable repayment for the customer, also another win-win situation.


Seek the services of a Bailiff or Collections Agency. There are times when all efforts have failed and you will have no choice but to get outside help. A collections agency or bailiff can be effective in collecting on your behalf. There are collections agencies that also collect from persons who have migrated or left the country.


Take Legal Action. In cases where all the above have failed, then you can take the customer to court to recover your outstanding balance. Note here that all the previous steps taken would have been documented and prove that you did everything possible to give the customer a fair chance to pay. You should therefore not have an issue with getting a fair and fast judgement!

So Robert, I hope the information provided will be beneficial to you as well as others who share the same concern. Thanks again and I wish you all the best in your recovery attempts! Don't forget to comment and share. God Bless.
See also:
How Do I Get A Loan From The NHT To Purchase Land In Jamaica
Regards,
DC
References:



"How do I start a same day loan company in Jamaica?", https://www.my-island-jamaica.com/how-do-i-start-a-same-day-loan-company-in-jamaica.html


"5 Ways To Recover An Outstanding Debt", https://www.debtnegotiators.com.au/articles/5-ways-to-recover-an-outstanding-debt/


"Lawful processes to recover debt", https://www.jamaicaobserver.com/business/lawful-processes-to-recover-debt_13892469

Editor's Note
What about you? Do you have a question?
send it in here
! With well
over 2000 questions already answered
, chances are we assist :-)