How Did Jamaica Get Its Name?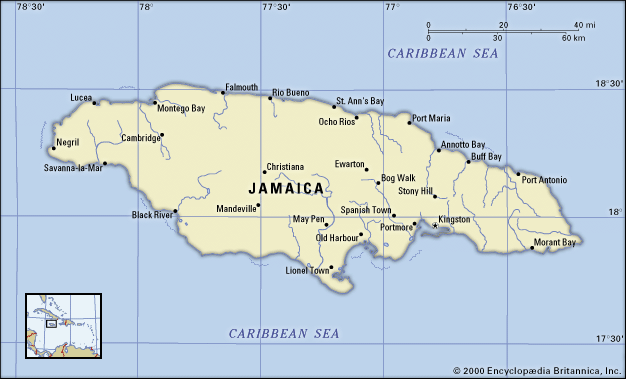 How Did Jamaica get its Name? Hmmm. An highly unusual, but very good question, something my baby daughter would ask :-)

Anyways it motivated me to draw unto my resource materials and yes, I have your answer my friend!


How Did Jamaica Get Its Name?
ANSWER: by Wellesley
Jamaica, like Cuba and Haiti, is one of the islands of the Caribbean that has retained its original Taino name.
Christoper Columbus, on his first voyage, was told by the Amerindians of the island which he recorded as "Yamaye" in his 10g on Sunday 6 January 1493, the first written record of the place (now Jamaica).
.
When the Spaniards claimed the island they named it
Santiago
, after St James, the patron saint of Spain.
However, it soon reverted to a version of its aboriginal name
Hamaika 0r Haymaica
which the Spaniards wrote as
Xaymaica
or variants thereof.
The Taino word is interpreted to indicate an abundance of wood and springs, hence Jamaica is traditionally referred to as 'the land of springs' or, 'the land of wood and water'. Note that the name Santiago survives in St. Jago, the early name for Spanish Town, the now capital of St. Catherine.
The English then standardized it to spell
J-A-M-A-I-C-A
, but that was well after their period of capture and settlement. Englishmen who wrote of the island from personal experience immediately after settlement, wrote the name variously as
Gemecoe, Gemegoe, Jamico, Jammaca and Jamecah
.
Jamaica, which has a total area of 10,991 kilometers square, is the largest island of the English-speaking Caribbean.
Do continue reading
how large is Jamaica
and
geography of Jamaica
to get even more insights.
See also:
The Colonial History Of Jamaica
I hope this helps!
As usual, I welcome
your feedback here
.
Keep in touch.
Regards,
Wellesley
P.S. Have another question?
Submit it here
for an answer.
P.P. S. By the way, I also recommended that you consider utilizing the
free search tool
that allows you to look for something specific on this website.
P.P.P.S AND, We've answered HUNDREDS of questions,
click here
and
here
to get even more answers.

References:



Andrea Campbell, Jamaican Proverbs People and Places

Olive Senior, Encylopedia of Jamiacan Heritage

Clinton Black, History Of Jamaica