How LARGE is Jamaica?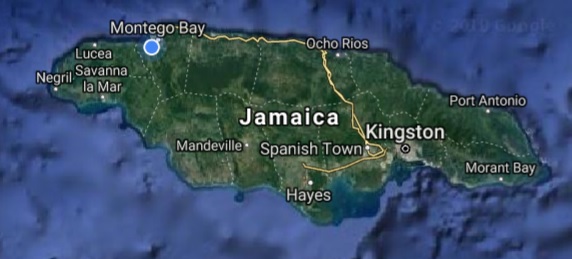 Ever wondered how big is Jamaica, the size of Jamaica, or just how LARGE is Jamaica compared to other countries?

I'll answer that now and share some live country and state comparisons.


How large is Jamaica?
ANSWER:
by Wellesley
Ok, some assumptions here again. I am assuming that you are speaking about the size of the island in distance or dimensions, right?
If you are looking for the size of the island in terms of the population, you can
find that here
or
here
.
The simple answer is perhaps... NOT large AT ALL :-)
The
length of the island
is just two hundred and thirty-three point six (233.6) kilometers - that is one hundred and forty six (146 miles), while the
width of the island
is eighty-one point six (81.6) kilometers or 51 miles - at its widest section.
The total land area of Jamaica is ten thousand, nine hundred and ninety-one (10,991) square kilometers or four thousand, two hundred and forty-four (4,244) square miles. That makes Jamaica comparable to the US state of Florida, with approximately 139,670 sq km, and just slightly smaller than Connecticut.
The USA (9,833,517 sq km) is about 895 times bigger than Jamaica (10,991 sq km)!
That said, Jamaica is still the largest English-speaking country in the Caribbean and the third largest overall in the Caribbean.
Other US state and country comparisons


Jamaica is about 62 times smaller than Texas.

Jamaica is about 11 times smaller than New York.
New York is approximately 122,283 sq km, while Jamaica is approximately 10,991 sq km

Jamaica is about 12 times smaller than Alabama

Jamaica is about 2 times smaller than Massachusetts

Jamaica is about 11 times smaller than Pennsylvania.

Jamaica is about 704 times smaller than Australia.

Jamaica is about 908 times smaller than Canada.

Jamaica is about 22 times smaller than the United Kingdom.

Jamaica is about 873 times smaller than China.

Jamaica is about 22 times smaller than Ghana.

That land mass, you may want to know, is divided into three (3) counties, and further into
fourteen (14) parishes
.
And for those interested in the population of Jamaica...
, according to the World Population Review, Jamaica's population is estimated to be 2,951,461 at mid-year (June) 2019.
That puts Jamaica in 138th position as the world's most populous country.
I hope that helped.
You can learn more about the dimensions and
size of the parishes in Jamaica here
.
So how well do you think we are doing, relative to our size? As usual, I welcome
your feedback here
.
Regards,
WG
P.S. Have another question?
Submit it here for an
answer
.
P.P. S. We've answered HUNDREDS of questions,
click here
and
here
to get even more answers.

References:



Team Jamaica Handbook, 5th edition, 2017

"Jamaica Population 2019", http://worldpopulationreview.com/countries/jamaica-population/

"Jamaica - Nations Online Project", https://www.nationsonline.org › oneworld › jamaica

"Country Size Comparison", https://www.mylifeelsewhere.com/country-size-comparison/united-states/jamaica