How Much Money to Bring to Jamaica?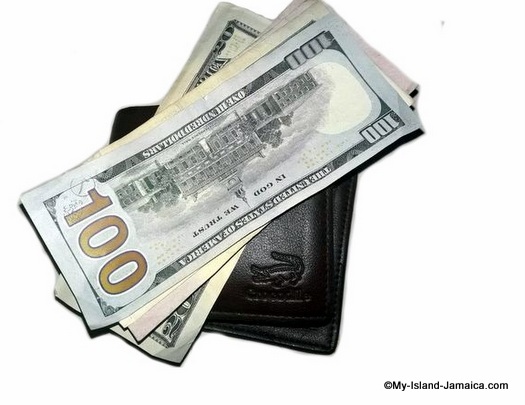 Answered by Tracie Shortridge, Associate Writer

Vacationing anywhere in the world, especially if visiting for the first time, always begs the question, how much spending money do I need to take with me?

So, you found a great deal that afforded you an affordable vacation package and great discounted airfare, but, will there be shopping? Will there be tipping? How do I get from the Airport to the Hotel/Resort?

With all these questions looming, one has to figure out how much cash they actually need to take with them on their dream vacation to Jamaica.

It is important to note that the currency of Jamaica is the Jamaican Dollar. However, United States Dollars (US$) are widely accepted in every area of the island. And, with this flexibility, there is no great need to convert your monies to Jamaican Dollars.

The US Dollars can be spent and are accepted by vendors, taxi operators, at the airport food courts, within the gift shops and Hotels/Resorts.

It is also accepted at the Hotels/Resorts front desk to settle all charges accrued during the vacation.

The amount of money you take with you is dependent on the length of your stay and your planned itinerary for your vacation time.

If you will be staying three to five nights with no plans or intentions to leave the Hotel/Resort, you may consider utilizing the Hotel's/Resort's services and as such you may be utilizing the Spa Services, the Resort Shops, Photography Services or working out with a personal trainer at the Gym to name a few.

If you are not going to venture into utilizing any of these services, then anywhere between US$100 to US$350 would probably suffice. However, if you are looking at utilizing these services, you will need a minimum of US$350 to US$500.

If you are an adventurer with plans on your agenda to venture outside of the Hotel/Resort as often as possible to participate in tours, participate in excursions, visit theme parks, visit beaches, visit art galleries, visit the move theatre to catch the latest film or just explore the local sites and purchase unique craft items and collectibles, take advantage of the duty free shopping opportunities and sightseeing, you will need a minimum of US$500 up to US$850.

Of course, the longer you stay and the more activities you participate in, the more you will need to take with you.

If you are staying between seven and fourteen nights, and doing all the aforementioned plus more, you may need a minimum of US$1,000 to US$1,500.

Do not bring more than the recommended amount as any amounts over US$10,000 will have to be declared with the TSA (airport security control personnel).

Overall, once you have booked an all-inclusive accommodation, there really is no need to travel with excessive amounts of cash.

Also, as a security measure, it is always recommended that you travel with credit cards which are also doubly accepted on the island.

Happy spending!!


Video Response
Here below is Wellesley's response, in video!
By The Way...
Whether you will be visiting Bob Marley's Trench Town, explore the white sand coves and cascading waterfalls or enjoying the best jerk chicken from a roadside stall, I suggest you consider getting
The Rough Guide to Jamaica (Travel Guide)
!
It is one of the best yet, certainly for Jamaica. You can
check the current price at Amazon here
.
See also:
Currency Of Jamaica