I am considering a swift move to Jamaica, need your recommendations
by Eagle
(UK)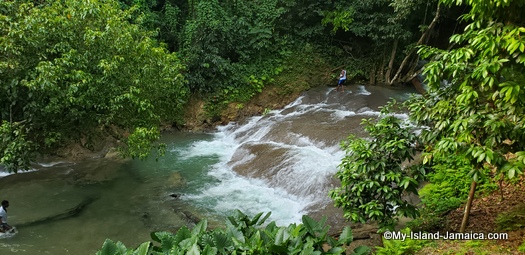 Benta River, Williamsfield in Westmoreland

We have several articles on the topic of living in Jamaica, but this asker, from the UK, was direct in relation to land acquisition, type of home and location. Deon did a great job responding though. Here's his question...



Hi By browsing the internet I have just come across your page; wonderful stuff. It's late here, after 11pm, but I am in need of some advice...

I have family living in Jamaica, but in light of current situation, I am considering a swift move to Jamaica.

I wanted to move into a rural area near a water source such as a river or spring. Would it better to rent land with view to buy? I need about 1/4 or half acre and space for a container home.

Any recommendations, wouldn't mind up in the hills but not lots of people around. please respond to me at xxxxxxx@gmail.com (email address masked). Thank you and God bless.

-EG from UK.

RESPONSE: by Deon Clarke, Associate Writer
Hi EG,
Thank you for visiting our website and your glowing commendations. I will be happy to answer your questions as best a possible. It's great to know that you are considering relocating to Jamaica.
The rural areas of Jamaica are great places to live when you want to have a relaxing atmosphere and especially to set up container home.
To answer your first question:
Would it be better to rent land with a view to buy?
Great question! You did not state if you have ever lived in Jamaica or visited before. However, renting land with a view to buy would be a great option if you have not yet decided if you plan to settle here. This would allow you to live here for a while and make a more informed decision for permanent residency.
A container home could also be ideal for this type of situation; you certainly don't want to invest in buying land and then leaving as you may not like it anymore or have no plans for a permanent living situation. Renting land with a view to buy could possibly be more cost effective option for you.
You will find that Jamaica has a number of options when it comes to renting land in rural areas as well. The challenge however, may be that you may not get all the items on your list checked.
It's very likely that you could get somewhere near a water source and possibly with few people around but it may just not be in the hills.
This bring us to your next question of:
Any recommendations on location?
You did mention that you had family living here but you did not mention where. However, I have identified a few rural locations in most of our parishes that would come close to what you are looking for, that you could consider. Here goes:


Westmoreland – Petersfield, Deans Valley, Waterworks, Williamsfield, Pennycooke

St. Thomas – Yallahs, Plantain Garden River

Hanover- Great River, Silver Spring, Lucea

Portland – Rio Grande, Buff Bay, Hectors River, Moore Town

St. James – Riverside-Irwin, Montpelier, Cambridge, Adelphi, Somerton

St. Elizabeth – Braes River, Middle Quarters, Black River, Appleton, Y.S. River

Trelawny – Rio Bueno, Martha Brae

St. Mary- Jacks River, Grant's Town

St. Catherine - Bog Walk, Ewarton, Cudjoe Hill

Clarendon – Milk River, Salt River,

St. Andrew - Gordon Town, New Castle, The Blue Mountains

St. Ann - Roaring River, White River

Manchester – Gut River

The list is not exhaustive though as Jamaica is truly the land of wood and water and has many natural water sources, but these might be start. You can also check out local real estate listings that may suit your needs. Hope you found this helpful.
Be sure to also learn more on
how to buy land in Jamaica here
.
Best of luck in your search!
-DC
P.S. Related:
Do I need a work permit to work in Jamaica?
.

References:



https://www.my-island-jamaica.com/rivers_in_jamaica.html

https://en.wikipedia.org/wiki/List_of_rivers_of_Jamaica

https://www.my-island-jamaica.com/what-do-i-need-to-register-a-business-in-jamaica.html

https://www.my-island-jamaica.com/mineral_springs_in_jamaica.html

#BestParishForSettling #LivingInJamaica #MovingToJamaica