Jamaica Corn Fest 2020 | Celebrating Authentic Jamaica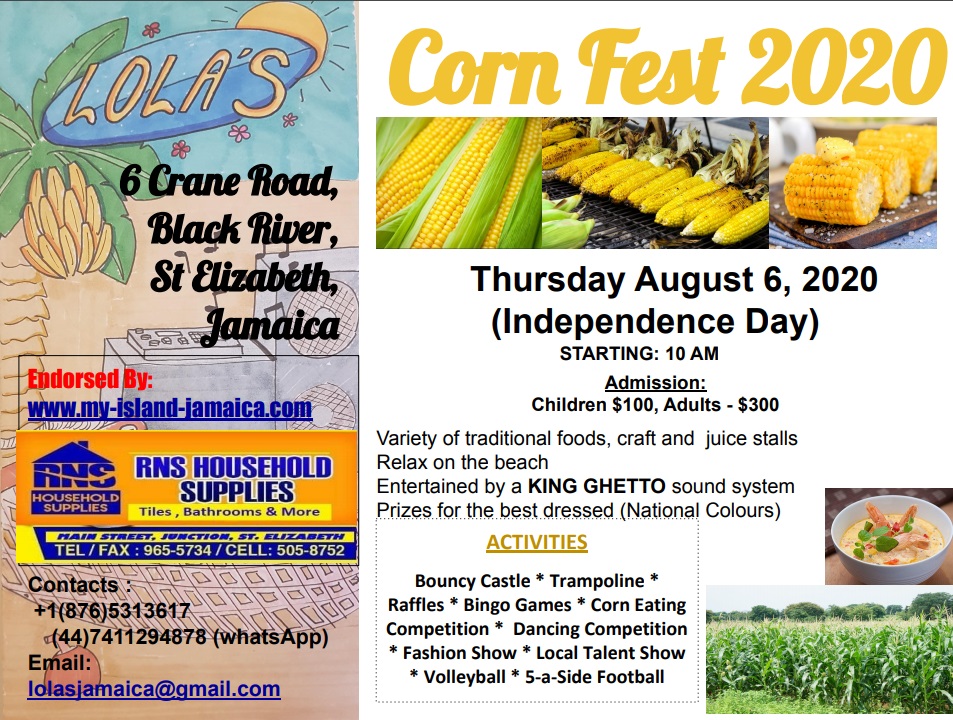 The annual, and highly anticipated Jamaica Corn Festival, will take center stage on Jamaica's south-coast, this Independence Day, August 6, 2020.

The event will be held at LOLA's, 6 Crane Road in Black River, St. Elizabeth.


Food Items
As was evident
last year
, it's
'Everything Corn!'
; there will be an abundance of corn and corn bi products.
In addition to..


Roasted Corn &

Boiled Corn

You will also enjoy...


Corn Asham

Corn and Tuna salad

Corn Beard ice tea

Corn Blue Draws aka Dukuno

Corn Dip

Corn Dog

Corn Dumplings

Cornmeal

Corn Porridge

Corn Pudding

Corn Soup

Festival

Hominy Corn porridge

Potato with corn pudding, &

Rice Corn

And yes, like the several other traditional Jamaican food favorites, including..


Chocolate tea

Coconut Drops

Ginger drink

Gizzada

Shamshuku

Sugar Cane

And much more!

Food, Craft items and authentic juices will be at multiple but specifically designated stalls! There will be for example...


Fish Stalls

Chicken Stalls

Pork Stalls,

Curried Goat Stalls &

Craft Item Stalls

and natural juice stalls!

Entertainment
Musical Entertainment will be provided by King Ghetto local DJ. And, there will be a host of prizes and surprises, for both adults and kids, including a special prize for the best dressed in the national colours of Jamaica.
Activities
Other activities include...


Bingo Games

Bouncy Castle

Corn Eating competition (see on YouTube)

Dancing competition

Fashion Show

Five-a-side football

Local Talent Show

Raffle

Trampoline, and

Volley Ball

The event starts at 10:00am. Admission cost is only $300JMD for adults and $100JMD for children.
Contact Information

For further information, including food and craft stall reservation, contact the organizers at...

Telephone:|
876-531-3617 or
44-741-129-4878 (WhatsApp)

Email:
lolasjamaica@gmail.com


The inaugural event took place on Emancipation Day, August 1, 2019.