Jamaica keeps me coming back
by Sheila J
(Sacramento, California, USA)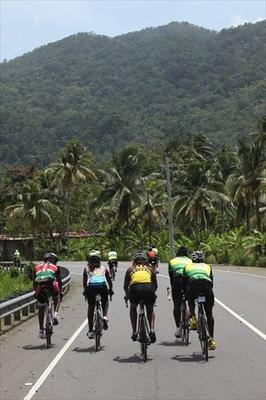 Bicycle Riding in Jamaica
There is just something about Jamaica that makes me keep coming back.

I started my adventure in 2007 at Hedonism, came back a month later for Sumfest n have been back every year!

I have tried the food n fruits I never thought I would, yes I have indulged in a akee n saltfish to bread fruit, yep bought peanuts and crawfish off the side of the road.

I have journeyed to Kingston, Ochi rios, Negril, Port Antonio and Montego Bay.,

I usually stay n Negril where I have rented a house n cottages at Greenleaf, stayed at hotels.

This year I ventured outside of Negril and did the 3 day bike ride with Jennifer "storm" Hilton on "The Reggae Ride".

It was awesome we started n Negril to Montego bay to 0chi to Port Antonio. It is a great way to see Jamaica at your own pace on your bike with great support, Jamaican people n food.

I have ventured through Jamaica on my bike, car, bus, motorcycle and boat.

I have truly enjoyed my time, no time is ever the same as the last time.

I am ending my 2013 in Jamaica and look forward to the great adventure that awaits me!

Wellesley's Note

Thanks for the lovely feedback Shiela!
The photos are also very captivating. I am pretty sure someone is envying you right now :-).

That bicycle photo appears to be somewhere in Mary or Portland - Am I right?


---
Been to Jamaica too? Like Shiela, please
share your story here
- the more the merrier!