Jamaican National Hero – Samuel Sharpe – 10 Important Facts To Know
by Deon Clarke | Associate Writer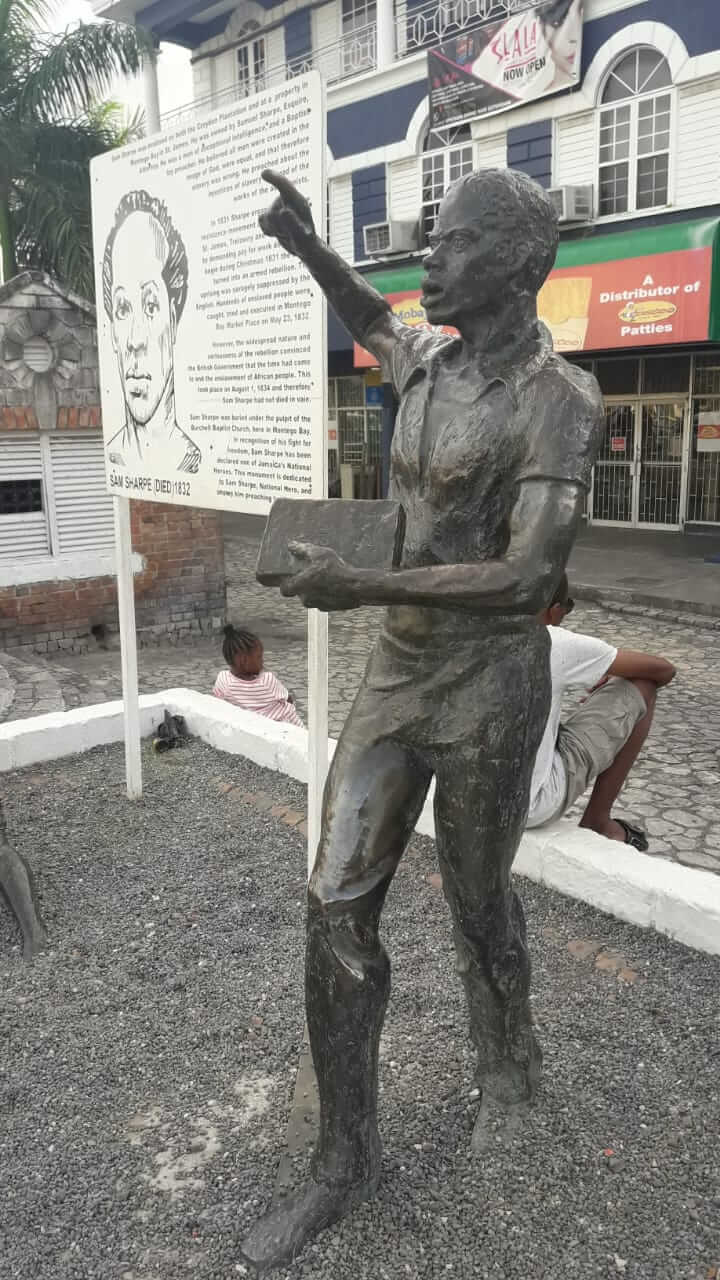 Photo: National Hero - Samuel Sharpe
As we celebrate Heritage Week in Jamaica from October 10 – October 18, 2021, we place special focus on our national heroes to highlight their life's work and achievements. Today we introduce
Samuel Sharpe
– one of Jamaica's seven
National Heroes
. Here are 10 important facts that you should know about this distinguished and charismatic Jamaican.
Samuel Sharpe was born as a slave in 1801 on a slave plantation which was owned by Samuel and Jane Sharpe in the parish of St. James. He was also named Samuel Sharpe by his slave master but was also called "Archer".


He was literate unlike many of the slaves as he was given many privileges including learning to read and write. For this, he was well respected amongst the slaves. He was treated very well by his master and became his right-hand man which included many special responsibilities.


One of Sharpe's responsibilities included taking slaves to other plantations to work. While doing this he became disgruntled with how the slaves were treated, even himself. He wanted freedom.


Sam Sharpe (affectionately called Daddy Sharpe) became a well-known preacher and leader in the Baptist Church. He was a deacon at the Burchell Baptist Church in Montego Bay, with Rev. Thomas Burchell (a missionary from England) as the pastor. The Baptist Church had always welcomed slaves as members and also recognized them as preachers. Sharpe was a dedicated Christian who spent most of his time travelling around the island educating the slaves about Christianity, and the freedom which he believed it promised.


Sharpe along with many slaves closely followed the British Parliament discussions on the abolition of slavery. He mistakenly believed that they were granted emancipation from slavery and in December of 1831 he organized a peaceful strike across many of the estates in the western parts of Jamaica to protest against deplorable working conditions. The plan was to have this done during the sugarcane harvesting period, which was a critical time for the plantation owners. The sugar cane would be spoilt if not harvested so he believed that the plantation owners would pay them to do the work to prevent this. This would start on December 27, 1831.


Sharpe's plan of a peaceful strike did not materialize as some of the slaves were angry and wanted their freedom, instead of a peaceful strike, they attacked and burned the crops at Kensington Estate in St. James on December 27, 1831, which started "The Christmas Rebellion" or "The Baptist War".


Sam Sharpe's peaceful protest turned out to be the largest slave rebellion in the history of Jamaica and lasted for 10 days spreading throughout the entire island with as many as 60,000 slaves participating. The armed military forces along with the Maroons eventually brought the rebellion under control within two weeks. The slaves killed 14 whites but over 200 slaves were killed by troops as they were not organized nor had many weapons. There were subsequent reprisals that resulted in the trial, conviction, and hanging of many of the perpetrators or so-called "ringleaders" including Samuel Sharpe.


During 1832 a total of about 310 to 340 slaves including Sam Sharpe was executed through the judicial system, many of which included minor offences such as livestock theft.


On May 23, 1832, Sam Sharpe was executed by hanging in the Montego Bay Market Place. He died at the young age of just 31 years old. He was noted to have declared to a missionary, Rev. Henry Bleby, while in jail pending his execution, "I would rather die upon yonder gallows than live my life in slavery." He was buried in the sands at the Montego Bay Harbour but his body was later removed and reburied beneath the pulpit at the Burchell Baptist Church – its final resting place.


Samuel Sharpe was conferred with the Order of the National Hero in 1975 when the Government of independent Jamaica proclaimed him a National Hero, with the posthumous title of Rt. Excellent Samuel Sharpe.

Some of Samuel Sharpe legacy and honour also includes:
In 1975, Sam Sharpe Teachers' College located in Granville, a suburb of Montego Bay was founded and named in his honour.

Sharpe's image is featured on the Jamaican $50 bill.

Courtney Pine (of Jamaican parentage), the British jazz saxophonist included an instrumental composition "Samuel Sharpe" as a tribute in Sharpe's honour on his 2012 album House of Legends.

Sam Sharpe is referenced by Vybz Kartel in his 2019 song "Stand Strong".

Daddy Sharpe: A Narrative of the Life and Adventures of Samuel Sharpe, West Indian Slave – Written by Himself, 1832, features a fictionalized account of Sharpe's life, by Fred W. Kennedy, and was published in 2008.

On Saturday, August 14, 2021, a short animated film titled Samuel Sharpe directed by Jason Young and produced by Gospel Temple Apostolic Church, was officially selected for screening at Flickers Rhode Island International Film Festival.

The severe reprisals after the rebellion is believed to have led the Jamaican government to act quickly and significantly contributed to Parliament's passing of the 1833 Slavery Abolition Act and the final abolition of slavery across the British Empire in 1838. Thanks to this Sam Sharpe (Daddy Sharpe), we can today enjoy the privileges of emancipation that so many lost their lives for but yet so many still take for granted.
I also recommend you read,
Jamaican National Heroes Quiz
.
References:

National Heroes, National Library of Jamaica, https://nlj.gov.jm/qcontentnational-heroes/

Samuel Sharpe, Wikipedia, https://en.wikipedia.org/wiki/Samuel_Sharpe

Sam Sharpe, Esteemed National Hero of Jamaica, My-Island-Jamaica, https://www.my-island-jamaica.com/sam_sharpe.html

Editor's Note
What are you thinking? Do you have a question as well?
submit it here
! With wel
over 2000 questions already answered
, chances are we assist :-)