Jamaican Pear (Avocado) - Love 'em!
by Wellesley
(My-Island-Jamaica.com)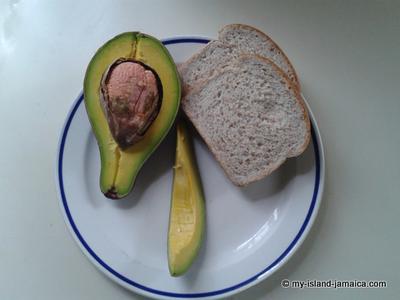 Jamaican Pears With Bread
I just had a few slices of another delectable Jamaican Pear (foreigners know it as avocado) earlier today, and felt like I needed to share this tasty, wonderful and versatile fruit with you.

It is actually the season now; August to December, so it is abundant now; on the trees and in the markets.

This one I just had actually came from my grandparents tree in the countryside.

We had a number of trees there, comprising multiple varieties.

I don't know the proper/scientific names for the varieties, but I can tell you we had the following: black skin, green skin, long neck, short neck and round ones! lol.

Note:
By the way, the scientific name for avocado is Persea Americana.

This one in particular is from the black skin type and is regarded by the entire community as the most succulent; firm, thick and meaty! The most enjoyable.

Pear is a great accompaniment to almost all Jamaican meals, but it is especially popular with bread and bulla -both baked products as well as roasted breadfruit.

The pear is usually picked from the tree when fit and put to ripe (in 2-6 days).

When ripe, it is sliced (as shown above), the skin peeled of and the fleshy inner layer is eaten - I am salivating as i write :-)

Today, pears are not only a substitute for meat or for making that 'quick and tasty' sandwich or snack, it is also used to make tasty dips and desserts.

The leaves is also said to be a great treatment for certain conditions.


FACTS ABOUT JAMAICAN PEAR
The following are some insightful information about pears, courtesy of the National Library Of Jamaica (
NLJ
).


The avocado, popularly called pear, has its roots in Central and South America and Mexico. It is believed to have reached Jamaica in the early sixteenth century.


The avocado tree grows generally to twenty metres. The tree can bear hundreds of fruits.


Fruits vary in size and shape, round, oval, pear-shaped and vary in shades of green or purple.


Avocado has a high protein content and is 5 to 25 per cent fat.


'Pear season' is normally August to December.

Back in the nineteenth century avocado was spread on bread in the space of butter

hence it was known as 'Midshipman's Butter' or 'Subaltern's Butter'.

I am guessing that your next question is 'Where Can These Pears Be Found Outside Of Jamaica?'.
Good question, but I honestly don't know the answer.
In fact I am not sure that the government of Jamaica, in collaboration with foreign them.
You can always get it here though :-), as long as it is in season.
If you are passing the
Montego Bay
side, just let me know, I'll be happy to source a
few for you :-)
Regards,
Wellesley
P.S. So how do have your pear? What is your favourite type, the green skin? Share
your comments
below.
See Also: Jamaican Fruits and Foods Eaten In Jamaica