Jamaican Black Cake
Di' Original Recipe - Quick & Easy!
Sharing Is Caring! Share this awesome content with your friends now.

New! See the real Jamaica in VIDEOS!
Click Here and see why over 140,000 fans are raving about my YouTube Channel!
The Original Jamaican Black Cake
Nemonie Cassells
Hello Wellesley,  thank you  for your new Year wish - same to you and your family.  Just wanted to say thank you for the wonderful black cake recipe of your sister.  I've used the recipe and the cake was a big hit. 
Thank you for sharing and God Bless.
- Juliet from Canada. 
...or scroll below to continue to read 'my story'.
"Nemonie cream the butter in the sugar for me."
I still remember the first time my auntie Sadie (affectionately called Aunty) said those words to me, I was around 10 years old.
I was so excited because I had watched my older sisters doing this a million times to make black cake! I don't know if it was how creamy and fluffy the butter looked when it was all mixed with the sugar, but I had always wanted to try. 
New! Ready To Visit Jamaica?
Join countless of travelers who have already unlocked the secrets to experiencing Jamaica on a budget. Click Here and find out how.

And, if you ever need a trustworthy, friendly and knowledgeable local guide, consider booking a private tour with us!

---
She had these wide wooden bowls that she used whenever she was baking. She handed me one, and told me to cream the sugar and butter until most of the sugar was dissolved and it was "soft and fluffy."
Now, this piece wouldn't be the same if I didn't tell you how, whenever the younger of the two sisters, Noelle, use to do this task, her face looked as though she had sucked on lime! It good to know as well, that she always seemed to want to avoid the kitchen around Christmas time, because that was when most of the baking was done. Now that I think of it… she was conveniently missing on this day. 
Now, my sweet, darling of an aunt handed me the bowl and the spoon and told me to get started and she left the kitchen. 

Pardon the use of my patois but… Shi trick mi! (she tricked me!) My dear, sweet auntie never warned me! Shi neva mean mi no good at all! (she never meant me any good). 
I mixed and mixed and creamed and creamed! The suga still deh inna the bowl a look pa mi (the sugar is not dissolving!)
I looked left and I looked right, no one was there to assist! My poor arm ached and sweat ran down my back!
The amount of calories I must have burnt trying the make the butter and sugar "light and fluffy"! "Dear Lord", I thought, "Please take me now!" I must have passed out because I only remember seeing the eldest of my two older sisters creaming the butter the next minute!
I never learned to bake after that experience -_-. In the days that followed, my left arm was significantly toner and stronger than the right.
What Is This Jamaican Black Cake?

What is so special about it?
The Jamaican black cake, also called Jamaican fruit cake, is the traditional Christmas cake of Jamaica, made from rum/wine soaked fruits, wine, and love!
A Jamaican Christmas isn't complete without our fruit cake. No one fruit cake is equal and the texture may differ depending on whose making it.
Some people use mixed fruits, while others may just stick to two. One thing for sure though, they're going to be rich and they're going to be moist.
Please note: Most Jamaicans soak their fruits in rum for days, for some people, months or even years! I have fruits soaking in my kitchen cupboard that Nana left there for at least three years and its delicious!
I find that I prefer my black cake with just enough rum to taste. Some people like the rum to be strong. Growing up I remember eating black cakes with bits and pieces of fruits in them, a few years back however, I ate one that had not one trace of fruit pieces and it was soooo moist, so rich, so spongy I was like, "what type of sorcery is this?!"  

If you are not in Jamaica and are a Jamaican, Jamaican decent or are having Jamaican visitors over for a Christmas dinner; there is no better way to celebrate like a true J'can ( Jamaican) than to try one of these for yourself. 

My cousin Kenya and her mom makes some of the most delicious black cakes, and she was kind enough to send me the recipe to share with you - free of cost! Here is it (below...
Recipe For Jamaican Black Cake
Ingredients
3/4 lbs Chiffon Margarine
1/2  lbs Brown Sugar
1 lbs Baking Flour
1 tsp Baking powder
4 eggs
1 tbsp Vanilla
1 tsp Nutmeg
1 tbsp Mix Spice
1 1/2 tbsp Grace Browning
3 cups Red Label Wine
1/2 lbs prunes
1/2 lbs cherries

To soak fruits:
Boil Red Label wine for 2 minutes. Let cool then use it to blend prunes and cherries. Let it soak for two days.
Method/Procedure
Cream butter and sugar until soft and fluffy.
Add eggs and vanilla and beat together
Add dry Ingredients (except flour) and mix well
Fold in flour, soaked fruits, Red Label Wine and browning alternately into the mixture until all the ingredients are finished.
Grease bottom of 10 inch baking tin then add batter. 
Bake for 1 1/2 hour at 350F 
Enjoy!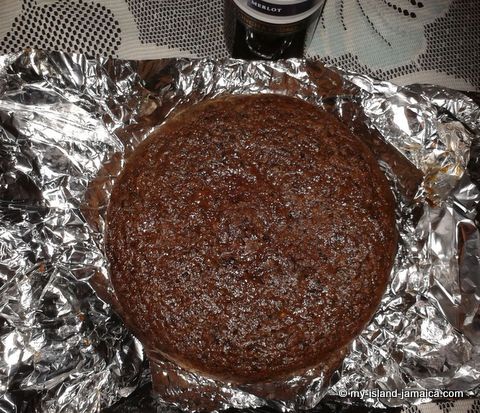 Recommended! Be sure to get more free Jamaican recipes right here.
Back To Top of Jamaican Black Cake
Return To My Island Jamaica HomePage from Jamaican Black Cake
Return to Food From Jamaica from Jamaican Black Cake
You may also visit Grace Foods.com to see their version of Jamaican Christmas cake.
Back To The Top Of This Page
New! 

Get My Latest Book👇🏿
You asked, I've answered! You no longer need to save for months or years, to enjoy paradise!

JAMAICA On A Budget is your passport to experiencing what I call 'The Real Jamaica' on a budget!

I spilled the beans! sharing my top tips on finding cozy accommodations and secret gems, only the way a native could! Click Here to pick it up on my e-store and start saving now!
See The Best Of Jamaica -
In Videos!
| | |
| --- | --- |
| | My channel reaches over 140,000 subscribers worldwide and has leveraged over 11 million views, sharing, what I call 'The Real Jamaica'. Subscribe today and join our family of viewers. |

---
P.S. Didn't find what you were looking for? 
Still need help?
Click Here to try our dependable and effective Site Search tool. It works!
Or, simply click here and here, to browse my library of over 500 questions and answers! Chances are someone already asked (and got an answer to) your question.
---