10 Popular Traditional Jamaican Childhood Games

The Games We Loved To Play!
Sharing Is Caring! Share this awesome content with your friends now.

Watch! See the real Jamaica in VIDEOS!
Click Here and see why over 90,000 fans are raving about my YouTube Channel!
There was nothing like a good old time Jamaican childhood. Spending hours on end outside coming up with the most creative games to entertain one's self and pass the time away, Jamaican children really knew how to have fun. 

See Also: The full list of traditional Jamaican games

---
Unlike today's world which is bombarded by technology at every turn, from tablets to smart phones and even smart TVs, the olden days were the golden days, where face-to-face interaction ruled the day, and the constant need for a new adventure was the yearning of every child.
We all remember those many memorable games we played, traditional Jamaican childhood games. But what are some of the more popular ones?

1) Ring–A–Roses

It may be odd to see children linking their arms in a circle outside singing 'ring a ring a roses'  or 'ring of roses' today, but in days gone by it was common place. 
The game is the Jamaican version of the game which originated in England called 'Ring Around the Roses'.
This traditional ring game was played by little girls all over the island for decades.
It is done by linking arms and skipping in around singing "ring a ring a rosy, a pocket full or poses, a tisha, a tisha, we all fall down".
2) Marbles
---
Now who did not enjoy a good game of marbles back in the day?
'Pitching' those shiny little orbs in a circle filled of other shiny orbs chased the boredom away from many summer days.
Traditionally a game for boys, little girls would often get in on the act and even win some marbles themselves.

3) Cricket
Oh this game often sparked many arguments in a traditional Jamaican childhood. Yes, cricket lovely cricket was given a creative makeover by Jamaican children whenever it was played.
The wicket was often the space between two stones, the bat was often a coconut husk and the ball; well we often used a tennis ball or 'poomsy' as we called it.
Depending on what cricketing era you were from, everyone wanted to be Vivian Richards, Brian Lara, Courtney Walsh, Curtly Ambrose or Shivnarine Chanderpaul.

4) Stuck and Freeze / Stuckie (also called 'Tag' in other countries)
Man oh man, you had better be fast if you wanted to play this game, you really did not want to be 'it' and chasing around a group of Jamaican children, you may be 'it' the entire day.
Back To Top Of Traditional Jamaican Childhood Games

5) Hide and Seek
---
Growing  up 'back in the day' , there was always this one child who was better at playing hide and seek than everyone else, they would hide and you would take the entire day to find them.
You often wondered how they found a new place to hide each time when the game is always in the same area.
A game of hide and seek was beyond epic back then.

6) Dandy Shandy / 'Sight'

If you were not agile or able to dodge quickly, you would not be good at this game.
Often played by girls, dandy shandy or 'sight' was traditionally played with discarded box drinks boxes stuffed inside each other to ensure firmness.
You especially had to watch out for those hard throwers who handled that 'ball' as if they were bowling in a cricket match.

7) Football (Soccer)
---
Whew! Football fever is something Jamaica will NEVER recover from!
Depending on what era you are from, Jamaican children pretended to be like World Cup 1998 goal scorer Theodore Whitmore and goalkeeper Warren Barrett all toward the late 90's and early 2000's ( yes we will never forget those two goals in France - team pictured above)

Football is one of those traditional games in Jamaica that has remained a constant.
If you are Jamaican and do not have a preferred English Premier League team you may want to keep that hush hush or you just may be stripped of your 'yardie' card.

8) Box Truck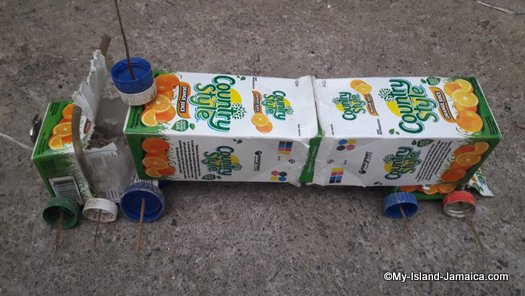 ---
Ok quick question, how many people do you know can make used box drink boxes, the middle of the coconut tree stalk, and plastic bottle caps into trucks?
Well a Jamaican child can! Well…these are toy trucks, but you get the picture!
After the truck is built, a strong piece of string is placed at the front so the truck can be pulled.
Little boys on the island, especially in rural areas, had endless fun with these creations and were often very competitive against each other as everyone wanted to have the longest trailers and most creative truck cabs built.

Back To Top Of Traditional Jamaican Childhood Games

9) Chiney (Chinese) Skip

Anywhere else in the world, a long 'chain' of elastic bands tied to each other may not mean much, however, in Jamaica it meant endless fun for schoolgirls across the island.
The game is normally played by three or more females, two females stand in at face to face at least three feet front of each other, with both legs in each end of the 'Chiney skipping chain'.
The  chain is put at their ankles for one girl to jump over either lines five times, jump outside the lines, then one the lines. If the girl does not jump on one or both lines she is out of the game.
If the girl succeeds the ankle level, the chain is moved up to the knees and continues upward the body if the girl is by chance a high jumper and nails jumping on the line.
Do you think you can play this game? :-)

10) One, Two, Three Red Light
So here is the set up , I turn my back and by the time I turn around you and whom every else is playing better not let me see you moving or you out of the game.
You win the game if you sneak up in me without me turning around to see you in motion.  Could you handle that?
If yes that means you would be an expert at one, two, three red light! Jamaicans are really quick and this game is usually really hotly contested. 
Back To Top Of Traditional Jamaican Childhood Games

---
Yes, those were the days, when children actually went outside to play and enjoyed themselves.
If only today's children would look away from the screens and take full advantage of the joys of childhood; one can only hope.
Now which one of these traditional childhood games do you remember playing as a child, and what other games did you play?
WATCH CLIP: Keville Jr. drives his Drinks Box Truck :-)
Back To Top Of Traditional Jamaican Childhood Games

Other Sources & References for Traditional Jamaican Childhood Games
Senior, Olive, Encyclopedia of Jamaican Heritage, 2003


"Jamaican Games - The Good Ole Stuff", My-Island-Jamaica.com, https://www.my-island-jamaica.com/jamaican-games-the-good-ole-stuff.html


"Games played by children in Jamaica", Jamicans.com, https://jamaicans.com/childgames/
Return to Jamaica Culture from Traditional Jamaican Childhood Games
Return to My-Island-Jamaica.com Homepage from Traditional Jamaican Childhood Games
Other Great Articles You Might Have Missed
P.S. Didn't find what you were looking for? 
Still need help?
Click Here to try our dependable and effective Site Search tool. It works!
Or, simply click here and here, to browse my library of over 500 questions and answers! Chances are someone already asked (and got an answer to) your question.
---