June Plum (Jew Plum) - Have It The Jamaican Way
by Denise Salmon
(Jamaica)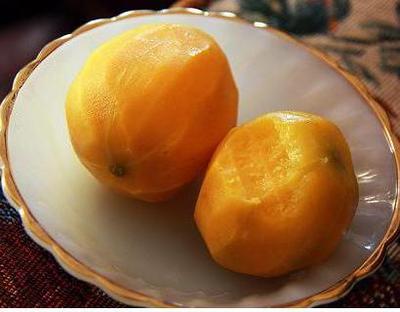 Ripe June Plum (Peeled)
June Plum was actually brought to Jamaica by Captain Bligh in 1782 - yes the same breadfruit man :-)

But funny enough, this tangy tasting fruit is not called June Plum in other places, it is actually called Jew Plum, Golden Apple, Kedondong and even Hog Plum. This fruit was said to have been first found in Hawaii.

The tree grows quickly and it can be quite tall although we are seeing more and more of the dwarfed versions in Jamaica today.

That dwarfed version is ideal for those who love it but don't have enough space in the backyard to cultivate the giant tree or who prefer not to interfere with the neighbors space.

In Jamaica we enjoy the fruit in many different ways.

I may be stewed with sugar - yes stewed :-), made into jellies, jams or pickles or (my favourite) - juiced!

Kids here love to have it green - peeled with salt.

June Plum is a good source of vitamin C and Iron and it said to be able to relieve the effects of high blood pressure, heart conditions, urinary tract problem and even diabetes!

Here now are two (2) simple Jamaican recipes for June Plum; first the June Plum Juice and then the Stewed June Plum

Go ahead and try them nuh?


June Plum Juice Recipe


4 June Plums (washed and diced with the seed (at core) removed)

Small amount of ginger ( washed peeled and finely chopped)

5 tablespoons sugar

2 cups water

Combine June Plums, water and ginger in a blender, blend until smooth.
Strain into a container then add sugar and serve with ice.
Stewed June Plum Recipe


2 tbsp. White Rum

2 dozen green June plum washed and peeled

1 lb. Brown sugar - depending on how you like it

2 Pimento or Bay leaves

2 tspn. Vanilla

2 Cinnamon sticks

Enough water to cover plums

Pinch of salt

2oz. ginger crushed

Preparation


In large pot, combine water and plums, boil until water is reduced by half

Add all other ingredients except the rum

Continue boiling until the liquid thickens

It is best to place it in a refrigerator for a while before it is served

Add rum (if wanted) and leave to cool

And if you are coming to Jamaica, be sure to ask for some rich June Plum juice - and have it the Jamaican way!
So how do you like to have your June Plum? Have any good memories of June Plum
Click Here and share with us?

Return to
Free Jamaican Recipes from June Plum
OR
Go To
Food From Jamaica from June Plum - The Jamaican Way