Nope, We Do Not Like That! - 11 Things Jamaicans Dislike
by Kay Grant | Associate Writer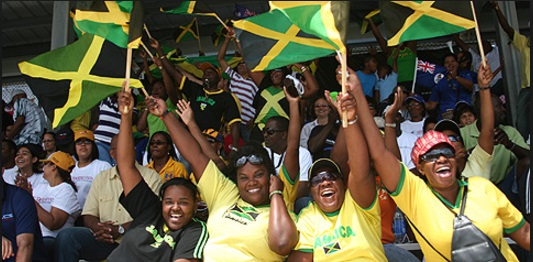 Photo: Jamaicans Celebrating with our Flag
Like every other culture around the world, Jamaicans have things they dislike, however, being the colourful people we are, we often make our dislikes known in the most hilarious way possible. Here are just a few things that drive Jamaicans crazy.
Paying Utility Bills – We are sure everyone can relate to this. We all know that glorious feeling of payday and then that feeling of dread to pay all those utilities. At the end of every month, there seems to be a ball of gloom that covers Jamaica. That's right, it's time to lose all your salary to utility bills again and Jamaicans absolutely hate that. The electricity bills seem to be their main complaint every month, and all-around Jamaica, you'll hear the same complaint, "Mi light bill too high! No sah mi know mi nuh use that much current!" (My light bill is way too high! I know I didn't use that much current!)


Going To An Event Where Refreshments Aren't Provided - "So not even likkle wata dem couldn't gi wi? No sah! Wah mi come yah fah." (So they didn't even provide water for us!? Why did I come here?) We Jamaicans love our food, and we expect that we will be refreshed before or after every event, so much so that when invited to an event, the first question that is often asked is "food aguh deh deh?" (Will there be food?) If the answer to that question is no, odds are that that event will have a low turnout.


Large Lizards/Iguanas - Whether woman, man, boy or girl, Jamaicans seldom like large lizards. Some Jamaicans are so scared of the reptile, that the moment they see a lizard, especially a large one in a particular spot, they may not go back to that area. After all, it has become "the place weh the lizard deh" (the place where the lizard is) Persons have even fallen out of trees because they have spotted large lizards.


Being Served Food Without Enough Gravy - Do not ever in your life serve a Jamaican food with a small amount of gravy or you will feel their wrath. Jamaicans are not fans of 'dry food' and they are not afraid to make it known.


Joining and Waiting in Long Lines - It is widely known that we are not the most patient set of people when it comes to waiting our turn, whether at clinics, restaurants, remittance agencies, ATMs or elsewhere. To Jamaicans, waiting for a long time is one of the most harrowing punishments. "A make she deh make the money in deh? Lawd Jezas, lady di sun hot enuh!" (Is she making the money herself in there? Lord Jesus lady, the sun is hot out here!), this is often the scene at many ATMs across Jamaica, especially on Friday afternoons. Friday afternoons is also a time for visiting the holy grail of fast-food restaurants in Jamaica, KFC. The lines are always long but on Fridays, it gets worse. We will complain about the length of the line but the chance of us getting out of the line is slim to none when it comes to KFC.


Being Stereotyped – Ohhh we REALLY do not like this one…AT ALL. We love when visitors come to our shores, we are a welcoming and friendly people, we just don't like everybody thinking we go around saying 'yah mon' all the time, not all of us have dreadlocks, not all of us love to party and most importantly, not all of us smoke the 'green stuff'.


Winter overseas – As you can imagine Jamaica being a tropical island, we enjoy warm, sunny weather almost all year. This makes going overseas in the winter months difficult for most of us. It is something we must mentally prepare for, we are completely out of our element in the cold weather.


Persons Disrespecting Jamaica, or Any Caribbean Country – Listen, Jamaicans often get into contentions among ourselves and our Caribbean neighbours, but do not EVER say a bad word about any one of us, especially today (FYI Caribbean Twitter is ruthless!). It is somewhat of an unspoken rule between the islands of the Caribbean that despite our internal squabbles, we will come to each others aid and defence as needs be. Jamaicans are proud of being just that and are not afraid to let you know. We are a very patriotic people and will defend our country and countrymen if we feel they are being treated unfairly.


Persons With Poor Hygiene - Jamaicans value cleanliness, a common saying here is "Cleanliness is next to Godliness" (which many claim is from the Bible but it really isn't). it is a sacred thing for us to clean ourselves and our surroundings, so if you practice poor hygiene, Jamaicans may distance themselves from you (literally and figuratively)! We do not believe in accepting meals from persons with poor hygiene and do not get us started on those persons who do not take care of the hygiene of their young children! That is a cardinal sin here! We believe that even if you do not care for yourself, your child MUST get the proper care.


Deadbeat Parents - No, nope, no way, we are not fans of parents who do not stand up to their responsibilities, at all. No matter what position in society you are, your wealth or status, if we even get wind that you do not care for your children, the respect goes out the door, with immediate effect.


Leaving Family Gatherings Empty-handed – Oh do not get it twisted, we LOVE our families, we LOVE spending time with them, but there better be lots of food, food to consume at the function and food for all of us to take home. It's not unusual for us to leave family gatherings with bags and bags of food which sometimes last us the entire week!

We are a loving and amazing people, but like everyone everywhere else, there are some things that 'grind our gears'. What do you dislike in your neck of the woods? Share
your comments here
.
Regards,
KG
P.S. I also recommend you read,
14 Common Jamaican Superstitions
.
Join in and write your own page! It's easy to do. How? Simply click here to return to article_submission.
Back To The Top Of This Page
New! 

Get My Latest Book👇🏿
You asked, I've answered! You no longer need to save for months or years, to enjoy paradise!

JAMAICA On A Budget is your passport to experiencing what I call 'The Real Jamaica' on a budget!

I spilled the beans! sharing my top tips on finding cozy accommodations and secret gems, only the way a native could! Click Here to pick it up on my e-store and start saving now!
See The Best Of Jamaica -
In Videos!
| | |
| --- | --- |
| | My channel reaches over 140,000 subscribers worldwide and has leveraged over 11 million views, sharing, what I call 'The Real Jamaica'. Subscribe today and join our family of viewers. |

---
P.S. Didn't find what you were looking for? 
Still need help?
Click Here to try our dependable and effective Site Search tool. It works!
Or, simply click here and here, to browse my library of over 500 questions and answers! Chances are someone already asked (and got an answer to) your question.
---