Pics of My Jamaican Home - Bogue Village, Montego Bay
by Michelle aka Ja'merican girl
(Morrow, Georgia)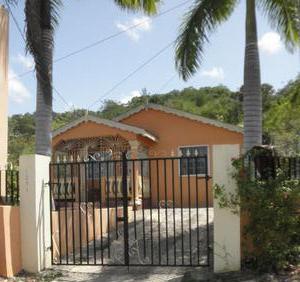 Front of house
PICTURES about: My Jamaican Home


Hello All. This was my first time renting a home in Bogue Village and, am happy that I did!
Great neighborhood to chill and relax!
I had an awesome stay and will return to the rental home in December 2016.
Here a few pics of the home in the "Bogue Village" neighborhood, located in Montego Bay, near the Freeport Cruise Ship port area:
WELLESLEY'S NOTE
Hi Ja'merican Michelle!
It is always a pleasure seeing an email popping up from you and then a joy reading them!
I admire your deep passion and love for our beautiful island, your positive attitude - and your deep sense of faith and hope.
Thanks a lot for sharing the pics of your humble vacation home with us.
By the way, I think you have just given my readers from overseas (outside of Jamaica) another great idea of an affordable way to stay in Jamaica, especially if it is for a few weeks; That is, renting a simple furnished home in a safe area.
It is also a great way to experience the real Jamaica.
Thanks again my friend- and gods richest blessings to you always!
For those who missed your previous post about your total vacation experience here in Jamaica, I invite them to
read it here
.
See also:
Other questions (and answers) about Jamaica
from travellers to Jamaica.
Regards,
Wellesley Gayle, My-Island-Jamaica.com
P.S. I invite our ardent fans to
share their feedback here
, so watch the comments below.