The Jamaican Cornmeal Pudding – 10 Awesome Facts
by Deon Clarke | Associate Writer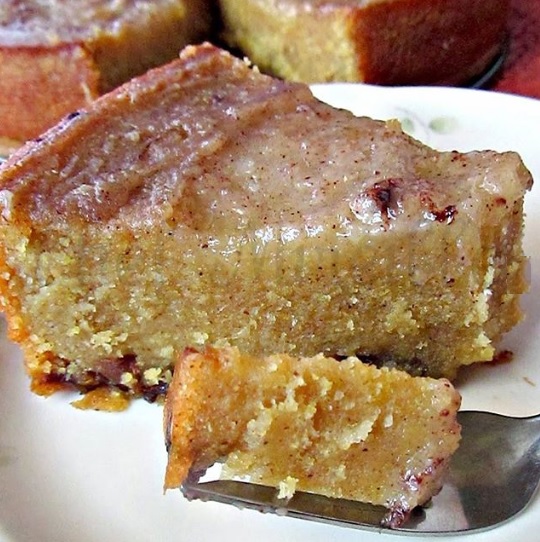 Photo: Jamaican Cornmeal Pudding
It's pudding time! Yes, remember Jamaicans are foodies and we love a great dessert too. Puddings have been a part of our Jamaican heritage for the longest time and is enjoyed by Jamaicans locally and internationally. Jamaicans have their favourites though – the sweet potato pudding and yes the cornmeal pudding. Today I will share with you some amazing facts about the Jamaican cornmeal pudding and the cornmeal – its main ingredient. As a bonus, I'll also share a simple recipe.
The Jamaican Cornmeal Pudding is a favourite dessert in Jamaica and as well as in other Caribbean countries.


The Jamaican Cornmeal Pudding is a firm-textured pudding made with fine yellow cornmeal, flour, coconut milk, spices and flavourings.


The Jamaican Cornmeal Pudding was originally made with grated corn instead of cornmeal.


The Jamaican Cornmeal Pudding is also known as Cornmeal Pone and it was originally called Corn Pone.


The cornmeal pudding is a popular Sunday afternoon dessert but is eaten at just about any time of the day or week. It's a great treat when you have family or friends over as well.


Cornmeal is a meal that is the result of grinding dried corn. It is a very common staple food and is ground to different consistencies such as coarse, medium, and fine, but not as fine as wheat flour.


Outside of puddings, cornmeal is used to make porridge, corn muffins and is used in flour to make dumplings. In the past, it was considered to be "poor people's food" and was mostly used to feed dogs.


In Jamaica, cornmeal is used to make "turn cornmeal" which is a nutritious meal made by cooking the cornmeal to a very thick consistency and can be served with any meat as a complete meal.


On average, a slice of the Jamaican cornmeal pudding has about 132 calories (all dependent on how much of the ingredients you use and how big your slice is).


Cornmeal does not contain gluten, so this makes it a safe cooking ingredient for those suffering from celiac disease or from gluten intolerance. Eating cornmeal also offers some health benefits because it is also a source of essential nutrients such as carbohydrates, iron, and phosphorous. So when you're eating your pudding, remember there are nutrients in the mix.
As promised, here is a simple cornmeal pudding recipe that you will absolutely enjoy. I will show you two methods. Of course, you can make changes to your liking.
A Simple Jamaican Cornmeal Pudding RecipeIngredients:
1 cup fine cornmeal

1 2/3 cups coconut milk

1 cup flour

2 cups brown sugar

2 Tbsp raisins (soaked in some water)

1 tsp nutmeg

1 tsp cinnamon

1 tsp vanilla

1 1/2 cups water

a pinch of salt

Non-stick spray or butter to grease pan
Method #1:
To your blender add cornmeal, flour, coconut milk and water

Blend until smooth (for about 1 minute)

Return mixture to blending bowl and stir in raisins, cinnamon, nutmeg, vanilla and salt.

Spray baking dish with nonstick spray and add in the mixture (grease pan with butter if not using non-stick spray)

Bake for 1 hour at 350 degrees Fahrenheit

Remove from oven and allow to cool for 10-15 minutes

Enjoy
Method # 2:
In a large saucepot, pour the coconut milk, 1 cup water, raisins, sugar and cinnamon and other spices and stir and bring to a boil.

In a bowl, combine the cornmeal and flour. Add the remaining 1/2 cup of water to soften the cornmeal mixture. Add this mixture to the boiling liquid in the saucepot and stir briskly. Reduce the flame and allow it to simmer for about 10 minutes, while constantly stirring.

Scrape the mixture into a baking tin and bake at 180°C/350° for one hour.

Enjoy
To Make The Soft Top (Optional)
Combine 1/3 cup whole milk, 1/4 tsp cinnamon powder, 4 tbsp brown sugar. Mix all until sugar granules are completely dissolved.

Pour soft top mixture over the pudding mixture and bake at 180°C/350°F for one hour.
Note: The soft top is added over the pudding mixture before baking
.
So there you go, amazing stuff about the cornmeal pudding and cornmeal and your simple recipe to get cracking. I bet you will be making this sumptuous pudding at least once every week from now on!
I also recommend you read
Jamaica's Favourite Pudding- The Sweet Potato Pudding
.
Regards,
DC
References:

2 Heavenly Jamaican Puddings | Sweet Potato & Cornmeal Pudding Recipes, My-Island-Jamaica, https://www.my-island-jamaica.com/jamaican_pudding.html

Jamaican Cornmeal Pudding, Ayouniquejourney, https://ayouniquejourney.com/jamaican-cornmeal-pudding/

Cornmeal, Wikipedia, https://en.wikipedia.org/wiki/Cornmeal

Jamaican Cornmeal Pudding, The Jamaican Mother, https://www.thejamaicanmother.com/jamaican-cornmeal-pudding/

Recipe Cornmeal Pudding, Grace Foods, https://gracefoods.com/recipe-a-z/recipe/1630-cornmeal-pudding

Editor's Note
Don't hesitate to
submit your questions here
! With well
over 2000 questions already answered
, chances are we can assist :-)
Other Great Articles You Might Have Missed
P.S. Didn't find what you were looking for? 
Still need help?
Click Here to try our dependable and effective Site Search tool. It works!
Or, simply click here and here, to browse my library of over 500 questions and answers! Chances are someone already asked (and got an answer to) your question.
---