Update: Hurricane Matthew In Jamaica
by Wellesley
by Wellesley Gayle
Published October 2, 2016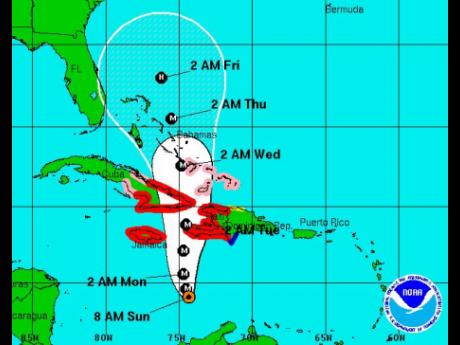 From all indications, most
Jamaicans were getting prepared
for dangerous hurricane Matthew but woke up to the news that, although the powerful category 4 hurricane is moving at snail's pace in a northwesterly direction, it is expected to turn north.
That path would take the center of the hurricane further east of Jamaica. That said, the island remains under a
hurricane warning
because of the intensity of the hurricane.
According to hurricane.com,

A Hurricane Warning means that hurricane conditions are expected somewhere within the warning area.

A warning is typically issued 36 hours before the anticipated first occurrence of tropical-storm-force winds, conditions that make outside preparations difficult or dangerous. Preparations to protect life and property should be rushed to completion.

Matthew is expected to produce dangerously high water or a combination of dangerously high water and exceptionally high waves, even though winds expected may be less than hurricane force.
Based on the official reports, rainfall is expected to begin affecting eastern parishes as early as midday today, particularly the eastern parishes of St. Mary, Portland, St. Thomas, Kingston and St. Andrew.
Central and western parishes will have reduced impact but is expected to get significant rains which could produce extensive flooding and trigger dangerous landslides.
All this however is much better news than the doom and gloom originally forecasted so we give thanks. According to my sister, "Prayer certainly works!".
Stay close, well continue to
post updates below
as well as
live updates on our twitter page