What do I need to open a bank account in Jamaica?
Like a cellphone, a bank account, is a convenient necessity for most persons in today's busy and fast-paced world. What are the requirements though?

Here's what you need to open a bank account in Jamaica today (typically), outlined right after the question...


What do I need to open a bank account in Jamaica?
ANSWER:
by Wellesley
OK, so some assumptions here again.
First, I am going to assume that you are interested in opening a regular savings or deposit account, okay?
For these, the requirements are pretty much the same across the
financial institutions here in Jamaica
, but below are the requirements to join ScotiaBank, one of the premier financial institutions here.
In addition to a completed Application Form and your deposit, you'll need...


Identification

This could be your...
Passport,
Voters ID,
Drivers Licence,
Permanent Resident Card
Student Id - for persons under the age of 18,
or Workers ID*


Tax Information

A TRN (for local residents)
Tax ID from country of residence
or Government Issued Tax Compliance Certificate


Proof Of Address

Which could be any of the following...
Drivers License
Voters ID,
Rent Receipt
Lease Agreement
Utility Bill
Property Tax Receipt or
A Statement of account from a licensed financial institution.


Proof Of Employment

Any one of...
Job Letter
Payslip* or
Business Registration Certificate


Two References

Provide name, phone number and occupation for each reference.


Proof of Source Of Funds

Original source of funds as well as ongoing source.

I've embedded a snapshot of the requirements below.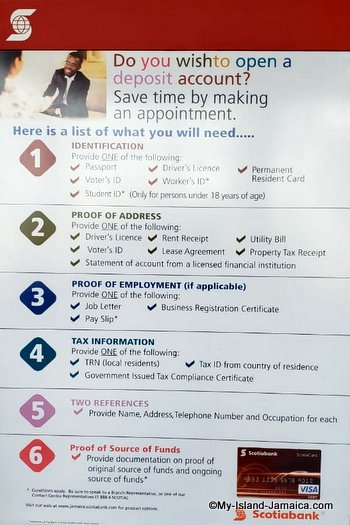 Note that these are their requirements at the time of my response and that can change, however, the basic requirements will remain overtime.
And yes, I am aware that some (other) institutions request passport sized photographs as well, so just be mindful.
I hope this helps!
As usual, I welcome
your feedback here
.
By the way, I recommended that you consider utilizing the
free search tool
that allows you to look for something specific on this website.
Don't Miss:
How to travel with money in Jamaica
.
Keep in touch.
Regards,
Wellesley
P.S. Have another question?
Submit it here for an
answer
.
P.P. S. We've answered HUNDREDS of questions,
click here
and
here
to get even more answers.
P.P.P.S Make sure you subscribe to my free weekly e-zine
My Island Jamaica Digest
(MIJD) and stay with the latest!
Tags:
What do I need to open a bank account in Jamaica?
What are the requirements to join Scotiabank?
What are the requirements to join JN Bank?
What are the requirements to open a savings account?