What Do They Celebrate In Jamaica?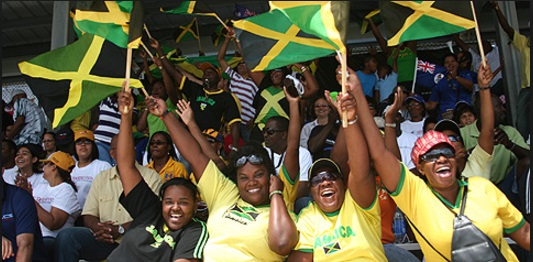 by Tracie Shortridge, Associate Writer

Sing a-long with me …


"Celebration time, come on… let's celebrate!!

There's a party going on right here, a celebration to last throughout the year… so take your good times, and your laughter too, we're gonna celebrate and party with you, come on now!!"

Well, these words to a very popular celebratory song could not be truer as it relates to celebrations in Jamaica.

This song is sung not only in Jamaica but across the world as well.

But, in Jamaica, pre pandemic, we reaaaaaally celebrate!
You get the picture? :-)

From Sunday to Saturday, celebration can be seen and heard happening. People in general can, and will, celebrate various milestones in their lives as well as public holidays and world events.

And us Jamaican WILL celebrate... from just a flask of rum and juice on the street corner & some music playing from the car stereo, to an entire stadium of Jamaican supporters!


The more popular and formal celebrations in Jamaica includes:


Birthdays
- including sweet 16 and the big 50!


Anniversaries

Weddings & Honeymoons

Milestones

* Graduations
* Preparatory School
* High School
* University
* Commercial College


Babies

* Baby showers
* Babies' births
* Congratulations on your pregnancy


Public Holidays

* New Year's Day
* Black History Month
* Ash Wednesday
* Good Friday
* Easter Day
* Easter Monday
* Labour Day
* Emancipation Day
* Independence Day
* National Heroes Day
* Christmas Eve
* Christmas Day
* Boxing Day
* New Year's Eve

And, we also celebrate (with most in the western world)

* Teachers' Day
* Mothers' Day
* Fathers' Day
* Child's Month, etc. etc.


Festivals (these are not limited to the following)

* Music Festivals such as Reggae Sumfest, Rebel Salute, Jazz Fest, Port Royal Music Fest and International Reggae Day
* Carnival
* Kite Fest
* Jerk Fest
* Crab Fest
* Curry Fest
* Yam Fest
* Seafood Fest
* Arts Fest
* Mocha Fest


Special Clubs

* Orchid Shows
* Agricultural Shows
* Dog Shows


Socials

* Dreamz Weekend
* Fun in the Sun
* Restaurant Week


Other

* Bob Marley's birthday
* Maroon Town Festival
* Culture Fest
* World Tourism Day
* Junkunoo Day, and of course,
* Any and every Jamaican achievement, as a country or as an individual. For example, our historic world cup qualification as well as athletic records by our athletes.


As if these were not enough, we take every opportunity to get together and celebrate from the smallest to the largest events.
This takes us from birthday parties for the children up to throwing parties for our parents and spouses to celebrate their birthdays and anniversaries.
One thing is certain, the celebrations are not scarce in Jamaica. There is always something to do, somewhere to go, someone to hang out with, some party to attend.
So regardless of the time of the year, there is a celebration awaiting you in Jamaica!!
See also:
Jamaican Holidays
and
Christmas In Jamaica
.
Sources Cited:
JCDC - http://jcdc.gov.jm/national-celebrations