what is the price for a load of sand in Jamaica?
What is the price for a load of sand in Jamaica? And how much is a load?
RESPONSE: by Wellesley
The price for a load of sand in Jamaica is currently $100,958.70 JMD, that's approximately $776.60 USD, at the exchange rate of 130 JMD to 1 USD.
AND... how much is a load of sand in Jamaica?
Great question! As the answer might be different based on who you asked.
A load generally though is a 'truck load'.
But a truck load depends on the size of the truck. Some trucks will carry 20 yards of sand, some 25 yards, some 30 yards and some even more.
However for the purpose of this discussion, I used one of the most typical, and that's the 30 yard truck.
In the case where the supplier (hardware store) does not sell in 30 yards batch, I prorated the cost to 30 yards.
For example, if the cost was $100,000 for 20 yards, I divided the 100k by 20, then, multiply the answer by 30 yards to get the equivalent cost for 30 yards.
Get it?
How Was The Data Arrived At?
I contacted 14 of the top hardware companies across the island, from Westmoreland in the West to St. Thomas in the East, and ascertained their prices, including taxes.
All were put together on a table, and an average price generated.
It is interesting to note the wide range of prices though; One company had the price it at a high of 170k (for the 30 yard load), while another had it for a low of 69k.
Now you see why I needed to generate and use
an average price
(as indicated above), right?
The Source Data
Here now is the full table of data, showing the prices of sand from top hardware stores across the island.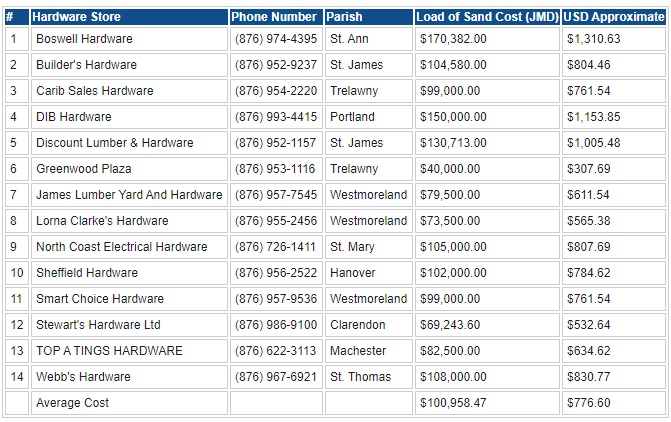 Important Points
And before you go, I should point out these important points to you.


The prices here are the prices for what we call, 'rough sand' in Jamaica.


These prices already include taxes (as noted earlier)


The prices does not reflect delivery cost. In many cases, that would need to be added.


Delivery costs will vary based on location or final destination.


Note as well that while some stores offer delivery services at an additional cost, some doesn't but rather accommodate private delivery personnel, available for contract, usually located on the outside.


In many cases, these hardware stores are willing to sell by the yard, rather than load. Some may even sell the sand by what we call 'bag', meaning in much smaller portions.


And finally, if you are doing some construction and need a solid recommendation on a qualified and dependable builder, click this link, there are few here as good as them.

I hope this helps.
Regards,
WG