What Is the Weather Usually Like in Jamaica?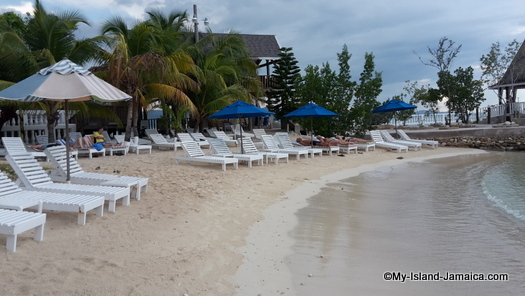 Answered By Tracie Shortridge
Nestled in the warm waters of the Caribbean Sea is a beautiful tropical land of wood and water called "Jamaica".
Many visitors to this, our tropical island, comes because of the inviting warm temperatures experienced throughout the year.
Yes, throughout the year!
From January to December, the weather is typically in the seventies to eighties range all year long. And, by the way, I mean Fahrenheit.
Yes, we get some rains, particularly between May and October, but not enough to cause anyone to start singing "rain rain go away come back another day".
These rains are usually momentary showers so you either get it in the morning or the evening but at some point during the day, the sun is out again. It's a new beginning every day :-)
The Hurricane Season
The Hurricane Season is dated from June to November each year and this duration is really more of a precaution than it is a reality.
The meteorological team works assiduously throughout every day to ensure that all tropical depressions are identified early, monitored, tracked and communicated to the people so preparations can be made in the event they grow into hurricanes.
But, for the most part, because of the windward winds, the hurricanes do not usually make landfall but are instead redirected out to sea.
And The Winter Season?
It does get a little cool around the winter season. This is from December to March of each year. Do not panic because you heard "Winter Season".
During this time, the temperatures are still warm and the coolness is in the late nights into early mornings.
Throughout the days, you do not need a winter coat, gloves nor earmuffs. At this time, the temperatures peak in the low 70s.
In fact, Winter, Spring, Summer or Fall, the Jamaican weather is always one of warmth.
The hottest months are in the Summer (July to August) when the temperatures can hit the high 80s... perfect time to pull out the pitcher of lemonade with lots and lots of ice!
This is usually the time of year when visitors to the island are most happy as the sun is out at its brightest so, let the tanning begin.
Jamaicans are so accustomed to this tropical island's warm weather throughout the year that if you ask them what the temperature is they will give you a blank stare before processing in their minds to be able to verbalize a response.
In Jamaica, it is either sunny or raining and it is more sunny than rainy so no one pays attention to the thermostat - actually what is that?
So, to answer your question, the weather in Jamaica is a vacation - friendly one, all year round.
See also:
Is Jamaica Always Hot?