Where can I buy pimento wood?
by James
(Dallas,Texas USA)
Its berries, its bark, its leaves and even its wood are premium products! Yes, that Jamaican pimento! Today's question is... yes, where can pimento wood be bought?


Where can I buy pimento wood for cooking jerk in Texas? If not, how can I get that authentic taste without it?
ANSWER:
by Wellesley
Hey James,
Thanks for asking!
You are
in luck!
There are a couple, but literally only two places I found (online) that might work for you.
New Update! Hi James (and Readers),
Great news! Per popular demand, I'm now offering authentic Jamaican Pimento Wood on my Etsy Store!
Click Here
to review my prices.
Also, as a
special gift
to you and my website readers, use code:
PIMENTO15
and get and
INSTANT 15% off
, while stocks last!


The first one is big and reputable Amazon.com.
Click this link to compare their prices.


The other is a website called PimentoWood.com.
They seem to have everything pimento - including the chips, charcoal, flakes, leaves and sauces.

I'd suggest you look at both of them and compare.
How Can You Get The Authentic Jerk Taste - Without Pimento
That's dicey my friend. I don't think you'll ever be able to replicate the authentic taste without the real stuff my friend, but you may come close.
I've been doing some research though and found some quite crafty recommendations.
Here they are...


Soak just under a 1/4 cup of whole allspice berries in water for about half an hour, then sprinkle them over the coals of the grill then cover to allow the smoke to soak the meat, fish or seafood.

Put the dried berries / seeds in the blender and crush them for a few seconds, soak as above, then sprinkle over and then cook over those charcoals, ensure it is natural wood though.

Use dry Jamaican jerk spice and cook very slow oven or grill.

I think I like the latter more though :-) Good luck!
And what if you have NO allspice/pimento berries/ powder?

According to MyRecipe.com, as a substitute for a teaspoon of allspice, you can use 1/2 teaspoon ground cinnamon, 1/2 teaspoon ground cloves, and a pinch of ground nutmeg.

In fact, pimento is termed 'allspice' because its flavour appears to be a blend of cinnamon, cloves and nutmeg!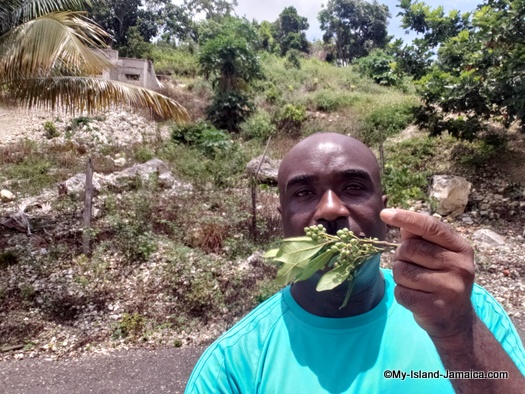 Be sure to read more on
Jamaicam allspice here
.
You may also be interested in getting
this Jerk Sauce Recipe
.
Of course, if you have any further questions, or need direct recommendations, please don't hesitate to
contact me here
.
As usual, I welcome
your comments here
.
Regards,
WG
P.S. Have another question?
Submit it here for an answer
.
P.P. S. We've answered HUNDREDS of questions,
click here
and
here
to get even more answers.

References:



https://www.tripadvisor.com/ShowTopic-g147309-i69-k573215-Need_pimento_wood-Jamaica.html

https://pimentowood.com/