Why Jamaicans Love Star Fruit - 9 Amazing Health Benefits
by Deon Clarke | Associate Writer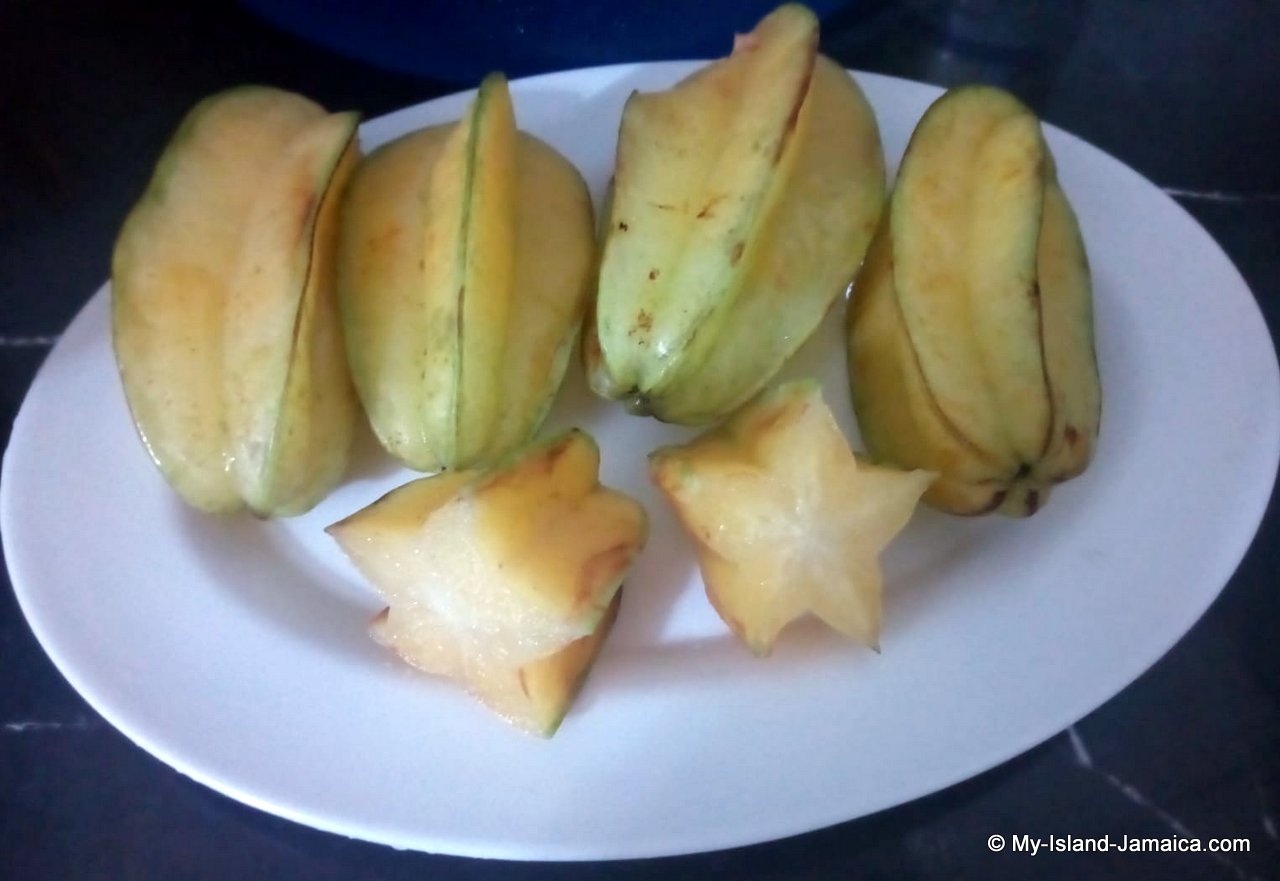 Photo: Ripe and Juicy Jamaican Starfruit
Fruits, fruits, and more fruits! We could say Jamaica – the land of wood and water and fruits. Jamaica has a very wide variety of fruits all across the island. Though most of these are seasonal, there are definitely some all-time favourites. Today, we will look at one of these – the
Star Fruit
. Also known as
Jimbilin
(in Jamaica), and
Carambola
(the scientific name), the Star Fruit is the fruit of the Averrhoa carambola tree. You will find that the star fruit is most abundant in tropical areas, such as India, Malaysia, Indonesia, and the Philippines, but it is also widely distributed around the world including the Caribbean.
When the fruit is unripe, it has a dark, green colour but this turns to a glossy yellow when ripe. It has a sweet and slightly tart taste and is very succulent. When cut horizontally, it has a star shape, hence the name "
star fruit
".
Though it is not indigenous to Jamaica, the star fruit is widely consumed and well-loved on the island due to its sweet, unique taste and amazing health benefits. Let's explore some of these benefits.
Great Source of Vitamins And Nutrients - Though star fruit is low in calories, it is a great source of vitamins and other nutrients as well as antioxidants including the following: Fiber, Protein, Vitamin C, Vitamin B5, Calcium, Sodium, Folate, Copper, Potassium, Phosphorous, Zinc, and Magnesium.


Low Calories - Star fruit is low in calories, but loaded with nutrients.


Anti-inflammatory abilities - The star fruit contains high levels of antioxidants making it a great anti-inflammatory agent that can help ease symptoms of psoriasis and dermatitis or other skin disorders.


Weight loss promotion - It has a high fibre content which helps to boost your metabolism and thus allow you to lose weight. Additionally, due to its low-calorie content in each serving, it can be enjoyed as a tasty snack without any worries of weight gain.


Boosts Immunity - With the level of Vitamin C that star fruit provides you with, it ensures that your body will produce the right amount of white blood cells needed for a strong immune system.


Improved respiratory health - Due to its anti-inflammatory potential, the star fruit can help to soothe your sore throat. Its juice can cut through mucus and phlegm, thereby making it a popular choice for the treatment of respiratory infections and providing support for your overall health.


Improves heart health - The high amounts of sodium and potassium in star fruit act as electrolytes in our body. This helps to maintain proper blood pressure. This also ensures that we have a regular heartbeat and also a healthy blood flow. The calcium contained in star fruit helps to relieve tension in your blood vessels and arteries, and this helps to reduce your risk of a heart attack or even a stroke.


Potential Cancer Prevention Ongoing research is showing promises of the star fruit having the potential to help in preventing cancer. The fibre in the fruit reduces the toxicity levels in the body, resulting in the lowering of your risk of getting cancer.


Improved digestion - The fibre in the star fruit helps to stimulate the movement of stool through the digestive tract, thereby relieving symptoms of bloating, constipation, diarrhoea, and cramping.‌
Though the star fruit has all these amazing benefits, it could seriously affect persons with kidney disease due to the neurotoxins found in the fruit. Persons with unhealthy kidneys will not be able to pass out these toxins, which could lead to serious illness or even be fatal. It is advised that you consult your doctor if you are ever unsure.
The star fruit makes a refreshing, delicious drink. Just blend with some ginger and add a little sugar (optional). It's also great for garnishes for fish and poultry dishes. It can also be used as a substitute for lemon slices in chilled beverages.
When all is said and done, the star fruit is a delicious, nutritious fruit that is low in calories but packed with vitamin C, fibre, and antioxidants. It is no wonder why this is one of Jamaicans favourite fruits.
I also recommend you read,
Foods Eaten In Jamaica The Favorites & The Traditional
.
Regards,
DC
References:

Star Fruit, WebMD, https://www.webmd.com/diet/star-fruit#1

Botanical Roots: Why You Should Eat Star Fruit, https://jamaica.loopnews.com/content/botanical-roots-why-you-should-eat-star-fruit#

Editor's Note
Don't hesitate to
submit your questions here
! With well
over 2000 questions already answered
, chances are we can assist :-)