YS Falls, South Coast Jamaica
by Cynthia
(Washington, DC)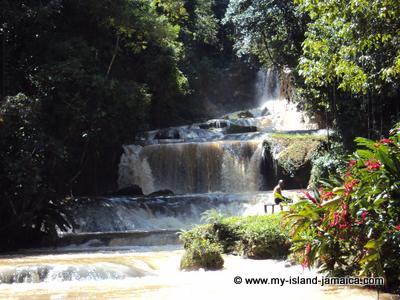 YS Falls, Jamaica
Contest Entry #010 - YS Falls, South Coast Jamaica

I visited YS Falls for the first time in July of 2011. I had been to Jamaica several times before and each time I try to see or do something different.

My friend Michell and I both agreed that we wanted to see YS Falls for the beautiful sights and for the zip-lining. It was a beautiful day.

Getting to YS from Montego Bay took a little time but the drive to the falls was very peaceful and full of beautiful scenery.

When we arrived at YS there was a brief stop at the gift shop and then a small group of us boarded a little trolly and were taken back to the falls.

What a sight to behold! It always amazes me when I see something that is hidden away but is so natural and stunning at that same time.

My Jamaican friend Joseph had driven Michell and I to the falls and he was excited about doing the zip-line too so we paid and walked a short distance to begin the tour.

We each were strapped in and given brief instructions and then we hiked to the first lift.

I am very much the adventurous type but let me just make a short story shorter and tell you that I was far from thrilled with my zip-lining experience.

I was so nervous that I couldn't enjoy the beautiful view from above the falls and at one point I forgot to hit my brake and slammed right into a tree going approx. 60mph!
The tree had a cushion so I didn't break any bones but I was DONE :-)

We wrapped up the evening in the natural swimming pool that receives its water from the falls. It was a great way to end the evening and it put me back in a relaxed mode before we headed home.

I am so very grateful to have seen the falls and look forward to going back to YS one day for old times sake. It truly is one of Jamaica's treasures.


---
Submit YOUR own Picture here
or
See other lovely photo submissions here
.