10 Interesting Facts About Revivalism In Jamaica
by Deon Clarke | Associate Writer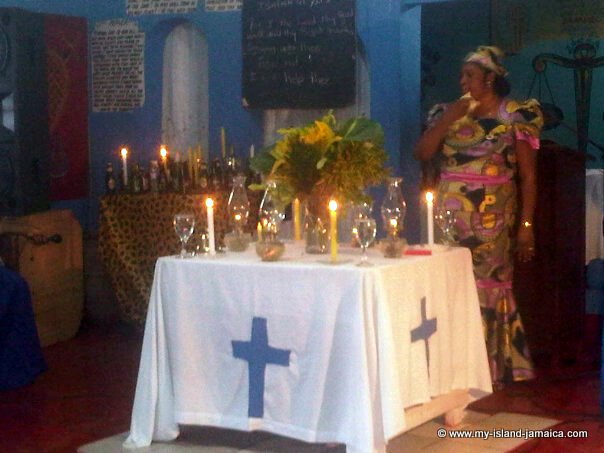 Photo: Revival Church Service in Jamaica
Spirits, angels, arch-angels, ancestors, drumming, dancing, turbans! Does this sound familiar? Revivalism for sure! As you already know, Jamaica has a very diverse culture that also extends to our religious practices and beliefs. Revivalism in Jamaica is no different. The religious practices and culture of Revivalism have been here for nearly two centuries. Revivalism is often misunderstood and out of ignorance is sometimes seen as cult-like due to its unusual customs, rituals, and practices which are somewhat different from traditional churches. But how much do you know about this religious practice in Jamaica? Here are 10 things that you should find interesting about Revivalism in Jamaica.
Between 1860 and 1861, there was a great religious movement in Jamaica called "The Great Revival". Out of this movement, Revivalism was born.


Revivalism is a combination of aspects of pagan African beliefs mixed with Christianity. There are notably two major forms of Revivalism - Pocomania and Revival Zion.


Revival Zion (also known as the 60 Order) has more elements of Orthodox European religions while Pocomania (also called the 61 Order) has mainly elements of African worship and practices.


Revivalists believe that the earthly and spiritual realms are the same and so communication between the living and the dead is possible. They believe that the living can become possessed and even influenced by the spirits of the departed. They also believe that you can move from one realm to another through possession.


Dreams and visions are considered to be portals through which the realms of the living and the dead are connected. When a person is possessed, they are considered to be "travelling". In order to get into the spirit, one needs to do a lot of clapping, dancing, singing, drumming, trumping, and praying.


Revivalists use many symbols that represent aspects of their religious practices. For example:



The Turban - The turban (one of the most recognizable symbols) that can be styled in a variety of ways is used to wrap the head. The way it is wrapped and the accompanying ornaments are all symbolic. For example, the black turban represents power and authority. The colours and the styles are said to be done according to instructions from the angel(s) that they are working with. The turban is seen as a type of altar or seal and is used to attract a particular type of spirit. The adorning objects are also used to induce possession. Due to the wearing of the turbans, they are usually referred to as "the headwrap church".


The Seal – The seal is considered to be a consecrated space where the Revivalists perform their cleansing (cutting and clearing) and invoke the spirits.


The Revival Table – This is where Revivalists feast with their ancestors and spirits. The table is elaborately set with all kinds of goodies such as cooked and baked foods, water, fruits, citrus (especially grapefruit), liqueur, alcohol (popularly rum), drinks (mostly sodas, especially cream soda), candles, and other objects. This is all done in a bid to communicate and have communion with the ancestors.


Other Symbols - Other symbols in Revivalism include: welcoming symbols, setting symbols, warding symbols, nature's healing symbols, and entertaining symbols.



The Revivalists believe in the Holy Trinity (the Father, the Son, and the Holy Spirit). Though many of the churches have traditional musical instruments, they often use their voices as instruments to make percussion-like sounds and also the feet for stomping and hands for clapping.


The leader of the Revival Zion group can be either male or female. The male is referred to as "Captain" and the female as "Mother/Madda".


The late Most Hon. Edward Seaga, former Prime Minister of Jamaica was known to have been a revivalist. He was fascinated, intrigued, and mesmerized by the beliefs and practices. He also studied it and became a part of its culture.


Revival churches are located all over the island of Jamaica but mostly within the rural areas. Watt Town in the parish of St. Ann is one of the most popular meeting areas.

Revivalism, unlike any other religious movement or religion in Jamaica, has greatly influenced the arts and popular culture in the country due to its dramatic and ritualistic features. The music, the dress, general behaviour has been a source of inspiration for many poems, novels, plays, dance, theatrical events, and even popular reggae music. Interesting, isn't it? I Bet the next time you see someone in one of these special turbans or from the conversation, you'll know exactly what it means or at least has an idea of who they are!
I also recommend you read,
Jamaican Religion An Overview
.
Regards,
DC
References:

Jamaica's Heritage in Music, Jamaica Information Service, https://jis.gov.jm/information/jamaicas-heritage-dance-music/jamaicas-heritage-music/#

Seaga and Revivalism – Part 1 | News, Jamaica Gleaner, https://jamaica-gleaner.com/article/news/20190706/seaga-and-revivalism-part-1

REVIVALISM - Knowledge genie, Study Lib, https://studylib.net/doc/5351396/revivalism---knowledge-genie

Editor's Note
Share your thoughts with us!
Leave your comments here
!