2017 Ranking Of Jamaica's Best High Schools
by Wellesley Gayle || Posted May 2017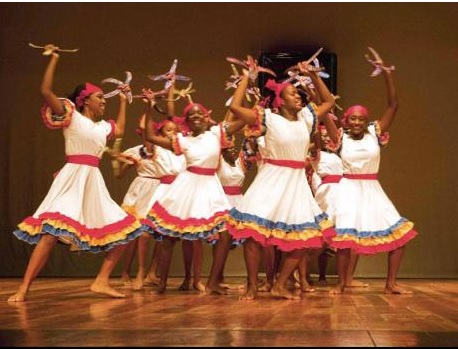 Campion College Dancers At Campana 2011 - Jamaica Gleaner photo


UPDATE! The 2018 ranking report has been released!
Click here
to read it.
It's finally here, ...the 2017 ranking of Jamaica's best high schools.
Question is... is YOUR favorite school listed?
Scroll down to find out :-)
Last year we had an amazing time talking, watching, reading and justifying the rankings.
But if you think last year was contentious, watch this one.
But before I share, let me first express my sincere gratitude to the team at
Educate Jamaica
for the fantastic work they have done putting this together.
Not only is this very well done, it took great courage in a climate where we Jamaicans are so passionate about out high schools. (
Share your school memories here
)
How Were The Schools Ranked?
Well, Educate Jamaica responded this way:

What we have done at Educate Jamaica is to look at each school and calculate the percentage of students, at the end of grade 11, achieving a minimum of 5 CSEC subjects (including Mathematics and/or English) and based on the percentage obtained they are ranked.

The percentage of students is calculated based on the cohort and not sittings. Schools reflected in our ranking have 50% or more of their CSEC cohort passing with 5 or more subjects Mathematics and/or English.

And YES, I've categorized them nicely for you again
And now we begin with...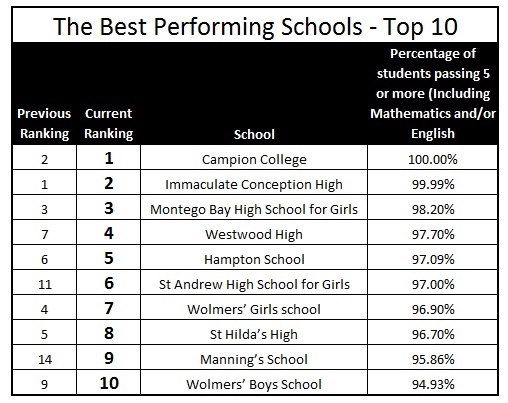 Yes, the great Campion College would argue that they took back what is rightfully there's, after losing first position to Immaculate last year. Immaculate will probably say they just switch to give them another taste :-)

Montego Bay High remains extremely strong and consistent in 3rd place again though.

Westwood has jumped three places since last year

The biggest movers in (to) the top 10 though is St Andrew High School for Girls amd Mannings High, who was at #11 and #14 repectively last year, but who are now at #6 and #9!

Note also that all the "Prestigious 10" (I call them), have averages of over 95%!

Very Well done to you all.

NEXT WE HAVE
..
.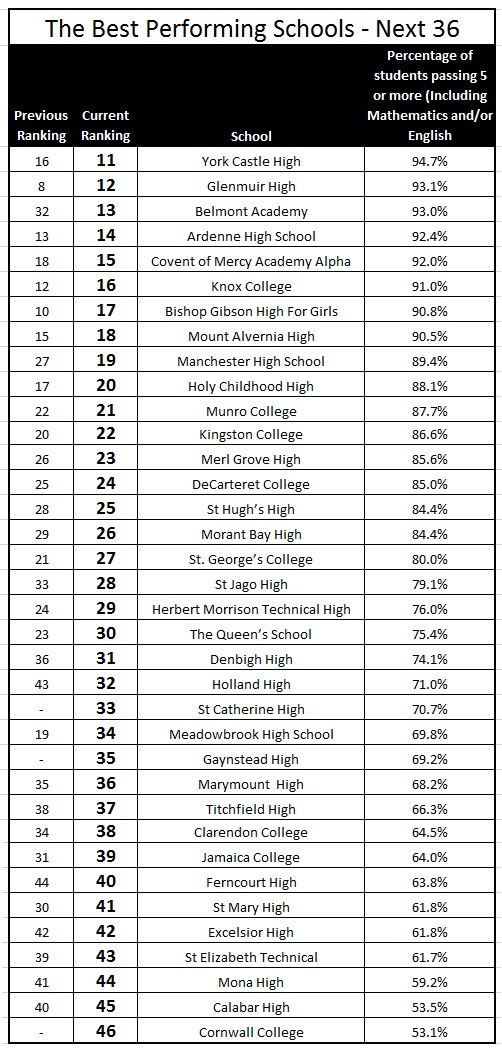 Did you notice that the biggest mover here is Belmont Academy? They jumped 19 places from #32 last year (which was pretty good for a new school) to #13 this year - amazing!

Notice also that Meadowbrook and St. Mary High have slid the biggest, losing 15 and 11 positions to rank 34 and 41 respectively - but still in the top tier!

THEN, RANKING OF ALL GIRLS' SCHOOLS
..
.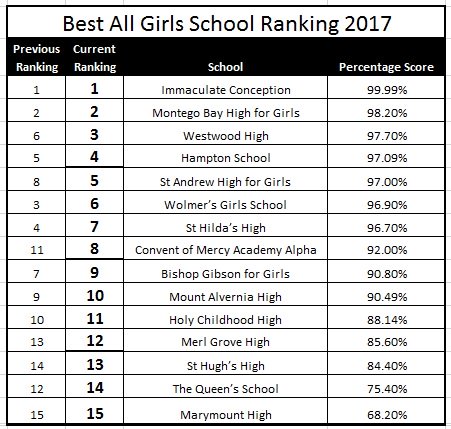 Watch those top 2, boy or girl, they are right up there in the top 5, almost every year!

Note also that the first 10 are boasting averages of over 90%, which includes Mount Alvernia High

AND FINALLY, THE RANKING OF ALL BOYS' SCHOOLS
..
.


Wolmers Boys sits pretty comfortable at the top, same as last year.

The great Munro and Kingston College seems to be battling for second place, but at this point, Munro rules.

Did you notice that only Wolmers Boy had averages of over 90% though, wouldn't you say that this is a cause for concern?

Share your thoughts here.

Pretty interesting huh?
I hope this was insightful to you.
By the way, do you know someone who might be interested in this ranking?
Here is the link to send to them (Just copy and send it):
https://www.my-island-jamaica.com/2017-ranking-of-jamaicas-best-high-schools.html
Or forward via the social media links below.
As usual, I
welcome your comments
on these rankings.
Regards,
Wellesley Gayle
P.S. Note: Be sure to
subscribe here
to get the new ranking using the 2017 CSEC results when they are released.
P.P.S
And while we are talking about schools, remember the 'good ole' school days? Join the rest of us and
share memories of your Jamaican school here
.