Am I Eligible For Dual Citizenship In Jamaica?
by Adam
(Kent, UK)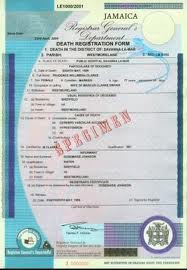 Photo: Specimen Jamaican Birth Certificate
Hi.

My parents were stationed in Kingston Jamaica from 1961-1964. I was born towards the end of this posting and have long wondered if I am eligible for dual citizenship?

I have the certificate of registry of birth and my birth certificate for this country. I have tried to figure this out via the Jamaican embassy in London. I think it would be fair to say they have been reasonably unhelpful.

I am not looking to live in Jamaica, just very curious to know if I can apply for dual citizenship etc.? Thanks in advance for any help you can give me!

Adam.
RESPONSE: by Deon Clarke
Hi Adam,
Thanks so much for visiting our website, and for your question.
I am happy to provide you with as much information as possible and hope this will benefit other readers who would also like to know about dual citizenship eligibility here.
So, the simple answer to your question is YES!
You are indeed eligible for Jamaican citizenship based on the fact that you were born here in Jamaica, and you actually have your Jamaican birth certificate as proof.
I can almost see that smile on your face Adam! Yes, you are Jamaican!
So, now that that we have cleared up that bit, let's take a look at dual citizenship application.
Do I Need To Apply For Jamaican Citizenship?
Chapter two of the Jamaican constitution states that persons who are born in Jamaica and persons who are born outside of Jamaica but of Jamaican parents do have an automatic right to Jamaican citizenship. So, let's take a closer look at your case.
The fact is, that you were born in Jamaica. Although you did not clearly state if your parents were Jamaicans or not, it doesn't even matter. The fact that you were born here makes you a citizen automatically. Therefore you are not required to apply for citizenship, nor are there any applicable residency requirements that you have to fulfill.
Also, you already have a birth certificate indicating the registration of your birth, so that's all the evidence you need to prove your citizenship
Do I Need To Apply For Dual Citizenship?
Jamaica DOES recognize dual citizenship, so although you may be a citizen of another country, that would not interfere with your automatic right as a citizen, so no, you would not have to apply for dual citizenship. I gather that you may be a citizen of the U.K. and you will be happy to know that the U.K. does allow dual citizenship as well so you can be a British citizen and a citizen of another country as well. Still, there would be no need for you to apply for dual citizenship under your circumstances.
Other Means Of Obtaining Jamaican Citizenship
For the benefit of my other readers though, there are different categories of applications for obtaining Jamaican citizenship. The application can be made through the below means:


Naturalization

Descent

Marriage

Registration - Commonwealth

Registration - Minor

For more information on how to apply through these methods, please visit the Passport, Immigration and Citizenship Agency (PICA) website at:
https://www.pica.gov.jm/
.
So Adam, once again, thank you for your question. I do hope the response provided was sufficient for you. Be sure to visit us in Jamaica some time. After all, you are a Jamaican! Blessings
See also:


British citizenship for Jamaicans born before 1962

Regards,
DC

References:




"Jamaican Citizenship", https://jis.gov.jm/information/faqs/applying-for-jamaican-citizenship/

"Applying for Jamaican Citizenship", https://jis.gov.jm/information/returning-residents/nationality-citizenship/jamaican-citizenship/

"Procedure involved in obtaining citizenship", https://www.refworld.org/docid/3f7d4db538.html

"Dual Citizenship In The UK", https://www.gov.uk/dual-citizenship

"Passport, Immigration and Citizenship Agency", https://www.pica.gov.jm/





Editor's Note
Have a question as well, don't hesitate to send it to us here! With over 2000 questions already answered, chances are we can help you :-)