Are Jamaicans Africans?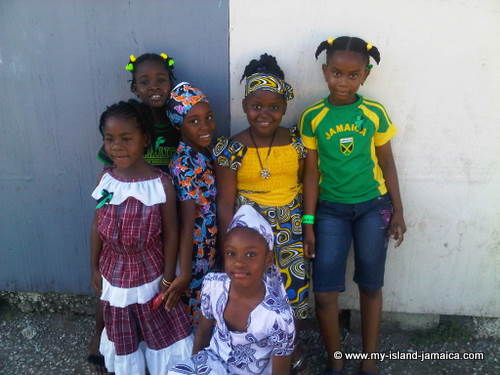 Answered by Tracie Shortridge, Associate Writer

Let's break down the details!

Jamaica was first inhabited by a group of people called the Arawaks (pronounced A-ra-waks) or Tainos (pronounced Ta-i-nose) who were mild natured people who lived off the land and loved nature.

So in love were they with the island and its natural splendour and beauty that they named it Xaymaca (pronounced Ex-ai-ma-ca) which means "land of wood and water". They were originally from South America but bore the physical features of Africans with flat foreheads, dark skins and broad nostrils.

Christopher Columbus 'discovered' the island of Jamaica, moved on to other conquests and then the English invaded the island.

With this invasion came ill-treatment, abuse of the Arawaks and infectious diseases which, due to their gentile way of living, led to them dying out by the dozens until the last of their race was gone.

The English quickly saw the fertility of the island and this gave way to a very active sugar plantation opportunity.

With this booming lucrative and profitable business, the English needed labour to plant and reap the sugar cane needed to yield profits from the sugar industry and take it to the heights of great success. Since all the Arawaks were gone, they decided their only hope was to purchase slaves.

The first set of slaves they purchased were the Koromantis (pronounced Ko-ro-man-tees) who were captured from their native home of Akan, West Africa, now known as Ghana and sold into slavery to the English settlers across the Caribbean including Jamaica.

During rebellions and the fight for freedom from slavery, some of these slaves ran away into the hills and created a town of "freed" slaves called Maroon Town. Therefore, all African slaves in this community were referred to as Maroons. Well, the Koromantis and the Maroons formed the first set of African inhabitants on the island of Jamaica.

So, YES, we are!!!

But how did some of us end up with lighter complexions, hair and eye colour?

Well, the African slaves cohabited amongst themselves resulting in the birth of African Jamaican or Afro-Jamaican children which the plantation owners loved because this increased their labour force.

However, the plantation owners saw the strength and beauty in the Afro-Jamaican women and forcibly cohabited with them resulting in the birth of "mixed" children.

But, due to society and the fact that the slaves were seen as nothing but labour, these children remained with their slave parents growing up as slaves even though they bore markings of their light-skinned fathers (And by the way, we have several high profile examples even now in Jamaica)

So again, yes, all persons born in Jamaica from Afro-Jamaican parentage originate from Africans!

With them growing up as slaves, of course, they cohabited with the other Afro-Jamaican slaves resulting in the birth of other "mixed" children. Of course, all these "mixed" children possessed the African bloodline thereby making them, Africans by descent.

Having said that, I am mindful that other nationalities from Europe and Asia (Chinese and Indians for example) that came, settled and cohabitated, helping to create a rich mixed culture.

But even with that, over 90% of Jamaicans share some African roots, and so again I shout, a resounding "yes we are"!

You are welcome to read more about the history of Jamaica and significant events in Jamaica to get even more insight.

See also: Where did Jamaican ancestors come from?