Breakfast Jamaican Style
by Ann Marie Treacy
(Toronto, Ontario)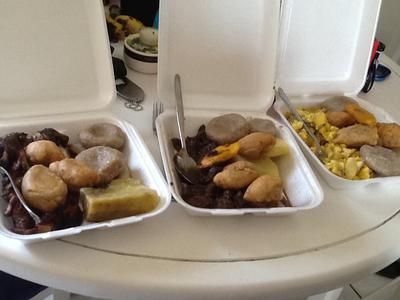 Breakfast Jamaican style
Not your bacon, fried eggs and toast, that's for sure!!!!!


The breakfasts in Jamaica are so hearty, they keep your belly full until dinner time.
My absolute favourite is ackee and salt fish. A national dish made from ripened ackee, it is said if you eat it before it's ripe, it's poisonous!! Not for the faint of heart, but worth a try.
You can also find
curried chicken
, or
curried goat
,
kidney or liver
. It is my 9 year old Canadian son's favourite.
Fried dumpling
, boiled dumpling,
plantain
, and assorted fruit like mango, Jamaican apples, pear(our avocado), and the sweetest, most flavourful bananas ever!!!!!
Truly a satisfying way to start your day in paradise!!
Ann Marie Treacy
---
Editor's Note - See Also:
Pictures Of Jamaican Food