Stay
up-to-date
with all that's new at My-Island-Jamaica,
Click Here to subscribe
for my updates and don't miss a thing!
Custom Search
Sharing Is Caring! Share this awesome content with your friends now.
Buju Banton -
Championing

  Reggae Music Since 1987

Watch! See the real Jamaica in VIDEOS!
Click Here and see why over 60,000 fans are raving about my YouTube Channel!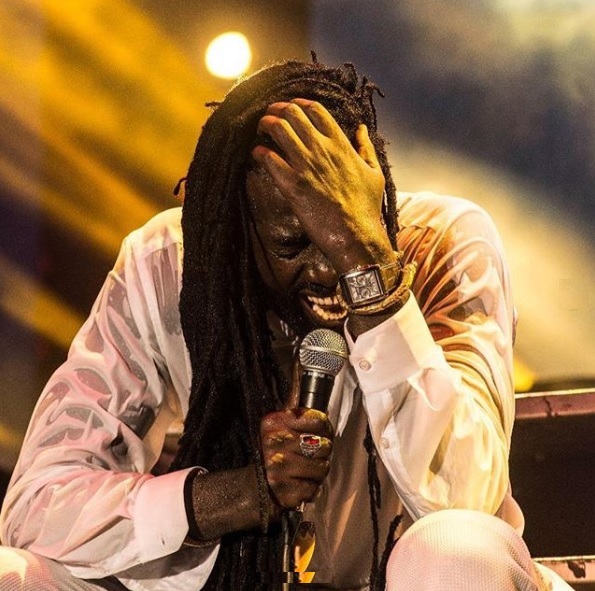 by Sheree-Anita Shearer | Associate Writer

For decades, the name Buju Banton has been well known throughout the world as one of the best Reggae artistes from Jamaica. His countless contributions to the genre have been very impactful on the reach Reggae has over the world. But how did this all begin? Let's take a look at the life and impressive career of Buju Banton.
---
His Early Life
On the 15th of July 1973, Mark Anthony Myrie was born to parents Merlene and Benjamin Myrie who were respectively a street vendor and a tile worker. He spent his childhood living at Salt Lane in Kingston, Jamaica. Mark grew up as the youngest and only boy of 16 children. The name Buju, is the nickname given to him by his mother because of his insatiable appetite even at a young age.
It would have been a challenge not to have known of Dancehall and Reggae music as a child growing up in the 70s and 80s, especially Buju's community and the ones surrounding it. Buju often got the opportunity to see his favourites, as well as other local talents, perform at local shows and dancehalls. However, it wasn't until the age of 12 when he, under the stage name Gargamel, (which he is still known as by many) he delivered his very first lyrics.
This was just the beginning for a young Buju Banton. He began working with the sound systems Sweet Love and Rambo Mango, but that was not all. He was introduced to Robert French, a record producer at the time and by 1987 at age 14 his first song The Ruler was released to the public.

Where did the name Buju Banton come from?

The first name Buju came from the nickname he had always had as a child, which he decided to keep as his stage name. The second name, Banton, was to pay homage to those musicians who had come before him. Banton was the name used by another artiste, Burro Banton, who was a popular deejay in the 80s and 90s. The term Banton is used in Jamaica to describe a person who is a great storyteller and that is one thing that Buju hoped to achieve with his music, he wanted to tell stories. 
The release of his first single got him on the radar of other producers such as Bunny Lee and Winston Riley whom he also got to work with. 
In 1991 he joined Donavon Germain's Penthouse Record's label and met Dave Kelly the producer at the studio. His debut album Stamina Daddy (later retitled Quick) was released with The Ruler as the lead single. Together they released songs such as Bogle, How It Ago Go, Man A Look Yuh and Batty Rider as well as many other hits on Buju's ground-breaking album Mr. Mention.
Two of his biggest songs Love Me Browning and Love Black Woman were released in 1992 as well. His multiple number one hits saw him beating the record of most number one hits previously held by the great Robert Nesta Marley. Epic!

Buju did not stop there and just a year later in 1993 he released Voice of Jamaica under the Mercury label. This album showcased a more conscious side to Banton as he spoke of social issues a lot on this album.
Two of the many issues that were tackled on this album were the high rate of political violence Jamaica was experiencing at the time and Safe Sex and contraceptives. On the song, Tribal War he collaborated with other musicians Tony Rebel, Brian and Tony Gold and his own Willy, Don't Be Silly. The profits from the song Willy Don't be Silly were donated to a charity supporting children living with AIDS.

The songs at the time were laced heavily with violent themes, a product of the environment that many of these artistes were a part of. When Buju himself was affected by the violence in the area after he lost three very close friends and musicians due to crime, he penned the song Murderer which sparked some change in the dancehall scene as some clubs and dancehalls stopped playing music with overly violent themes. During this time, he toured Europe and Japan which was an overall success.

Spiritual Journey
The death of another good friend and prolific dancehall artiste Garnett Silk, caused Banton to reflect on his own life and he began his transition to the Rastafarian faith.
This personal change in belief system caused a change in his artwork as well and that was evident in the 1995 release of his album Till Shiloh. For this, he went back to Penthouse records and Donavon Germain.

The change in sound did not affect Buju Banton's fanbase, in fact, it increased. Despite the change in topics his ability to tell a story with his songs was still very much present. With songs such as Wanna Be Loved and Untold Stories, the album was an instant classic and includes many songs that are still played frequently even today.
This album came at a time when most people were concerned about the direction the Dancehall music had taken as it focussed on more violent topics in most cases.
This album was proof that the conscious lyrics and nature of Reggae music had not been entirely forgotten and while it did not put a stop to all the violent lyrics it did prompt many other artistes to start singing about more conscious topics themselves and to begin their walk in the Rastafarian faith as well.

Gargamel Music Studios

Buju, opened his own studio Gargamel Music in 1995 as well. Gargamel being his stage name before he changed it to Buju Banton earlier on in his career. 
Since then the studio has been used for not only Buju Banton's album productions but other artistes as well.
Never one to stop, Buju released his fifth studio album Inna Heights on November 18, 1997. The album begins with Our Father in Zion one of the shortest but most memorable songs ever. This album gave us the hits Hills and Valleys and Destiny, two of my personal favourite Buju Banton songs.
He also had a few collaborations including reggae greats Beres Hammond on She's My Woman Now and Toots Hibbert on the song 54/46. Inna Heights was the first of his six Grammy nominations although he did not win that year. 
Buju Banton went on to release the albums Unchained Spirit (2000), Friends for Life (2003), Too Bad (2006), Rasta Got Soul (2009) and Before the Dawn (2010).
The song Driver A was on the Too Bad album.
The artiste's song Boom Bye Bye which has, since its release when the artiste was just 19 was removed from his catalogue and from all streaming platforms. The song which the artiste has written in response to a rise in rape cases against boys in Jamaica, was ridiculed for its homophobic and violent lyrics. The artiste has since then issued an apology for the hurt his song had caused as he does not believe Reggae music is a place where hate should exist, all are welcomed.

Criminal Charges

In December 2009, Buju Banton was arrested in Miami Florida on drug charges. After his first trial ended in a mistrial in September 2010, he was granted bail and put on house arrest. He was again tried in February 2011 and sentenced to 10 years in prison just weeks after he won his first Grammy. 
December 2018 was a momentous day for Jamaicans and Reggae lovers alike as Buju Banton was released from prison after serving 7 years of his 10 year sentence. 
The Long Walk to Freedom

Buju returned to work almost immediately and in March 2019, kicked off the first leg of his The Long Walk to Freedom Tour in Kingston Jamaica. The long-awaited performance attracted 30,000 people from all over the world.
He also released his new singles Country for Sale, False Pretense and Bagga Mouth. Country for Sale topped the iTunes Reggae Charts just minutes after its release in May 2019.

Collaboration with Roc Nation
November 2019 Buju it was announced the Buju's Gargamel Music was partnering with Roc Nation, owned by rapper Jay Z. 

Return of The Gargamel

Buju Banton started 2020 with a bang as he was featured on the Bad Boys For Life soundtrack with the song Murda She Wrote which was produced by DJ Khaled who has always been a fan of Buju Banton and Reggae music in general. The song was influenced by the 1992 Chaka Demus & Pliers release of Murder She Wrote. 
In February, under the Gargamel Music label and released by Roc Nation, Buju produced the Steppaz Riddim. The 11 track project included collaborations with local stars Vershon, Agent Sasco and Bling Dawg.
He released his first album since his 2010 effort in June 2020, appropriately titled, Upside Down 2020, earned Buju yet another Grammy nomination. The project included collaborations with Stehphen Marley, Stefflon Don, Pharrell and John Legend. 
Kanye West's much anticipated album Donda in 2021, featured contributions from Buju Banton on the song Believe What I Say.
Buju has truly dedicated his career to Reggae music and his commitment to uplift, educate and eradicate negativity from the minds of people globally through the genre. He has truly earned his spot amongst the greats. The stories told in his music will continue to inspire people everywhere.

Related Video!

Watch Luciano 

LIVE At Rasta Indigenous Village's IRITS festival
Other Pages Related To Buju Banton
You will also find these pages quite helpful as well:

Return to Jamaican Culture from Buju Banton 
Return to My Island Jamaica Homepage from Buju Banton
References & Sources For Jamaican Sorrel
Buju Banton, https://www.bujubanton.com/#block-views-releases-latest-release-block  


TIMELINE: Buju Banton's tangle with US law | News | Jamaica Gleaner,https://jamaica-gleaner.com/article/news/20181207/timeline-buju-bantons-tangle-us-law  


Buju Banton | Wikipedia, https://en.wikipedia.org/wiki/Buju_Banton
Other Great Articles You Might Have Missed
P.S. Didn't find what you were looking for? 
Still need help?
Click Here to try our dependable and effective Site Search tool. It works!
Or, simply click here and here, to browse my library of over 500 questions and answers! Chances are someone already asked (and got an answer to) your question.
---