What Is Reggae? 


Yeah, what exactly is it?
Sharing Is Caring! Share this awesome content with your friends now.

New! See the real Jamaica in VIDEOS!
Click Here and see why over 140,000 fans are raving about my YouTube Channel!
By Kesha Stewart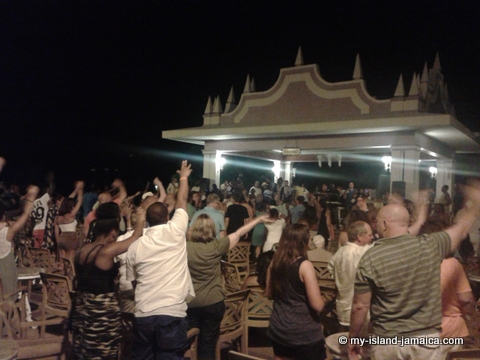 I think it was in 1984 Ini Kamozie made a declaration to the world that reggae music was on yah – here/now playing...
New! Ready To Visit Jamaica?
Join countless of travelers who have already unlocked the secrets to experiencing Jamaica on a budget. Click Here and find out how.

And, if you ever need a trustworthy, friendly and knowledgeable local guide, consider booking a private tour with us!

---
World a reggae music on yah-eh

Keep me skanking with me daughter-eh-a
World a reggae music on yah-eh
Lord, I thirsty, gimme water-eh-a
World a reggae music on yah-eh

Keep me rocking with me daughter-eh-a
World a reggae music on yah-eh..(Jah Lyrics.com)
Indeed reggae music is really on yah. Our authentic Jamaican sound has enthralled music lovers here at home and even in lands that are polar opposites of Jamaica - literally and figuratively. You can't disagree huh?
Don't forget that even former President of the USA Obama had to do a quick (unscheduled) detour to look at the bob Marley museum when he visited Jamaica in 2016. And here you are now researching information about reggae. 
Well here is a little to whet your appetite. 

Reggae by Definition
So exactly what is reggae? The well-respected source, Merriam Webster defines reggae this way "popular music of Jamaican origin that combines native styles with elements of rock and soul music and is performed at moderate tempos with the accent on the offbeat".
Reggae - The Creation
The Palms on tripadvisor.com submits that "reggae" comes from the term "rege-rege" which means "rags" or "ragged clothes.", This speaks to the fact that reggae is a genre that represents an eclectic mix of other music forms such as ska, which preceded it.
Secondly, it speaks to the shanty towns from which this sound was born. It became popular in the 1960s.
What are the elements of Reggae?
Like every genre of music, there are different elements that come together to form reggae music.
Vocal style- Since reggae is a Jamaican genre, most reggae music has a Jamaican accent. Lyrically, the majority of reggae music is fueled by a strong sense of hostility as well as the need to survive and be warriors.


Tempo- Reggae songs often have tempos between 80 and 110 BPM, which is a little slower than the typical commercial pop song. Reggae has a solid groove that would only make sense at slower tempos, which can be the cause of this.


Instrumentation- The instruments used in reggae are comparable to those used in American pop music. Drums, electric bass, electric guitar, and keyboard are the basic instrumentation of a typical reggae song.

Reggae has been spiced up over the years by the addition of new instruments including horns, brass, and Afro-Cuban percussion. It's important to note how bass-heavy reggae music is. The majority of reggae songs feature heavy bass and low subs that are designed to rock the dance floor.


Harmony- In general, reggae songs have simple chord progressions. Like in Bob Marley's "No Woman No Cry," the majority of the chords follow typical progressions like I - V - vi - IV (in the key of C, this would be C - G - A min - F).


Rhythm- If you are a music player and you want to play reggae music you got to pay close attention to the rhythm. Reggae uses a lot of irregular beats. These are typically staccato beats performed on the off-beats (also known as upbeats) of a measure by a guitar or piano, occasionally both. Most reggae music has a "jumpy" quality as a result.

Another reggae pattern that is frequently heard is the "one drop rhythm." In practice, it doesn't highlight the first beat and puts more focus on the third beat. It is heavy on the backbeat according to thoughtco.com. That is to say, the beat is emphasized for instance on beats 2 and 4 when in 4/4. Reggae drummers also emphasize the third beat when in 4/4 time with a kick to the bass drum.

In reggae, the bass guitar is crucial for maintaining the beat. The majority of reggae bass sections are merely riffs (melodic patterns) that are repeated frequently with an octave jump. Other instruments, like percussion and guitar, fill in the "holes" to produce intricate polyrhythmic patterns while the bass provides the weight and anchor. 
What is Reggae known for?
Despite the fact that many reggae songs cover softer, more intimate topics like love and socializing, reggae is known for its tradition of social criticism, injustices and religious themes in its lyrics.
Reggae In Motion
The best way to show your appreciation for reggae music is to have your skank ready! It's a basic two-step dance that is done in time to the music.
Watch YouTube.com and see/try it. Then you can share your video with us on the YouTube channel.
Reggae Themes
Outside of its distinctive sound, reggae music is thematic. The lyrics are echoes of the sociopolitical, cultural and social climate yet at other times it's romantic (lovers' rock) and spiritual (heavily Rastafarian).

Popular Proponents Of Reggae Music
Reggae has had some influential proponents and I am sure you could win a prize on final jeopardy if I said, "Is considered the most influential figure in reggae music?" 
You would wager all your money and respond by saying, "Who is Bob Marley?" Right?
But outside of Bob, we have his band The wailers, The I Three, Jimmy Cliff, Marcia Griffiths, Burning Spear, Peter Tosh, Beres Hammond (one of my favourites), the late Dennis Brown and more recently, Chronixx, Morgan Heritage, Protégée, Romain Virgo and the list goes on.
Even foreigners like UB40 have turned to Reggae and received amazing results.
How does Reggae music affect the brain?
Did you know that every genre of music affects your brain differently and may even impact how you go about your day-to-day life? Your prefrontal cortex receives signals from your auditory cortex when you hear reggae, telling it how you feel about the music. Next, you choose whether to sing along or dance. The majority of reggae listeners are confident in themselves, artistic, lazy, gregarious, and at ease.
Did You Know That Reggae has…?
featured as soundtracks in shows and movies, such as Inner Circle's "Bad Boys" which features in the show Cops and the movies Bad Boys 1 & 2?

a category at the National Academy of Recording Arts and Sciences, The Grammy Award and that this award was first received by Black Uhuru in 1985?
exclusive radio stations as far away as Japan? Check out jajainternational.com.
been performed to sold out audiences on most of the continents, including Europe, Africa, North America, Australia and Asia 
been recorded by males and female of various nationalities – check out MAGIC!'s "Rude."
a billboard charting? See billboard.com
been celebrated in festivals all over the world?
Check out festicket.com. you will see festivals like MUSA CASCAIS  which was celebrated from June 29 – July, 2017 at Carcavelos, Portugal or the Seasplash festival in Pula, Croatia held from 20-23 July.

And don't forget Reggae Sumfest held annually in the summer (usually July), right here in Jamaica.
worldwide respect? Annually July 1 is recognized as International Reggae Day across the world.
the song of the 20th century? Yes it is  Bob Marley's "One Love"
featured in the Super Bowl 2013 ad from Volkswagen titled "Get Happy", starring Jimmy Cliff.
Now that you know what Reggae is, here are the top 10 Reggae songs 
Yes world, a reggae music on yah, Eh!

Sharing IS Caring! Please help me get the message out by sharing this article with your friends on social media (links below). Thnx ;-)

If you found this page useful, please consider subscribing to my weekly newsletter, to get even more. 
It tells you each week about the new information that I have added, including new developments and great stories from lovers of Jamaica! 
Return to Jamaica Culture from What is Reggae? 
Return to My Island Jamaica Homepage from What is Reggae?
References & Sources For What is Reggae?
https://splice.com/blog/5-core-elements-reggae/
https://prezi.com/u-raos7fxbjn/how-different-genres-of-music-effect-your-brain/
Back To The Top Of This Page
New! 

Get My Latest Book👇🏿
You asked, I've answered! You no longer need to save for months or years, to enjoy paradise!

JAMAICA On A Budget is your passport to experiencing what I call 'The Real Jamaica' on a budget!

I spilled the beans! sharing my top tips on finding cozy accommodations and secret gems, only the way a native could! Click Here to pick it up on my e-store and start saving now!
See The Best Of Jamaica -
In Videos!
| | |
| --- | --- |
| | My channel reaches over 140,000 subscribers worldwide and has leveraged over 11 million views, sharing, what I call 'The Real Jamaica'. Subscribe today and join our family of viewers. |

---
P.S. Didn't find what you were looking for? 
Still need help?
Click Here to try our dependable and effective Site Search tool. It works!
Or, simply click here and here, to browse my library of over 500 questions and answers! Chances are someone already asked (and got an answer to) your question.
---