Christmas Hacks! 12 Survival Tips For The Holiday Season
by Sheree-Anita Shearer | Associate Writer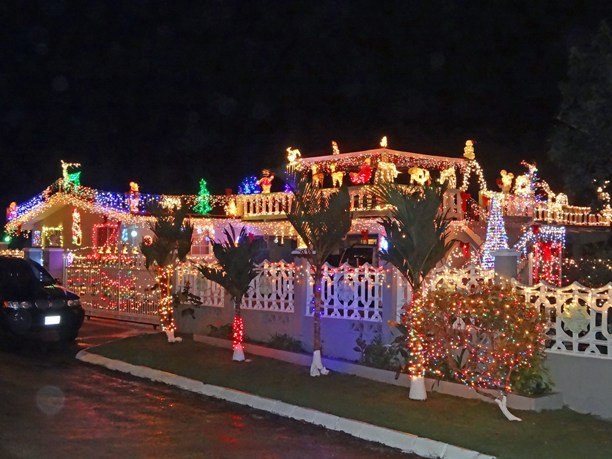 Photo: Beautifully Decorated House in Mandeville, Jamaica
So, the most wonderful time of the year is around the corner. It can also be the most dreadful if you haven't yet bought your gifts, decorated, planned your Christmas menu, and gone to the supermarket. Relax, take a breath, you've got this! There is still time to get it all done and I'll even include a few tips to help you now and prevent the same thing from happening next year.
Decorations - There is a thin line between decorating your house and your house looking like Santa's storage room. Come up with a plan of attack for the decoration process. Will you be decorating the entire house? Do you need more Christmas lights? Are your Christmas lights working? Even if you haven't yet decorated a week before Christmas day (or before your family comes to visit if you are the one hosting), at least check if your lights are working to avoid rushing out to get the last of the Christmas decorations. Come up with a theme for Christmas and buy decorations around it.

I know in Jamaica, electricity is a big thing, the bill is quite expensive. You could save on the lights inside the house and use pillows and other types of decorations instead.

Limit the amount of Christmas branded decor items (you really don't need three pillows saying "HO!HO!HO!". That way, you can reuse them at other times of the year. If lights outside are a part of your decorations, then look into solar options so you cut back on electricity costs. Also start taking down at least some of your decorations when you have the entire family to help. The last thing you want is to have to "de-christmasify" the entire house on your own.


Make a Budget - Think about all your usual expenses first. A pile of unpaid bills does not equal a happy New Year. The key is not to spend more than you can afford and include all the expenses for the holiday including food, gifts and decorations. If you are not the person hosting, think of bringing something useful for your host. Or let them know you are willing to help out where you can.

A good tip that I use, is to keep track of my spending with budget/money apps. If you can, have a separate account for your holiday funds aside from your savings and regular expenses.


Sales - You might go into a sale thinking you are saving money and end up spending way more than you had originally planned. Know the difference between a good sale and unnecessary things. A good trick is to pick the items you want to get and then search for them among the things on sale; never go in blindly. If you see something along the way that is a good buy, then consider purchasing it. Avoid items that "have potential" and don't get overwhelmed by salespersons if you are shopping in-store.

If you are shopping online, shop in incognito mode. If you look at one item, you will be bombarded with other items you weren't looking at in the first place. Sometimes you might even see the more expensive items before you get to the sale.


Gifts - Gift giving can be a bit tricky. Do I buy for everyone or just the kids? Do I buy a gift for my sibling or their significant other? Are you going to buy a gift for all your friends? Getting a gift for everyone is expensive, especially for a large family, and coming from a large family and having quite a few friends I have had to get creative over the years.


Secret Santa - The best gift-giving system ever. This way everyone is responsible for one gift and everyone will get one without breaking the bank. Even if you have a secret Santa for work, home, and your friend group, that's still three gifts instead of 8.


Shop throughout the year- You don't have to wait until Christmas to buy the gifts. If you see a good gift for someone throughout the year, purchase it! Also, it's easier to hide the gifts from March when nobody is even thinking of Christmas than later down in the year.


Have a Christmas pool fund- For the gifts for the immediate family, you could have a pooled fund for Christmas gifts. Everyone can add to the fund throughout the year and contribute to every gift in the family. I think this is pretty neat.


Gift Cards - If you aren't entirely sure of what the person would like for Christmas a gift card comes in handy. Give them the option to choose and don't risk giving them something they won't use.


Customized Gifts - Everyone loves a thoughtful customized gift. Consider something a little more personal if it is someone you know well.



Labels - If you won't be in the kitchen on your own, make sure you have clear labels so everyone knows where to find appliances, utensils and ingredients without having to ask you all the time.


WiFI Password Cards - Having a few password cards around the home is a good idea. This way everyone has access to the internet without having to ask you all the time.


Delegate - Hostess stress is a real thing! To ensure everyone has a good time is not only the job of the host, it is up to everyone. Ask a few people to do drink runs, do the baking or organize the pick up from the airport and take the load off just you. You deserve to enjoy Christmas too!


Guest Rooms - Map out where everyone will stay and ensure you have enough room for everyone to fit comfortably. If you have a relative close by, consider having some people stay there instead. Clean the guest room/s a day or two before so you don't have to be rushing on the day. It also makes sense to have a designated space for luggage and gifts etc.


Christmas Dinner - Dinners at the table are quite common, everyone can help themselves to whatever they would like to have as it's all spread on the table. Not everyone has that type of Christmas though, at my house for example sometimes there are just too many people around to have at the table as it's more of a family reunion than a dinner. The issue with large groups is sometimes with buffet-style sharing some people are left out.

What you can do is share once for everyone and then put out the buffet. This way you aren't sharing for hours on end. Also, cut the cake into equal pieces and not have everyone cut their own slice. Remember some of us love cake more than others. Hint, hint. For large numbers of people have disposable plates and garbage bins around the yard. This cuts down on cleanup time tremendously.


Donations - Get your donations out the way before Christmas. Make two piles and get boxes or bags for those you will be giving away.


Routines - It might be easy to slip out of routines during the holidays. And while a day or two of sleeping in or staying up late won't hurt. Try to stick to your routine as much as possible. Still go for that run, maybe some of your relatives who are visiting would love to join you too.


Friendsmas - For some, there is a little pressure to choose where to go for Christmas. Having a potluck dinner with your friends before they head out of town for the holidays or before they start preparing for their hosting duties is a very good idea. You can either do this at a friend's home, park, or the beach just about anywhere your friend group likes to hang out.

For gifts, you can do Secret Santa or play gift roulette. Each person brings a wrapped gift without a name for who it's from and then just pick one from the pile without knowing what it is. Decide on a comfortable price limit for everyone and try not to go over budget.

Christmas is the best time of the year and everyone should be having fun and enjoying the season. I hope these tips help you to do so. Happy Holidays!
I also recommend you read,
What are typical Christmas decorations in Jamaica?
.
Regards,
SS
Editor's Note
Share your comments here!
Join in and write your own page! It's easy to do. How? Simply click here to return to Have_Your_Say.
Back To The Top Of This Page
See The Best Of Jamaica -
In Videos!
| | |
| --- | --- |
| | My channel reaches over 100,000 subscribers worldwide and has leveraged over 11 million views, sharing, what I call 'The Real Jamaica'. Subscribe today and join our family of viewers. |

---
P.S. Didn't find what you were looking for? 
Still need help?
Click Here to try our dependable and effective Site Search tool. It works!
Or, simply click here and here, to browse my library of over 500 questions and answers! Chances are someone already asked (and got an answer to) your question.
---