Electricity in Jamaica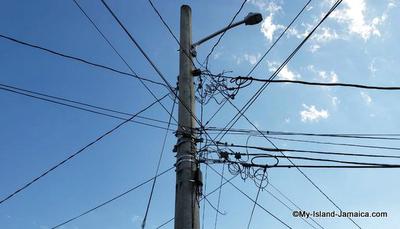 Photo: JPS Electricity Pole
by Deon Clarke | Associate Writer
Dark Times
How times have changed! Can you imagine a Jamaica today still using kerosene oil to fill lamps and make bottle torches to light your way or for your homes? Or to put in stoves designed for the purpose to cook your meals? Battery operated flashlights would have been the only other option for lighting for those who could afford it. Streets so dark, that at times you can't see the person next to you. No televisions, no refrigerators, no internet! just a few battery operated radios. You literally had to make hay while the sun shines, and why? There was no
electricity
. Sounds terrifying, doesn't it? This great commodity, often taken for granted but indeed a true luxury was not available as it is now. Today, about 99% of Jamaicans have access to electricity but how did it all start?
When Did Jamaica Receive Electricity?
Can you believe that Jamaica was one of the first countries in the world to receive the precious commodity of electricity? I bet you didn't know that! Electricity actually came to the island in late 1892, when the Jamaica Electric Light Company was established on Gold Street, Kingston, with the use of a small, coal-burning steam generator. This was a great achievement for Kingston (just 19 years old at the time) as many British cities still did not have electricity. Thirteen years later, Thomas Edison invented the first light bulb or electric lamp.
Throughout The Years
Since then, electricity in Jamaica has transformed and also transformed the lives of the people. Let's take a walk down memory lane and look at what has happened over the years.


1892 – Jamaica Received Electricity


1893 – The Waterloo Guest House in Black River, St. Elizabeth was the first private residential property to receive electricity in Jamaica.


1897 – The Jamaica Electric Light and Power company acquired the holdings of the Jamaica Electric Light Company. They established and expanded their operations in Kingston at 151 Orange Street.

West India Electric Company, another electric company emerged also in 1897 and extended electricity services to other areas with their powerful 3-machine hydroelectric plant. This plant was located on the Rio Cobre in Bog Walk, St. Catherine.


1907 – The 1907 earthquake did not spare the Jamaica Electric Light and Power Company. They sustained extensive damages and financial problems resulted in the formation of another company – Jamaica Light and Power Company Ltd. (Canada). This new company leased its licenses and property to the other electric company – West India Electric Company.


1923 – The Jamaica Public Service Company Ltd. (JPS) was registered on May 25, 1923, providing electricity to 3,928 customers. They eventually bought West India Electric Company. By this time some towns had already established their own electricity companies.



1945 – JPS bought the local electricity companies, namely – County Electric Lighting Company, St. James Utility, and Northern Electric Lighting Company.


1966 – The Jamaica Public Service Company Ltd. was issued with a 25-year all island license by the Government.


1970 – The Government of Jamaica became the major stakeholders in the Jamaica Public Service Company gaining controlling interest through acquisition.


1978 – The Jamaica Public Service Company Ltd. started to operate under a 39-year all island license.


1996 – The Jamaica Public Service Company Ltd. was placed on the market to be sold as the Government wanted to have a more efficiently operated electricity service after years of being state-run. However, the sale was put on hold as the Government was not satisfied with the three overseas bids that were received.


1997 – The Jamaica Public Service Company Ltd. entered into a performance based agreement with the Jamaican Government to operate as a virtual private sector entity.


2001 – In 2000, the process to have the Jamaica Public Service Company Ltd. sold was reopened and on March 30, 2001, Mirant Corporation of the United States, purchased an 80% stake in the company. The Government retained 19.9% and the remaining .1% for a small group of shareholders.


2007 – On August 9, 2007, six years later, Marubeni Caribbean Power Holdings, Inc. (a subsidiary of Marubeni Corporation of Japan) purchased the Mirant's majority shares in the Jamaica Public Service Company Ltd.


2011 – Korea East West Power (EWP) went into a joint ownership arrangement with Marubeni Corporation for the 80% majority shares in the Jamaica Public Service Company Ltd.


2018 – Currently, JPS continues to operate under the joint ownership arrangement. The Board of Directors comprises Marubeni, EWP and representatives of the Government.

The Office of Utilities Regulation (OUR) regulates the electricity sector in Jamaica, which includes the Jamaica Public Service Company Limited (JPS) and any other Independent Power Producers (IPPs).
Whew! Electricity in Jamaica has certainly come a long way. Today, with over 99% of the population having access to this precious commodity, facilitating all the things we have come to love and enjoy such as well-lit streets, televisions, fridges, stoves, INTERNET, and just about everything that can be powered up, we can say that we are truly blessed as there are still many parts of the world that do not have this opportunity. Of course, we know that the cost of electricity or energy does not come cheap. Many times power supply gets disconnected due to non-payment of high electricity bills. So, the next time you leave something plugged in or turned on unnecessarily, remember it is precious and many do not have it, plus your bill will be climbing! So remember to conserve!
I also recommend you read
Jamaica Public Service Company Limited
.
Regards,
DC
References:



"Our History", Jamaica Public Service, https://www.jpsco.com/our-history/

"Jamaica - Access To Electricity (% Of Population)", Trading Economies, https://tradingeconomics.com/jamaica/access-to-electricity-percent-of-population-wb-data.html

"Electricity", Office of Utilities Regulation, https://our.org.jm/sectors/electricity/

Editor's Note
What would you like to know about Jamaica?
Submit your question here
! With well
over 2000 questions already answered
, chances are we can assist :-)