How to safely buy weed in Jamaica?
How to safely buy weed in Jamaica? || Answered by Aneisha Dobson




If you have done a Google search on Jamaica, I'm almost certain that you may have come across a photograph of Reggae Legend Bob Marley with a smoking ganja spliff in his mouth.

After all, just like sand, sea and sun, weed (marijuana or ganja) for many, is also synonymous with Jamaica. Despite same, the truth is that marijuana is still illegal in Jamaica.

Yes, it's true.

For years marijuana has been demonized and some have gone as far as labelling it as a gateway drug. In addition, many individuals have faced criminal charges as a result of being found with marijuana is their possession.

Fast-forward to 2019, we are bearing witness to, what I like to call, a "Free up the Weed Movement". Now we are seeing marijuana being painted in a positive light and being lauded for its medical properties.

This rave has also resulted in the Jamaican Government amending the Dangerous Drugs Act (the DDA) in April 2015 resulting in the herb being decriminalized. Bear in mind though that decriminalizing and legalizing are two separate things.

Decriminalization is the loosening of criminal penalties even though the manufacturing and sale of marijuana remains illegal. In contrast, legalization is the abolishment of laws banning the possession and personal use of marijuana.

So, if you're planning on having some weed on your next trip to Jamaica, you'll be happy to know that the recent amendment of the DDA has made acquiring marijuana much easier than in previous decades.


How much can I have?
Under the new amendment, possession of 2 ounces or less of ganja is no longer an offence for which someone in Jamaica can be arrested, charged, and have to go to court, and it will not result in a criminal record.
However, possession of over 2 ounces of ganja is still a criminal offense and offenders can be arrested, charged, tried in court and, if found guilty, sentenced to a fine or to imprisonment or both. The conviction will also be recorded on that person's criminal record.
Can I purchase weed for medical use?
The decriminalization of marijuana has opened the doors for marijuana to be used for medical and therapeutic purposes. So, if you, for example, is an ill tourist who has a medical marijuana prescription and uses the substance for medical and therapeutic purposes, under the amended DDA you can now legally purchase it. However, you'll have to purchase a permit.
How can I get this permit?
This permit can be obtained at the airport once you can produce evidence that you are prescribed by a licensed medical practitioner. Alternatively, you can sign a voluntary declaration to confirm this. This permit will be issued for a fee by Jamaica's Ministry of Health.
In addition, the Cannabis Licensing Authority (CLA), the regulatory body for the cannabis industry, has also pinpointed on implementing kiosks that will allow issue medical cards at airports and seaports.
Can Import Marijuana?
A person who is suffering from cancer or any other terminal or serious chronic illness may import medicine or a therapeutic product derived from or containing ganja.
In order to do so, a registered medical practitioner must certify that the person is suffering from the illness, and must recommend the person's use of the medicine or therapeutic product. The importation of the medicine or therapeutic product must comply with regulations which are to be made.
So, where can I get some weed in Jamaica?
Weed can be legally purchased at special medical marijuana shops. Currently there are two medical cannabis stores in Jamaica: Kaya Farms and Epican Jamaica.
Kaya Farms, located at 1 Weed Street, Drax Hall, St. Ann, was the first legal medical cannabis dispensary on the island. The company and sister companies, Kaya Herbhouse, Kaya Spa, Kaya Cafe and Kaya Tour, offers a variety of services that are geared towards promoting marijuana wellness, such as a smoking rooms that are available for patrons.
Visit their website at: www.kayaherbhouse.com
Epican Jamaica is located at Shop #3 67 Constant Spring Rd., Kingston. It operates a retail medical marijuana and also offers a VIP lounge for clients seeking the services.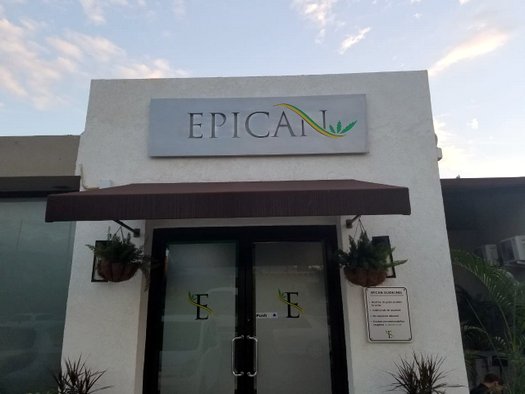 Visit their website at: www.epican.com
So you can legally purchase and consume marijuana at these two locations.
However if you find an "alternative" means of purchasing marijuana on the island, you should bear in mind that you can only possess 2 ounces or less.
However, if you are caught with unauthorized possession of marijuana, you'll be facing a possession fine of JA$500 which must be paid at the tax office within 30 days (which, at today's exchange rate is under US$5) and it won't go on your criminal record.
On the other hand, since it's still a criminal offence, if you are found to be in possession of over 2 ounces (56 g) of ganja, you can be arrested, charged, tried in court and, if found guilty, sentenced to a fine or to imprisonment or both. Remember also that conviction will also be recorded on your criminal record.
Can I smoke it anywhere?
Absolutely not!
Weed should be consumed on privately-occupied residence. Smoking ganja in a public place or within 5 meters of a public place is prohibited.
According to the Act, a public place includes a workplace, and any place which is for the use of, or accessible to, the public, such as sidewalks, bus stops, restaurants, offices, educational institutions, pharmacies, hospitals, areas used by children, supermarkets and parks.
Smoking is permitted in places that are licensed for the smoking of ganja for medical or therapeutic purposes.
On a great note, if you plan on attending events that observe the Rastafarian faith you will be able to smoke and be in possession of ganja and will not be liable for arrest, detention and prosecution, so long as they have compiled with the amount stipulated.
When I'm going back home, can I travel with some marijuana purchased in Jamaica?
No, no, no, no.
Despite the fact that Jamaica has decriminalized marijuana, we still have strict laws and penalties against drug trafficking. So, all marijuana products purchased in the island should ONLY be consumed in the island.
Be sure to read the complete Q&A on
Using Weed in Jamaica here
.
With that said, I guess you'll soon be singing: "Pass the kutchie pon the lef' hand side"
Until next time…
AD

References



Ministry of Justice. (2015, April 15). Fact Sheet Prepared By the Ministry of Justice in the Dangerous Drugs (Amendment) Act 2015. Retrieved from Ministry of Justice: www.moj.gov.jm/news/dangerous-drugs-amendment-act-2015-fact-sheet


Adams, M. (2018, March 5). Toker Travels: How To Buy Marijuana Legally In Jamaica. Retrieved from Forbes: https://www.forbes.com/sites/mikeadams/2018/05/03/toker-travels-how-to-buy-marijuanan-legally-in-jamaia/#3efcaa38df


Is Ganja Legal in Jamaica? (n.d.). Retrieved from Jamaica Experiences: http://www.jamaicaexperiences.com/blogs/details/article/is-ganja-legal-in-jamaica


Kaya Farms to open Jamaica's first legal medical cannabis facility today. (2018, March 10). Retrieved from Jamaica Observer: www.jamaicaobserver.com/news/kaya-farms-to-open-jamaica-8217-s-first-legal-medical-cannabis-facaility-today_123777%profile=1373


Murse, T. (2019, January 29). Decriminalization Versus Legalization of Marijuana. Retrieved from Thought Co.: www.thoughtco.com/decriminalization-versus-legalization-of-marijuana-3368393